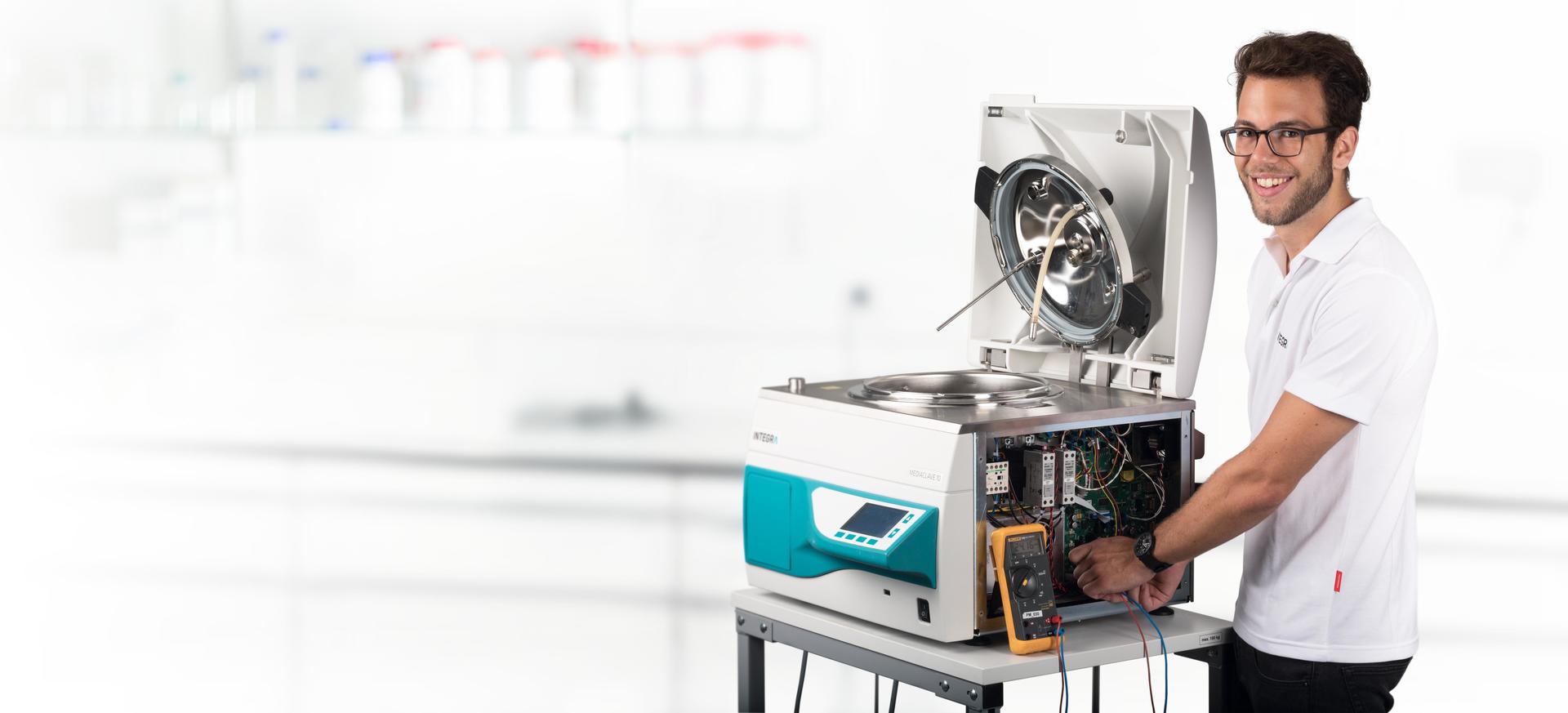 At INTEGRA, our success lies in the combination of supplying not only high quality products, but professional after-sale support as well. Our knowledgeable sales force, product managers and experienced technical service and support team are always ready to assist with any questions regarding instrumentation or applications.
How to get in contact
For technical question, we offer support by phone, Skype/Facetime and email. We recommend to have exact instrument type and serial number at hand at your first contact. This allows clear instrument identification and facilitates efficient processing and solution finding.
Preventive maintenance and service contracts
The reliability of your laboratory instruments is dependent on regular maintenance service. Regular service through INTEGRA or through one of our authorized representative is a convenient and economical method to ensure that your instrumentation is always up to date, safe and conforms to the latest legal standards.
Instrument calibration
Regular calibration of your instruments increases the overall performance of your laboratory. Contact your local INTEGRA representative to get more information about calibration offerings.
Repair service - material return procedure
To request repair service, contact our service center first. If it turns out that an issue cannot be solved by phone or email support and material needs to be returned, we will issue a Return Material Authorization number (RMA#) valid for the specific case. Returned products must not present any safety and health hazards/dangers for our service personal.
For this reason, all returned goods must be accompanied by a decontamination form (DAHH=Declaration on the Absence of Health Hazard). It can be downloaded from our Download Center. The fully completed and signed form must be added to the goods and the RMA# must be clearly printed outside of the return package.
Download center
Download Technical Service Forms, Certificates and much more. Choose a category or search by product name.
Service login
Download area for authorized service partners. Get access to service instructions, latest firmware for our products among many other things.
PIPETBOY/PIPETGIRL warranty registration
Register your PIPETBOY/PIPETGIRL pipet aid and benefit from an extended 3 year warranty.