Pipette Tips
INTEGRA GripTips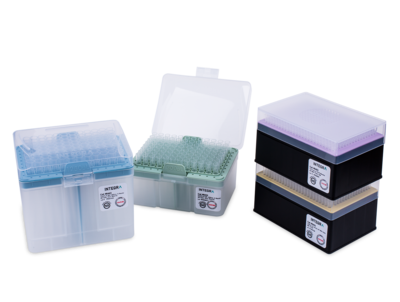 Universal pipette tips are designed to fit pipettes with standard cone shaped tip fittings. This is only possible, because the tips are hammered on the tapered cone tip fitting, stretching the orifice of the tip. Due to the memory effect of polypropylene, the tips gradually move back to their original shape, leading to tips that loosen, leak and eventually fall off. 
INTEGRA GripTip pipette tips and fittings work as a system creating a secure connection. GripTips attach with a minimum force and can also be easily ejected. A shoulder molded into all GripTips features a positive stop which ensures that all pipette tips of a multichannel pipette are perfectly aligned at exactly the same height and never loosen, leak or fall off. This improves the reproducibility and accuracy of your pipetting results.
Use the INTEGRA GripTip Selector Guide to find the right tips for your pipette.
GripTips for pipetting from 0.5 µl to 5000 µl:
GripTips never loosen, leak or fall off
Tips and fittings work as a system creating a secure connection
Tips attach with a minimum force and can also be easily ejected
Positive stop ensures that all tips of multichannel pipettes are perfectly aligned at exactly the same height
INTEGRA offers a wide range of GripTips types for INTEGRA handheld pipettes and INTEGRA benchtop pipetting devices in the volume ranges from 12.5 µl – 5000 µl:
GripTips packaged in racks, ECO Racks, GREEN CHOICE refills, reinforced XYZ racks and bulk bags
ECO Racks contain 60 % less plastic than alternative racks and are compatible with all single and multichannel INTEGRA handheld pipettes
For the sturdiest and most convenient GripTip pipetting experience, ECO Racks can be paired with a reusable PopTop Base
GREEN CHOICE inserts are an environmentally friendly refill system allowing the reuse of existing racks and thus reduces plastic waste
For an even greener option, the PopTop Base is compatible with GREEN CHOICE refill inserts
XYZ tip racks are extra sturdy and in an SBS format to withstand the loading forces from automated multichannel pipettes (ASSIST PLUS), and 96 / 384 channel pipetting heads (12.5 to 125 µl tips)  
XYZ GripTips are ionized to dissipate existing static, and then loaded into carbon-filled, antistatic XYZ boxes
Bulk bags are an economical option for hand loading pipette tips onto pipettes or into racks
Non-sterile, sterile and pre-sterilized packaging options:
Sterile GripTips are sterilized under controlled conditions and are considered sterile until opened
Sterile products are gamma irradiated within the minimum and maximum dosage range specified for INTEGRA sterile products
Pre-sterilized items are manufactured in the same cleanroom and gamma irradiated within the same minimum and maximum dosage range
Pre-sterilized products are packaged using heat shrink or heat bands but otherwise follow the same manufacturing and sterilization procedures
Low Retention GripTips:
Increased hydrophobic properties due to a unique polypropylene blend for viscous samples and other low surface tension liquids
Standard polypropylene GripTips are also hydrophobic by nature and better suited for aqueous solutions
LONG and SHORT GripTips:
12.5 µl SHORT pipette tips, for easy access into 1536 well plates
12.5 µl LONG pipette tips, for easy access into 1.5 ml tubes
300 and 1250 µl LONG pipette tips, for easy access into 100 mm tubes
1250 µl SHORT pipette tips for improved ergonomics by bringing the arm closer to the labware