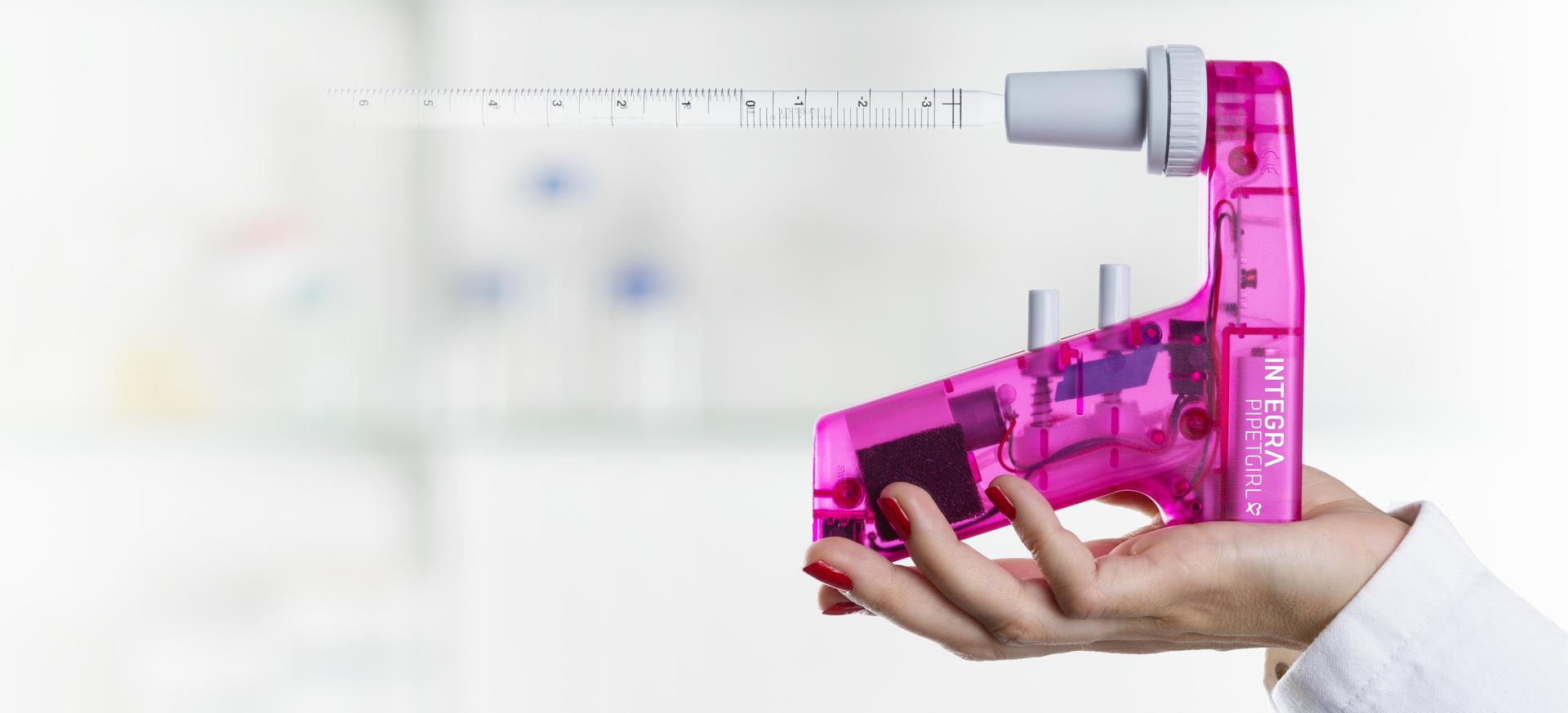 PIPETGIRL
Pipetting Controller
Pipetting Controller
Product story
Our commitment to support breast cancer research
Since 1965, INTEGRA Biosciences has been dedicated to developing innovative liquid handling tools for the Life Science industry. It is our passion to provide scientists with reliable instruments of the highest quality and precision, so they can focus all their efforts on research.
PIPETGIRL, a limited edition of PIPETBOY acu 2, has been introduced to support cancer research. For every purchase of this pipette controller, 10 € are donated to research institutes dedicated to finding a cure for breast cancer.
During the donation period, INTEGRA will keep you accurately informed about which research institutes benefited from our funding campaign.
How it Works
How it works
PIPETGIRL is a special edition of PIPETBOY acu 2, for which a 10 € donation per instrument goes to breast cancer research institutes.
It offers the same features as INTEGRA's PIPETBOY acu 2: an increased pipetting speed, a significant  weight reduction and unmatched pipetting precision.
Overview

1) Autoclavable sterile module, easy to replace filter
2) LED provides information about charging status
3) Continuous preset of speed via thumb wheel
4) Sensitive control by applying various finger pressure
5) Lightweight and well-balanced
See it Work
Tech Info
Tech info
Find here a quick overview of the product specifications. More detailed information can be found in the download-section below.
Maximum pipetting speed

13.5 ml/s (with a 50 ml pipette)

Gravity dispense

Slight pressure on dispense button

Pipette compatibility

Glass and plastic pipettes with volume from 1 to 100 ml

Filter protection

0.45 µm (included) or 0.2 µm (order separately)

Weight

195 g

Operating conditions

5 – 40 °C, max. 80 % RH

Power requirements

Input: 100 – 240 VAC, 50/60 Hz; Output: 17 VDC ±10 %/180 mA ±10 %

Rechargeable battery

Li-Ion, min. 500 mAh
Downloads
Parts and Numbers
Parts and numbers
Instrument

Accessories

Consumables

Battery