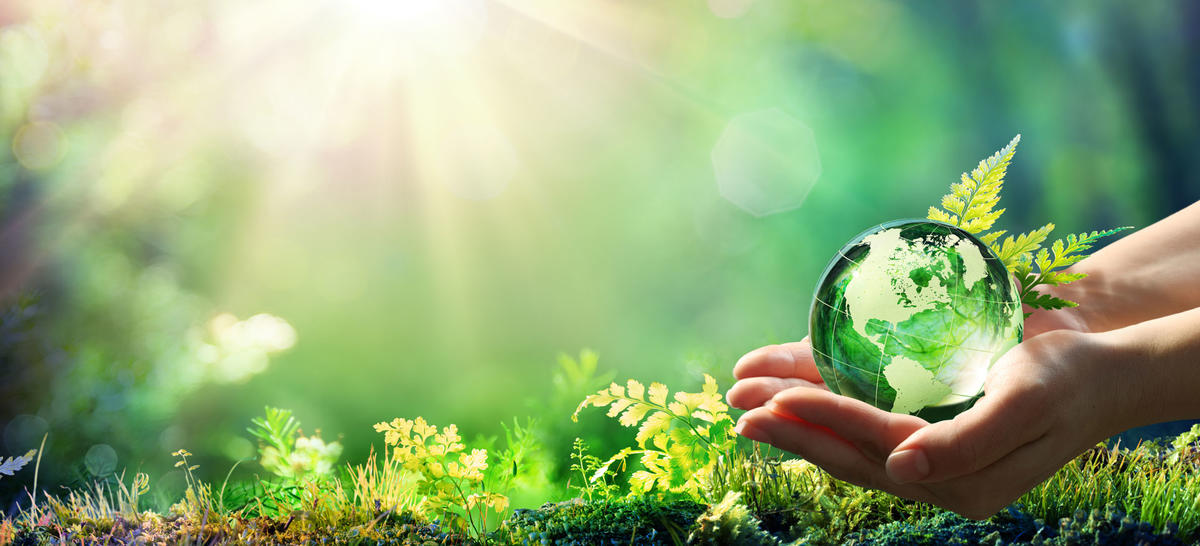 We set high standards with low environmental impact
Our planet is our home and we must take care of it

A coordinated approach
The careful use of our resources is the responsibility of the entire INTEGRA team, but we do have a dedicated sustainability coordinator, Dr. Ursula Leuthold, who has worked at the company since 2007. Ursula, a biologist with postgraduate education in business administration, has been actively engaged in environmental politics since a young age. She is actively involved with a variety of popular initiatives to protect the environment, e.g. working to achieve a ban on investments in coal-fired power plants in Switzerland.
On this page, learn more about how our products contribute to more sustainability and how our consumables can be recycled. Learn also, how our buildings reduce our carbon footprint. 
What to do to recycle your empty racks, inserts and tips?
| | | |
| --- | --- | --- |
| Product | Material | How to recycle |
|   | | Compressed ECO Racks can be easily processed by your local PET recycler. The environmental benefit of PET recycling is the highest for any plastic material1, since the production of fresh PET is very energy-intensive, and little energy can be recovered during PET incineration. |
| | | PP standard racks and inserts can also be handled locally, provided you have the collection, sorting and recycling infrastructure within around 300 km – any further and the transport negates the positive CO2 balance of the recyclate – reducing environmental pollution to less than half compared to freshly synthesized PP1. If no recycling is available, energy recovery by incineration in a cement plant or waste plant is the best alternative. |
| Reservoirs and tips | Contaminated | Used reservoirs and tips cannot be safely recycled, due to the risk of contamination with harmful chemical or biological agents. However, that doesn't mean there isn't still a 'green' option for their disposal. Used plastics can be incinerated in energy capture plants to produce energy and to prevent landfill. |
What happens to recycled plastic?
Recycling of lab waste
Non-hazardous plastic lab waste is collected, pressed into balls and transported to a sorting plant where the plastic is shredded, washed and sorted. The single-sort bales are then transported to a recycler, who produces regranulates – the raw material for new plastic products.
Reusing excess material
Excess material from INTEGRA tip production is reused in-house for rack production, resulting in zero-waste manufacturing and reducing our consumption of virgin plastic. Unfortunately, we are unable to regrind racks, as this would lead to a lower quality product. However, we are continuously improving the recyclability of our racks for other applications, according to the Design for Recycling guidelines. We therefore recommend using a local recycling center for environmentally friendly rack disposal, helping to avoid the cost and environmental impact of shipping used racks around the world.
What plastics are used in INTEGRA consumables?
We use three main plastics for the production of our consumables:
Polypropylene
(PP)
Is transparent, lightweight, chemically resistant and can be autoclaved. It also exhibits low binding of biomolecules, and does not contain additives that could leach into the sample. GripTips are made of virgin PP, free of DNase, RNase, endotoxins and pyrogens to ensure high quality results. PP is also used for some reservoirs, and the regrind from tip production is used to mold the standard racks.
Polyethylene terephthalate
(PET)
Is used for ECO Racks, as it is commonly recycled and can be formed into a rigid rack using less plastic.
Polystyrene
(PS)

Polystyrene (PS) is used for our standard reservoirs, as it is crystal clear, inexpensive and ideal for aqueous solutions.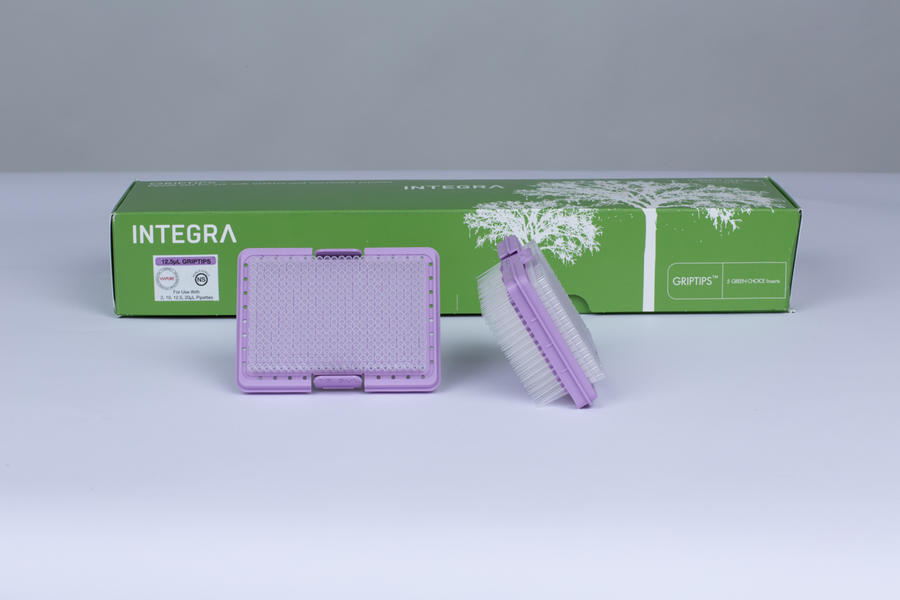 Reduce plastic waste by using INTEGRA consumables
"We do everything possible to minimize the amount of plastic used in our products and packaging while maintaining the highest quality and purity standards"
Jonathan Harkins - Product Manager Consumables
60% less plastic with ECO Racks
Save plastic and space
Our lightweight ECO Racks use 60 % less material than our standard racks. After use, the ECO Racks easily nest inside each other, and can be compressed to minimize the recycling space required. This saves both the amount of plastic needed to produce the racks, and the space needed in your lab to dispose of them.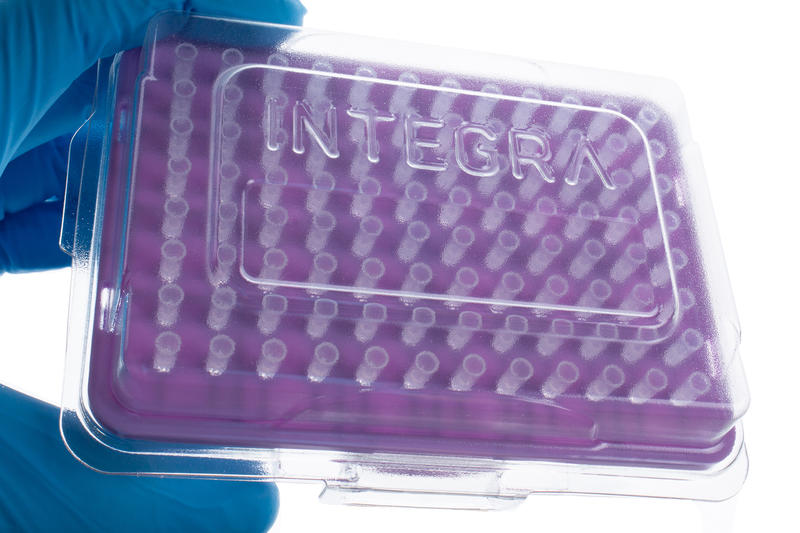 GREEN CHOICE inserts and PopTop Base
Inserts offer a real plastic-saving option
Our GREEN CHOICE inserts offer a real plastic-saving option. These GREEN CHOICE inserts can be used in combination with the reusable PopTop Base to provide an ergonomic, sturdy and environmentally friendly pipetting experience, which only requires one finger to open and close.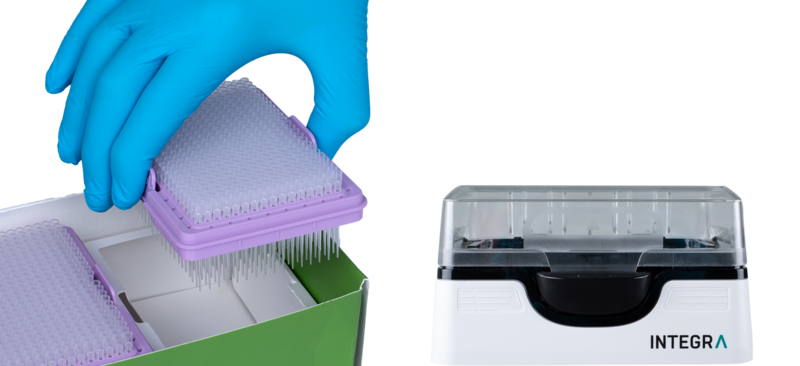 Reagent reservoirs
Get twice as many in half the space
Our reagent reservoirs use thin, disposable inserts that fit into the robust reusable base, with clearly visible graduation markings. This design allows the inserts to stack inside each other, making it possible to get twice as many in half the space of other products on the market. This saves storage space and cuts down on the amount of cardboard packaging required.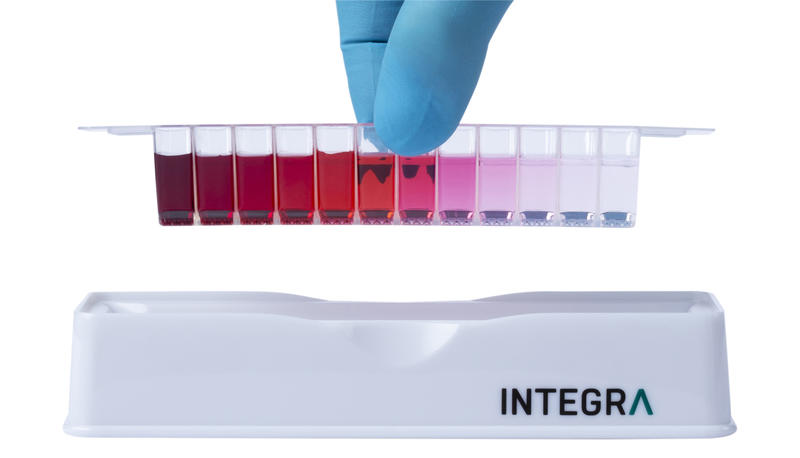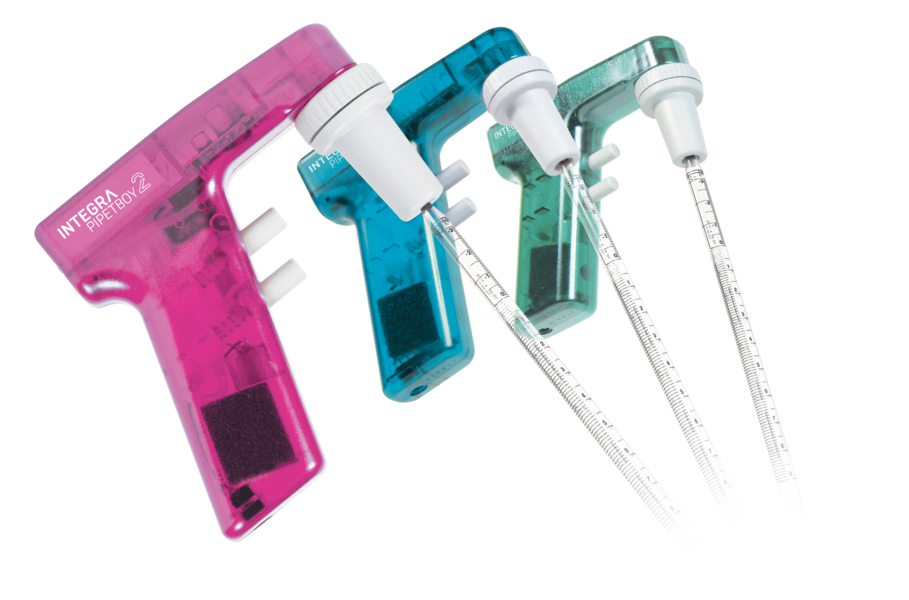 How we keep the environmental footprint of our products and consumables small
"The most sustainable thing you can do is to buy durable, flexible equipment that you will use for years."
Ursula Leuthold - Sustainability Coordinator
The longer you use a product the better it is for the planet
All INTEGRA devices are designed for an extraordinarily long life, and it is not uncommon to find 15-year-old instruments that are still working as reliably as on the day they were installed. This is thanks to a combination of our careful instrument design – helping to ensure low wear and easy serviceability – and our commitment to support discontinued products with spare parts for at least eight years after production ceases.
Servicing and repairing products is better than buying new ones
Just as importantly, you can find service teams trained to our high standards all over the world, and we offer flexible preventative maintenance contracts to guarantee that your device is always in good shape. After all, the longer you can use your device, the better it is for the planet.
Safe for you and the environment
The materials your INTEGRA products are made from are safe for both you and the environment. We avoid hazardous chemicals wherever substitutes are available when designing our products and sourcing materials. This process is backed by regular testing, carried out by independent labs (EMTEK and QIMA), to help ensure our policies1 are strictly adhered to – by both our own team and our suppliers. We also follow the precautionary principle, rather than simply following the regulations, to avoid potential issues before they even arise.
Energy efficiency matters
All the modules and components used in our products – external power supplies, motors and displays, etc. – are carefully selected to meet or exceed the highest regulatory standards for energy efficiency2. All of our pipettes are designed to use very little energy during operation – thanks to features such as advanced lithium-ion and lithium-polymer battery technologies – which has the additional benefit of ensuring a long battery life.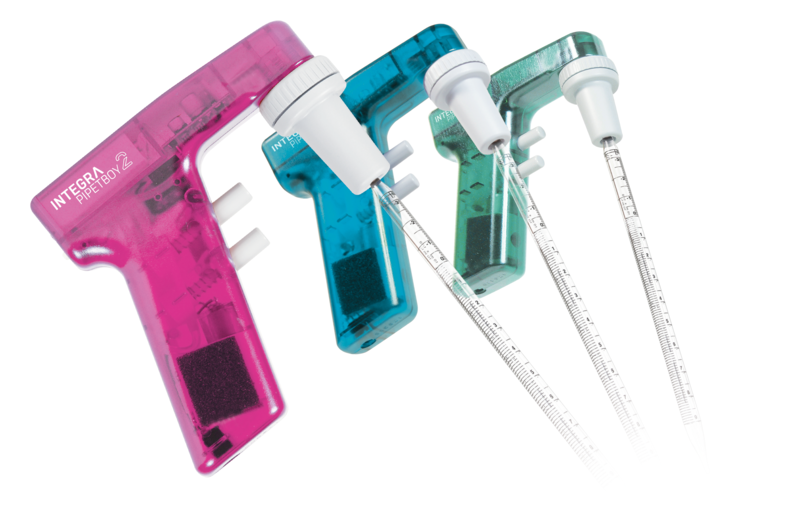 Access documents electronically
Many INTEGRA documents – such as flyers, operating instructions, and certificates – are available electronically via our website to reduce the need for paper. Operating instructions or quick start guides shipped with instruments are printed using carbon-neutral processes on FSC-certified paper3.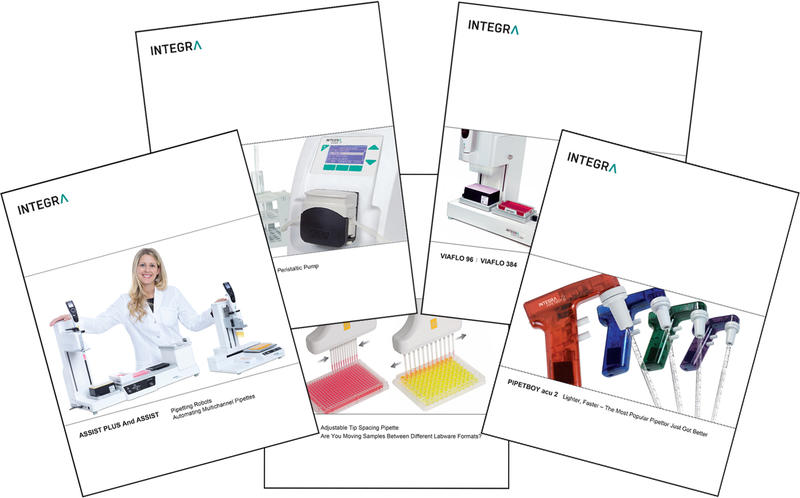 Our Support
Unfortunately, it is not practical or environmentally friendly for equipment and consumables manufacturers to provide individual collection services where recycling is not available locally, but that doesn't mean we aren't working towards a solution. INTEGRA is now cooperating with like-minded pipette tip manufacturers with the aim of eliminating lab plastics going to landfills or disposal at sea. The first steps towards this goal took place at Spectaris Pipettes Manufacturers' Meeting in Berlin in December 2019.
Our collection program in the USA
To prevent landfill, compressed ECO Racks can be returned to INTEGRA in Hudson, NH, for recycling. Please contact your local INTEGRA sales representative for a decontamination form and return shipping label.
For more information call us. Tel.: +1 603 578 5800
Or write us an e-mail: @email
Your plastic recycling specialist in Switzerland
KUH-BAG
The collected plastics are sorted in sorting plants according to individual plastic types and then processed into granulates. These in turn are used in industry - namely for the production of plastic building products. Recycled plastics are used to produce building products such as pipes, but also poles, tables, benches and many other items.
Sammelsack
The plastic collection bags are available at collection and sales points of the municipality, depots, recycling collection points, post offices, bakeries, market branches (avec, Spar, Volg, Landi, Prima). All our collection points also sell collection bags.

INTEGRA relies on renewable energy
"We exclusively use renewable energy for assembly of all our devices"
Urs Hartmann - CEO
Production with renewable energy
We are proud that our Swiss headquarter is run entirely on renewable energies. The building is heated via a fossil-free heat pump system, and the roof is fitted with solar panels. Together with local hydropower, this means we exclusively use renewable energy for assembly of all our devices. Our US headquarters is now also equipped with a solar energy system, meaning that our buildings are currently producing 910,000 kWh of solar energy a year, and more than half of the energy used to produce our consumables comes from renewable sources.
Minimizing carbon footprint
Our commitment to minimizing our carbon footprint doesn't stop there. The impact of our global operations is now continuously assessed and monitored according to the Greenhouse Gas Protocol, helping us to minimize and offset our carbon footprint. We also support our employees with flexible working hours, home office facilities where possible, and other programs designed to have a positive impact on the environment – such as the UK's Green Commute Initiative.