Pipette Tips
INTEGRA GripTips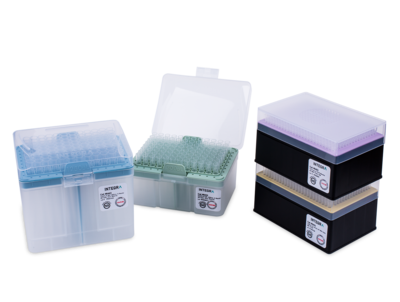 Universal pipette tips are designed to fit pipettes with standard cone shaped tip fittings. This is only possible, because the tips are hammered on the tapered cone tip fitting, stretching the orifice of the tip. Due to the memory effect of polypropylene, the tips gradually move back to their original shape, leading to tips that loosen, leak and eventually fall off. 
INTEGRA GripTip pipette tips and fittings work as a system creating a secure connection. GripTips attach with a minimum force and can also be easily ejected. A shoulder molded into all GripTips features a positive stop which ensures that all pipette tips of a multichannel pipette are perfectly aligned at exactly the same height and never loosen, leak or fall off. This improves the reproducibility and accuracy of your pipetting results.
INTEGRA offers a wide range of GripTips in volume ranges from 12.5 µl – 5000 µl:
GripTips packaged in racks, GREEN CHOICE refills, reinforced XYZ racks or bulk packs.
LONG and SHORT 12.5 µl pipette tips, for easy access into different tubes and 1536 well plates.
Low Retention GripTips with increased hydrophobic properties due to a unique polypropylene blend for viscous samples and other low surface tension liquids.