Reagent Reservoirs Sales Promotion 2021
SureFlo™ Reagent Reservoirs
 The LOWEST reagent waste on the market!
Our unique SureFlo™ array is molded into the bottom of each reservoir. This, combined with an inert, hydrophilic surface treatment prevents liquid pooling and spreads reagents evenly across the base of the reservoir, allowing tips to touch the bottom without sealing off or restricting liquid flow. This innovation reduces dead volumes, saving you money on reagents.
Now in low cost, space saving sterile sleeves
You asked and we responded! Not everyone needs the large quantity of inserts provided with INTEGRA's bulk pack of reagent 
reservoirs. Ordering in bulk can be expensive and take up precious lab space.
INTEGRA is now offering individual sleeves containing only 50 reagent reservoirs. Now every lab can afford to have this 
product on the lab bench ready to use!
For a limited time only, purchase any of the space saving sleeves and receive a free reservoir base!
To benefit from this offer, please contact INTEGRA Biosciences by email or phone and mention the promotion code: SureFloSleeve2021, or clearly write the promotion code on all faxed purchase orders. This offer is valid until May 31st, 2021.
Offer valid in Great Britain only.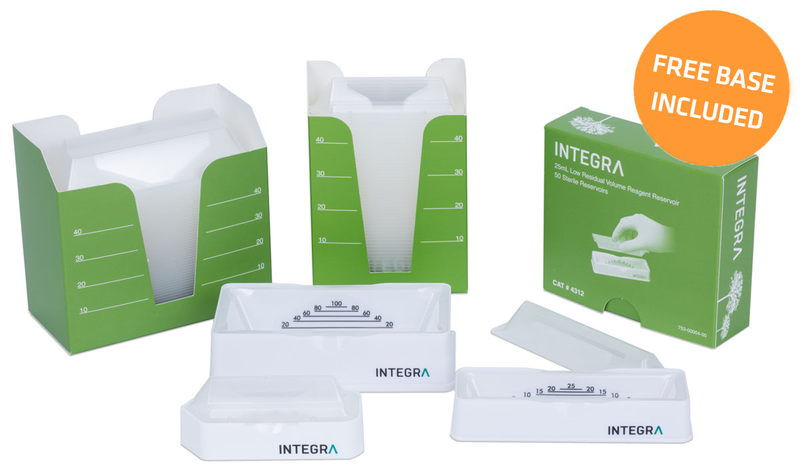 What our customers think of our SureFlo™ Reagent Reservoirs: