VIAFILL reagent dispenser provides fast buffer dispensing for KingFisher™ nucleic acid purification
Rapid reagent preparation for automated extraction
During the purification process, the KingFisher system uses magnetic rods integrated into a head that collects magnetic beads from each well, and transfers them from one washing solution to the next. While this instrument offers an easy and fast method of nucleic acid extraction, it only moves the beads from one buffer solution to another – it does not perform any pipetting steps for the reagents themselves. The washing solutions and plates therefore need to be filled before the run and loaded into the instrument. The VIAFILL rapid reagent dispenser is the perfect instrument for this step.
The VIAFILL can quickly and efficiently prepare purification plates for KingFisher instruments, providing a streamlined and reliable workflow for nucleic acid purification. Highlights of the instrument include:
Capability to dispense a large range of volumes using the same set up
Full labware flexibility, compatible with plates from 6 to 1536 wells, including deep well and PCR plates
Easy to use touch screen and simple programming – no training required
Small footprint to fit into any lab
Tubing can be placed directly into reagent/buffer manufacturer's bottles, eliminating the need to transfer liquids into a new container and decreasing the risk of contamination
Optimized dispensing of various solutions
The VIAFILL offers fast and simple plate preparation for a number of different formats – including 24 or 96 well deep well plates used by the KingFisher systems – dispensing defined volumes of buffers or solutions for the various steps of nucleic acid extraction. This includes viscous solutions, such as the wash buffers and magnetic beads, which require optimization to efficiently dispense without creating air bubbles. The VIAFILL can also be used for volatile solutions such as ethanol, which can be difficult to handle when using an air displacement pipette.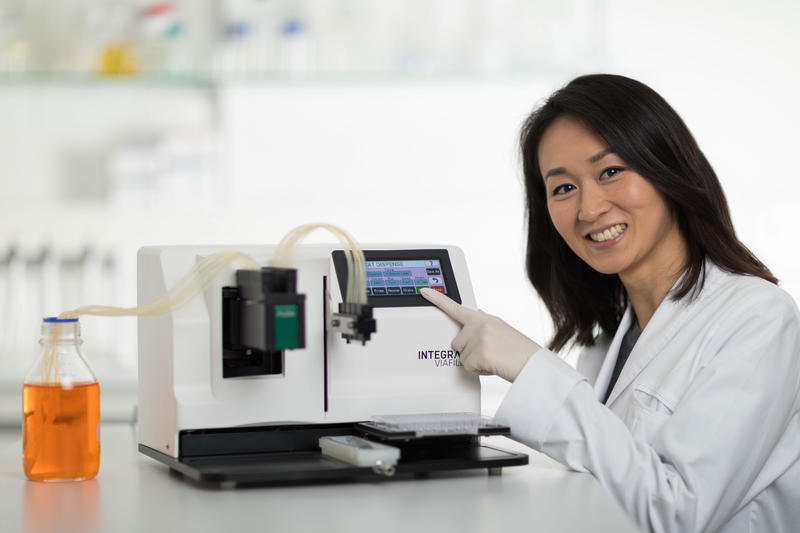 Optional plate stacker supports high throughput applications
For high throughput applications, numerous reagent plates can be prepared using the VIAFILL, ready for extraction on the KingFisher system. The VIAFILL's optional plate stacker is ideal for this, increasing throughput and allowing for longer unattended operation. The plate stacker uses removable 'chimneys' designed for either 25 or 50 standard plates – as well as many lidded plates – further streamlining the workflow without compromising the reproducibility of dispensing.