Microplate Dispenser
Reagent dispensing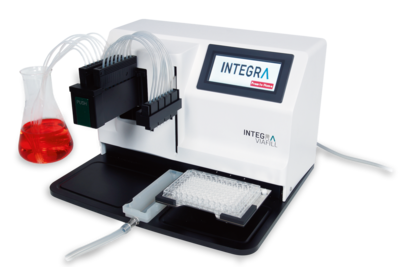 Microtiter plates are normally filled by hand with multichannel pipettes or using large automated platforms. However, the latter are very expensive and complex. Microtiter plate dispensers are an inexpensive alternative and available in different versions.
VIAFILL: Our reagent dispenser is suitable for filling microtiter plates quickly. A peristaltic pump dispenses a defined volume into the plates via tubing cassettes. It can be combined with a plate stacker that automatically stacks the filled plates so they can be filled without supervision.
VIAFLO 96/384: As well as filling plates, our electronic 96 or 384 channel pipettes offer additional functions such as creating dilution series, mixing and replicating entire plates. The pipetting unit is controlled by hand but supported by a motor, which makes it possible to dispense up to 1536 samples quickly and easily into microtiter plates.