Mast cell research – the key to allergy prevention
Nipping allergies in the bud
There has been a drastic increase in the incidence of atopic allergies – such as hay fever and asthma – over the past 50 years, with up to 30 percent of people in some western countries experiencing severe allergic symptoms requiring medical intervention. Immunoglobulin E (IgE) is the central player in these allergies, interacting with its corresponding high affinity receptor on mast cells and basophils to trigger an allergic response. This leads to a strong inflammatory reaction by causing these cells to release a number of preformed substances, such as histamine, heparin, cytokines, and proteases.
A trustworthy lab companion
The Department of Cell and Molecular Biology at Uppsala University coordinates seven research programs focusing on different areas of cell and molecular biology. Allergy research is one of these research pillars, and one group within the department is studying how IgE structure and evolution – as well as mast cell and basophil biology – affect allergic response. The group has also established several research collaborations with a variety of pharmaceutical and biotechnology industries, with the ultimate aim of developing novel vaccines and therapies to prevent and treat common allergies.
Studying immune response relies on efficient and reliable cell culture workflows, and the group has chosen PIPETBOY pro pipette controllers – which feature integrated LED lighting – for its serological pipetting activities. Dr Srinivas Akula, a postdoctoral researcher in the group, said: "We use four PIPETBOY pro pipette controllers in our lab to perform dilutions and maintain immune cell cultures. We use them every day; they are vital tools for all of our multiple workflows."
"We have had the PIPETBOYs for over a decade now, and we don't use anything else for pipetting," he continued. "We're extremely happy with their overall performance and reliability, as they always function perfectly and continually dispense highly accurate volumes, which is very important for robust and reliable experiments."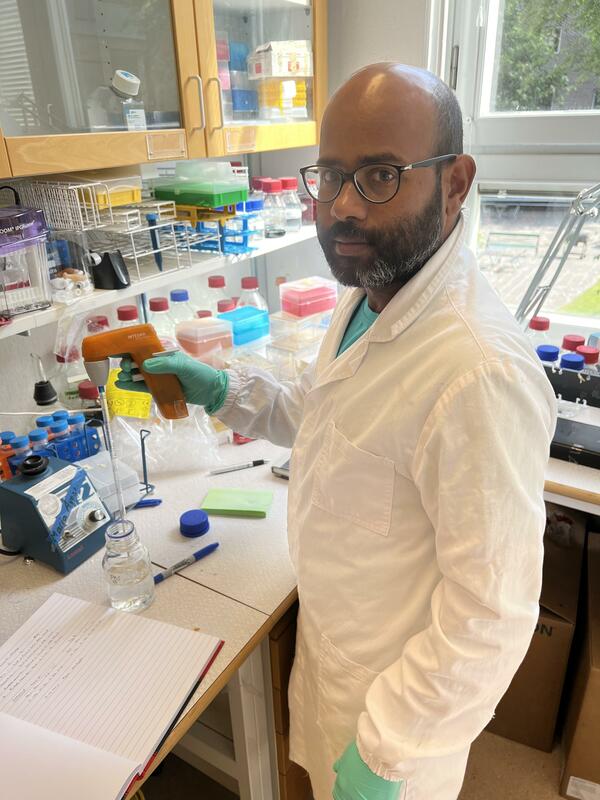 A user-friendly tool with diverse applications
Alongside its research activities, the group is involved in teaching and training across the academic spectrum – from undergraduate to postdoc. Srinivas added: "The PIPETBOY's straightforward and ergonomic design allows numerous technicians, researchers and students with differing levels of experience to use it after only minimal training, which is helpful in such a dynamic lab as ours."
"We would like to extend our portfolio of INTEGRA products in the future with the EVOLVE multichannel manual pipettes and ECO Rack GripTip pipette tips. This would further speed up our workflow and increase our capacity for mast cell culture and recombinant protease production, taking us even closer to an effective treatment for the potentially debilitating allergies suffered by millions worldwide," Srinivas concluded.