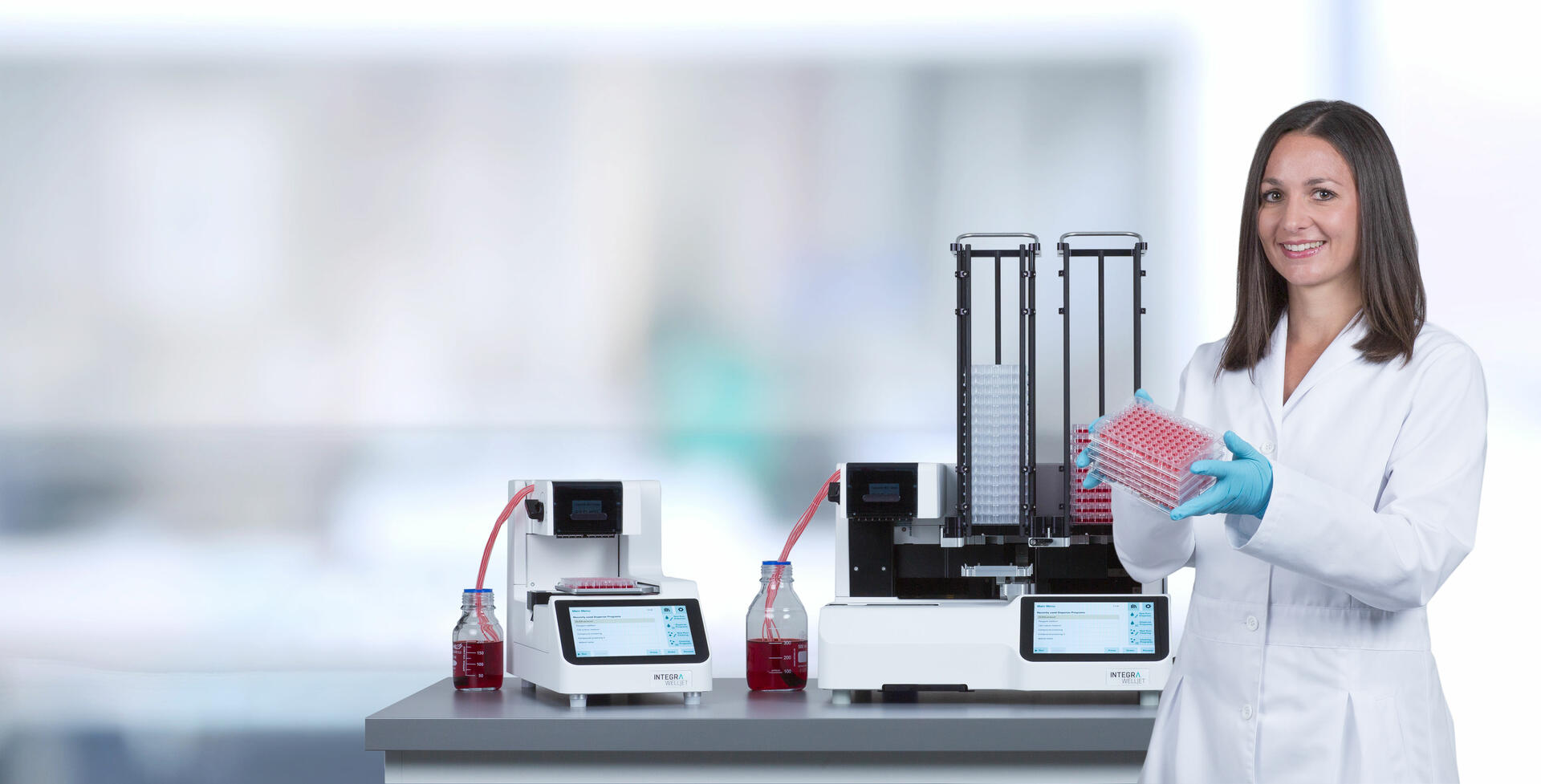 WELLJET
Reagent Dispenser And Dispenser Stacker
Reagent Dispenser And Dispenser Stacker
Product story
A revolution in reagent dispensing!
The WELLJET reagent dispenser and dispenser stacker offer low cost, fast, and precise bulk dispensing while saving valuable bench space.
The cost-efficient and handy solution for rapidly dispensing reagents into microplates. Increase your sample throughput in a snap!
The WELLJET dispenser and dispenser stacker are designed to offer superior user experience and flexibility for applications that require low cost, fast and precise bulk reagent dispensing. Both models use a revolutionary type of dispensing cassette (EasySnap™) which ensures low running costs and very easy handling. With their highly compact designs, both the dispenser and the dispenser stacker offer the smallest footprints for instruments of their kind, saving valuable bench space. A large, high resolution touchscreen user interface guarantees intuitive and effortless programming.
How it Works
The WELLJET dispenser and dispenser stacker are affordable and easy-to-use instruments, helping you to perform the daily and repetitive tasks of filling or adding reagents into microplates. Based on peristaltic pump technology and non-contact dispensing, a wide volume range can be covered, from 0.5 µl up to 10 ml. If you are looking for a flexible reagent dispenser that can do it all, WELLJET is the way to go!
EasySnap dispensing cassettes

Easy cassette loading, easy cassette removal! EasySnap dispensing cassettes offer convenient and worry-free handling.
 

Precision by design

EasySnap dispensing cassettes represent a technology breakthrough for bulk reagent dispensing precision and reliability. Conventional dispensing cassettes are manufactured from extruded silicone, which results in a high variation in the inner diameter of the tubing. To correct for this intrinsic channel-to-channel deviation, each individual channel of the cassette needs to be calibrated by adjusting the tubing tension during the manufacturing process. Over time, this calibration can be lost, requiring recalibration by the user in the field. This may prove to be tedious or, in many cases, virtually impossible.

EasySnap dispensing cassettes eliminate this problem, as each cassette's pump interface is made of molded silicone tubing (patent pending). This eliminates channel-to-channel variations, as every tubing is manufactured to exactly the same dimensions, avoiding the need for (re-)calibration.

At the same time, the EasySnap cassettes are less expensive to purchase and use over time, saving your valuable lab budget.

6 to 1536 well plates

The WELLJET reagent dispenser offers full flexibility for dispensing into 6 to 1536 well plates, including 96 and 384 well plates. This ensures that labs can access a vast number of applications, including bulk dispensing of buffers and media, as well as high throughput compound screening. Custom plates can be easily defined and saved in the software's plate library, ensuring that plate dimensions are not only saved, but are also well organized and searchable.

Lid handling functionality

The WELLJET dispenser stacker has the capacity to process most plates with lids quickly and reliably. Set up a program and enjoy hands-free processing of up to 50 plates, whether lidded or unlidded.

Single plate processing with the dispenser stacker

The WELLJET dispenser stacker also allows processing of individual plates by manually placing plates onto the microplate carrier. This allows convenient and quick filling of individual plates without using the stacker. A separate manual plate-loading adapter ensures for easy placing of the plates onto the microplate carrier.

Low dead volumes save precious reagents

The optional tube holder for 15 and 50 ml tubes can be attached to the instrument, and is designed to minimize dead volumes, saving precious reagents.

Superior user interaction

The intuitive set-up of the user interface, combined with a large, high-resolution touchscreen, allows quick and efficient programming of dispensing protocols.

Cleaning programs

Cleaning routines can be easily defined and saved to minimize clogging of the dispensing nozzles and keep the instrument clean and functional.
Customer Voices
See it Work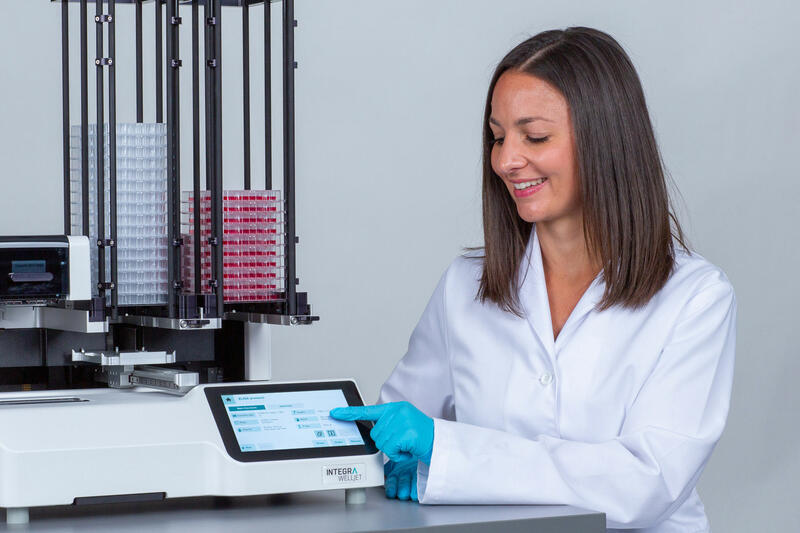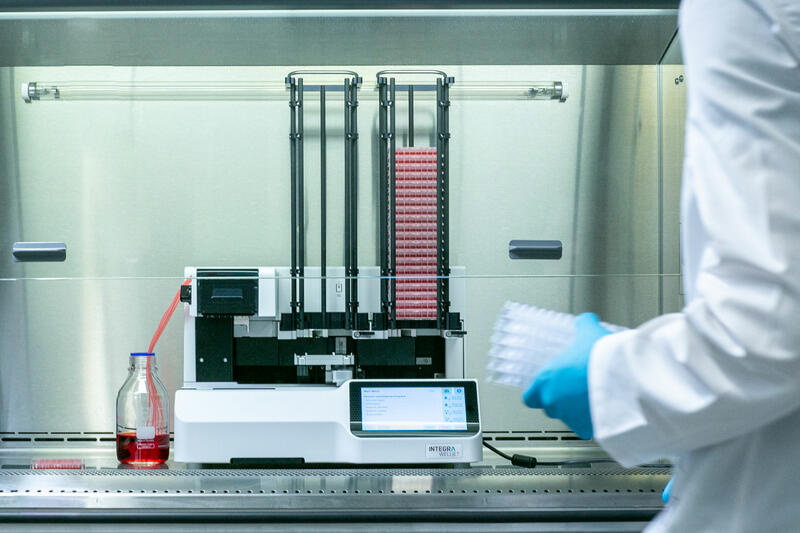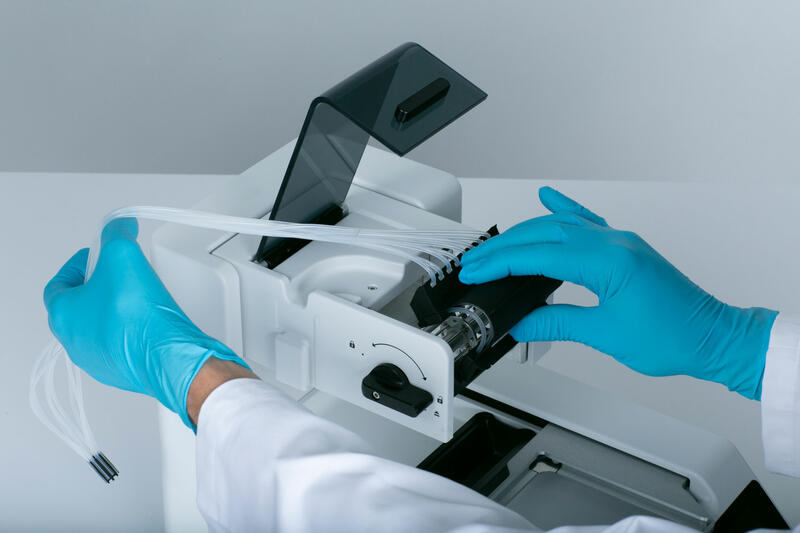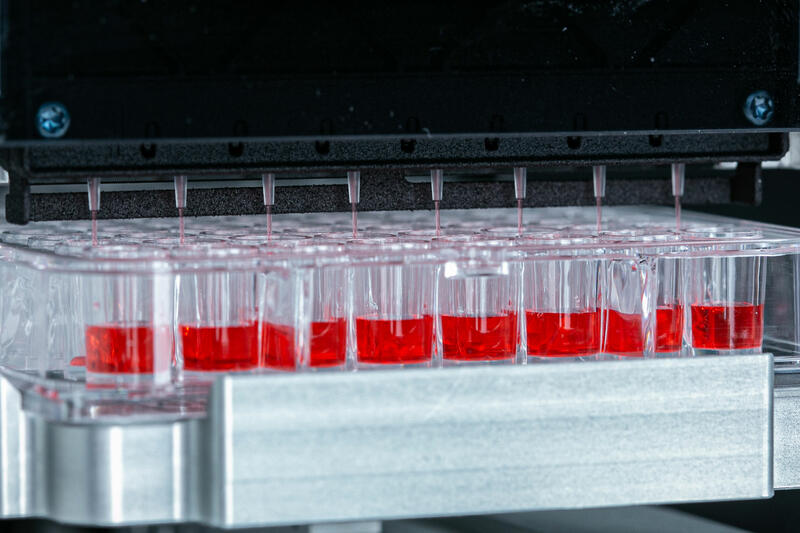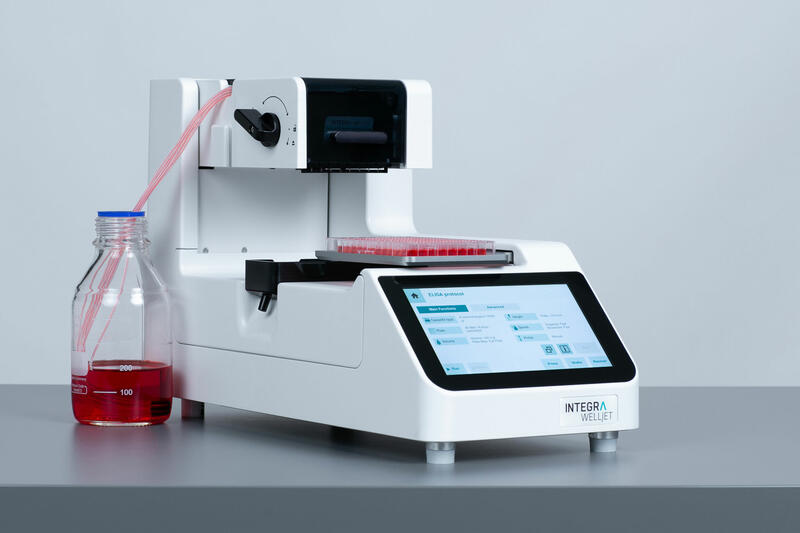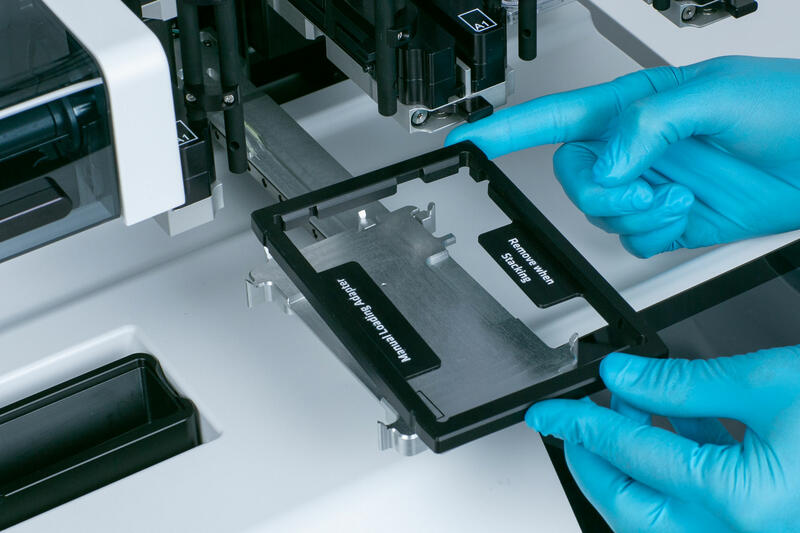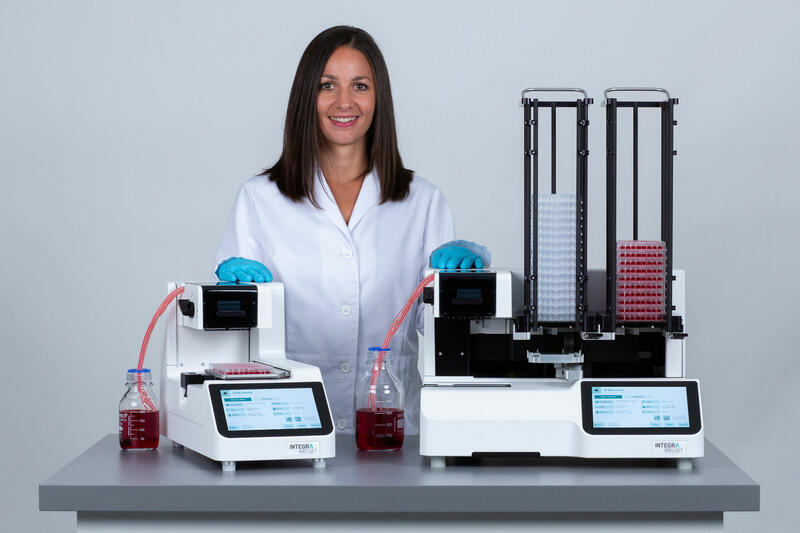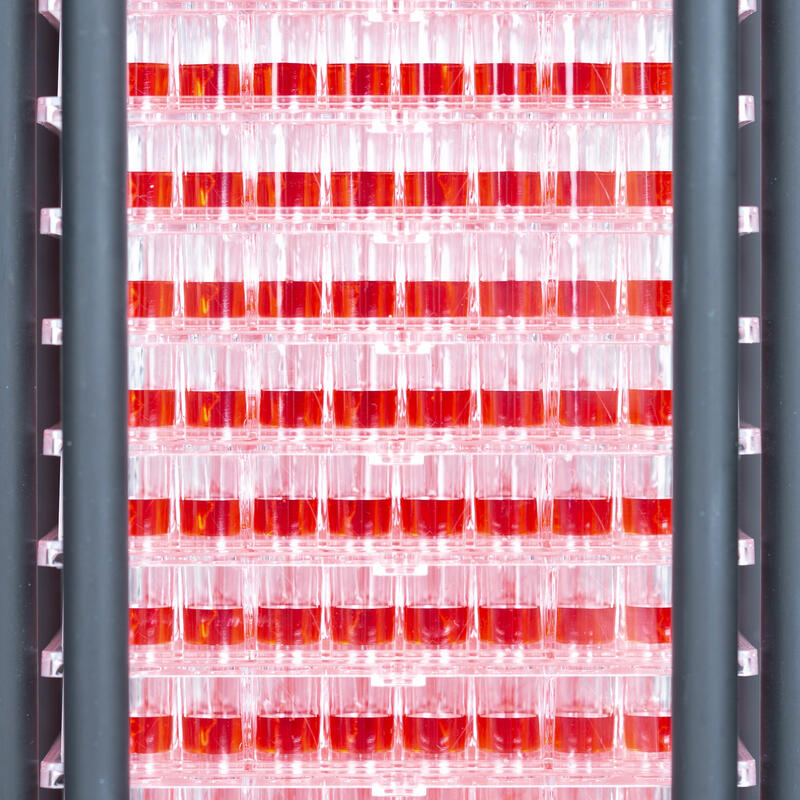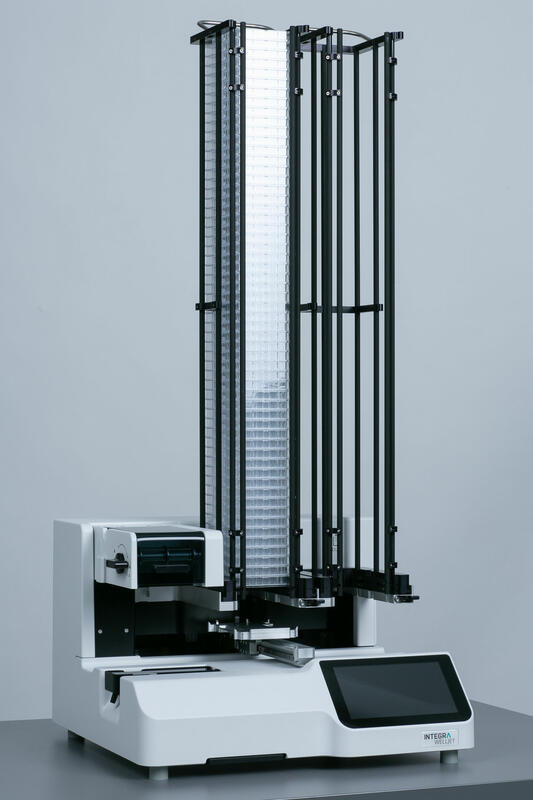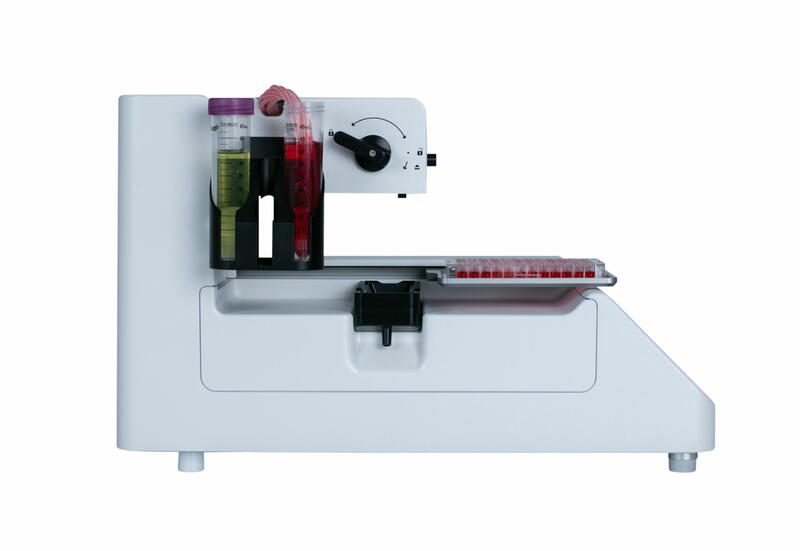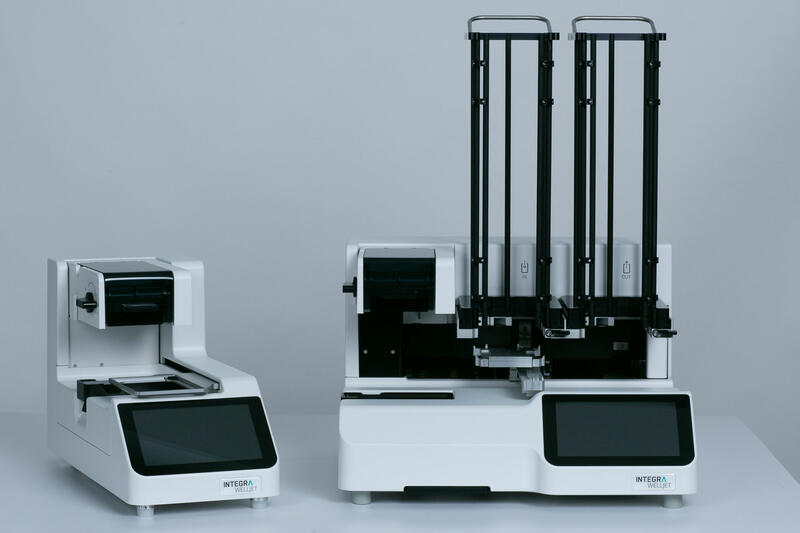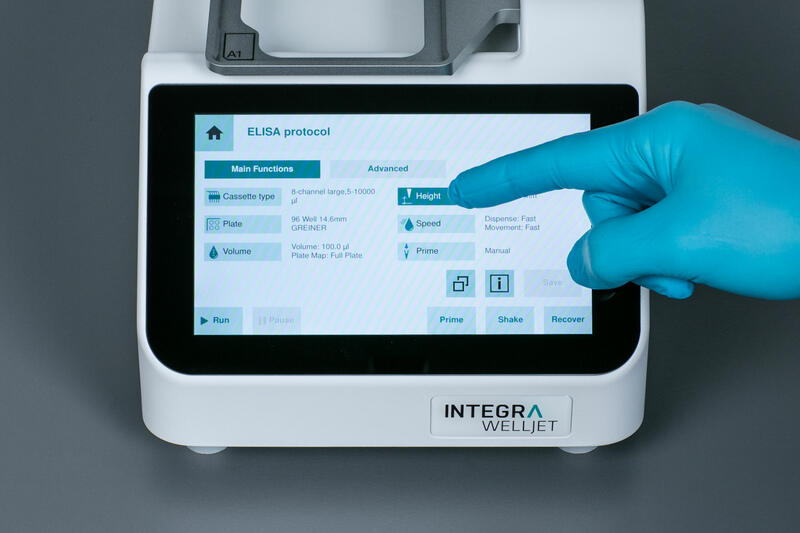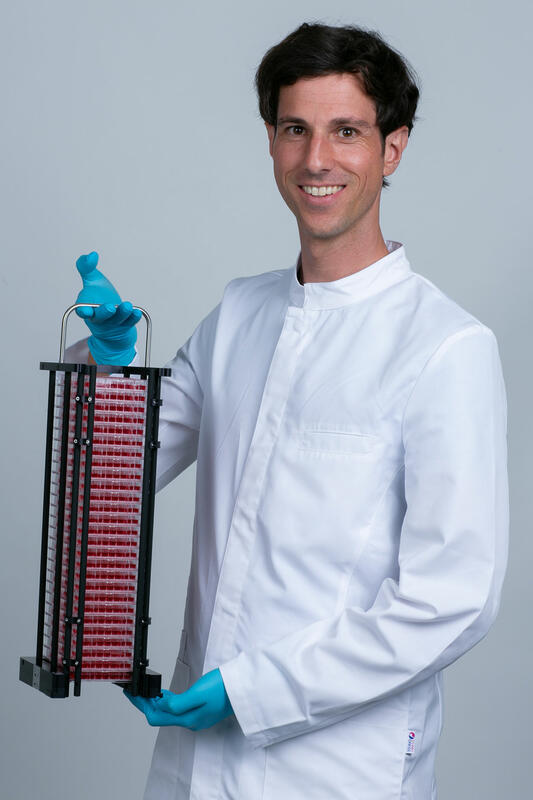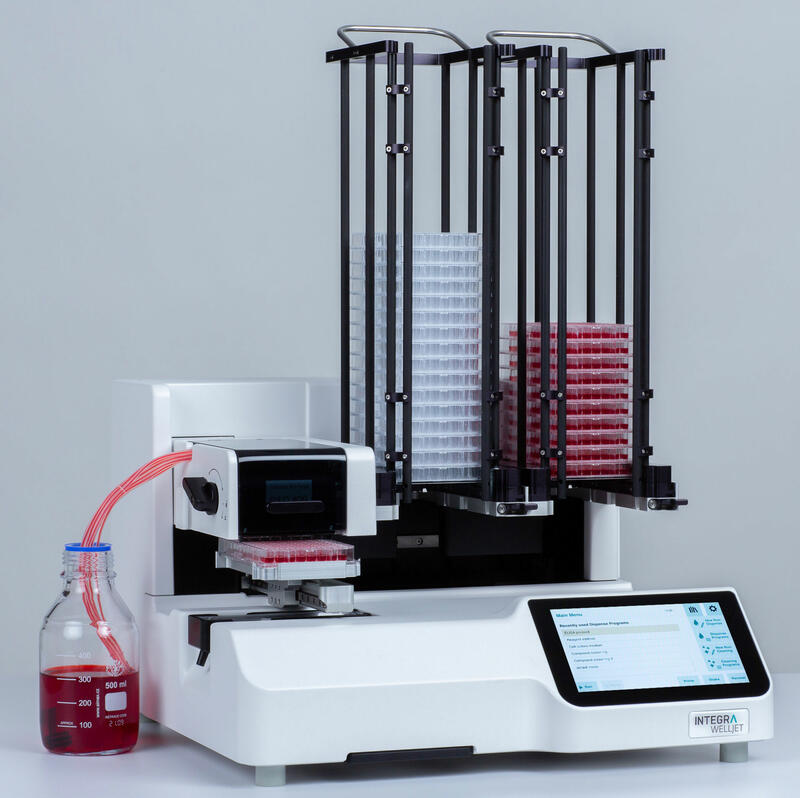 Apps
Uses and Applications
Overview
Applications
Stories
Applications
Plate filling

Plate filling

Buffers, media or other reagents

The WELLJET fills your plates with buffers, media or other reagents quickly and efficiently. The filling speed can be set to fast, medium or slow, depending on the liquid properties. The WELLJET dispenser is your ideal partner for low to medium throughput plate filling, whereas the WELLJET dispenser stacker allows hands-free medium to high throughput filling of microplates in a very short time.

The WELLJET dispenser fills plates quickly and efficiently.

Reagent addition

Reagent addition

Accurate and precise dispensing of reagents.

Adding reagents accurately and precisely to analytical assays is a prerequisite for valid data. The WELLJET guarantees accurate and precise dispensing of reagents for your assays, including ELISAs, cell-based assays, kinetic assays and compound screening.

The WELLJET performs accurate and precise reagent dispensing, every time.
Tech Info
Tech info
Find here a quick overview of the product specifications. More detailed information can be found in the download-section below.
Volume range

0.5 to 9999 µl

Operating conditions

5-35°C <80 % Humidity

Dimensions WELLJET dispenser

20 cm x 46 cm x 29 cm (7.9" x 11.4" x 18.1")

Weight WELLJET dispenser

8.8 kg

Dimensions WELLJET dispenser stacker

46 cm x 46 cm x 63 cm (18.1" x 24.4" x 18.1") - with towers for 25 plates

Weight WELLJET dispenser stacker

22.1 kg - with tower for 25 plates

Compatible formats

6, 12, 24, 48, 96, 384, 1536 well plates (shallow and deep)

Power requirements

100-240 VAC, 50-60 Hz, 100 W

Dispensing technology

Non-contact dispensing
Downloads & More
Parts and Numbers
Parts and numbers
Instrument

Instrument

A revolution in reagent dispensing

WELLJET dispenser

| Description | Part no. |
| --- | --- |
| Base unit incl. waste trough with outlet | 5000 |

WELLJET dispenser stacker

| Description | Part no. |
| --- | --- |
| Base unit incl. waste trough with outlet | 5001 |

Compact, affordable, fast, and precise. The WELLJET dispenser (left) and dispenser stacker (right) will revolutionize your workflow of dispensing reagents into microwell plates.

EasySnap™ dispensing cassettes

EasySnap™ dispensing cassettes

8 channel

| Type | Description | Part no. |
| --- | --- | --- |
| 8 channel, small bore | EasySnap™, plastic dispensing cassette, sterile, 0.5-500 µl, 4 pack | 5100 |
| 8 channel, large bore | EasySnap™, plastic dispensing cassette, sterile, 5-9999 µl, 4 pack | 5101 |

 

EasySnap cassettes are precise by design and do not need to be (re-)calibrated

Accessories

Accessories

Plate tower, tube holder, plate measuring tool and more

| Type | Description | Part no. |
| --- | --- | --- |
| Plate tower | One tower with a capacity of 25 plates | 5400 |
| Plate tower | One tower with a capacity of 50 plates | 5401 |
| Tube holder | For 2x 15 ml and 2x 50 ml tubes | 5402 |
| Waste trough | With outlet and silicone tubing, autoclavable | 5410 |
| Silicone tubing | For Waste Trough | 5411 |
| Plate measuring tool | For measuring plate heights | 5412 |
| Waste reservoir | 25 ml reagent (waste) reservoir (one base, three reservoirs); polypropylene | 4315 |