Tackling prostate cancer with INTEGRA Biosciences' pipettes
LynxDx was formed by a group of renowned clinical leaders from the University of Michigan's urology department, all dedicated to improving public health. The lab performs prostate cancer screening using its proprietary MyProstateScore 2.0 (MPS2) approach, a non-invasive urine test that detects the presence of 18 genetic biomarkers linked to prostate cancer. MPS2 utilizes a cohort-specific algorithm to optimize diagnostic accuracy and provide clinical flexibility for biopsy-naïve patients and those with a prior negative biopsy, providing highly accurate and specific insights that can reduce the frequency of unnecessary and potentially high risk biopsies.
In early 2020, the SARS-CoV-2 outbreak caused LynxDx to change its focus to high volume COVID-19 testing. To meet the rapidly growing demand, the lab acquired several new liquid handling products to speed up its sample preparation processes. Dr Jacob Meyers, Senior Scientist of Research and Development at LynxDx, explained this decision: "We were used to working with solely urine samples as part of our prostate cancer diagnostics program prior to the pandemic, but COVID-19 PCR testing uses saliva, which is far more viscous and is highly variable between individuals. The new sample type and testing workflow presented a challenge, prompting us to look for different liquid handling solutions. We chose to purchase four VIAFLO 96 handheld electronic pipettes and four 8 channel VOYAGER adjustable tip spacing pipettes from INTEGRA, because we needed robust and reliable systems that would allow us to consistently handle high numbers of samples and ensure the most accurate results in the shortest amount of time."
The outbreak inevitably slowed down prostate cancer screening at LynxDx but, in recent months, the number of samples being received by the lab has picked back up to pre-pandemic levels. Jacob described how the company is still benefiting from its new pipetting instruments post-COVID-19: "With SARS-CoV-2, it was important to inform individuals of their results as soon as possible, so they could either go about their lives normally, or potentially isolate to prevent the further spread of the virus. INTEGRA pipettes and tips played a key role in enabling us to maintain a short turnaround times to results throughout each wave, and have been particularly valuable in helping us to manage our increased workload now our cancer screening operations are back on track."
The adjustable tip spacing feature of the VOYAGER pipettes was crucial to the lab's workflow during the pandemic, as it enabled staff to quickly and easily switch as needed between urine and saliva sample preparation tasks, which typically required different labware formats and batch sizes. The pipette has since proven to be a versatile tool that LynxDx personnel can use for many different pipetting tasks, enabling the lab to maximize its sample throughput for both testing applications post-COVID-19. Similarly, staff have found the ability to quickly change between pipetting heads on the VIAFLO 96 extremely convenient, and now use both a 10-300 μl and a 50-1250 μl head for the preparation of samples for COVID-19 testing.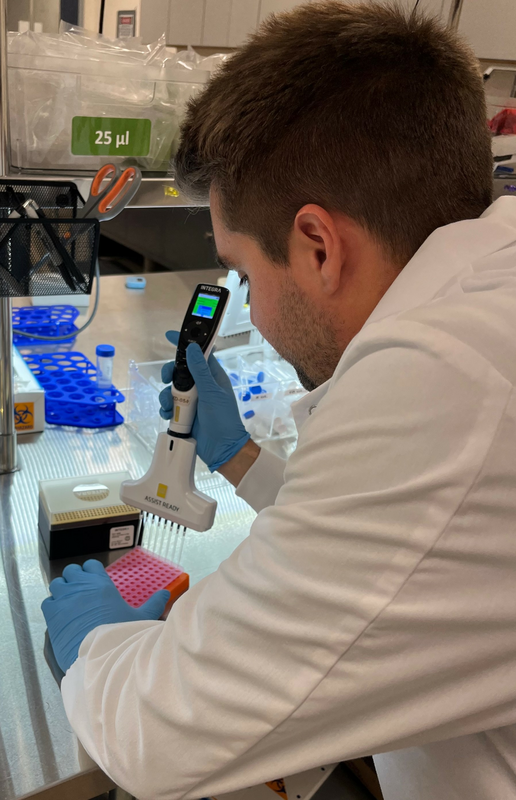 Jacob added: "We're also very pleased with the performance of the GRIPTIP pipette tips used on both the VIAFLO 96 and VOYAGER pipettes, and especially the tip retention – something that is paramount for us. We've already found them to be much better than other pipette tips we have used in the past from other suppliers, and they have made our mixing steps noticeably easier and faster. INTEGRA was extremely helpful in assisting us to find the right instruments and pipette tips for our specific needs."
"We're now planning to transfer our VIAFLO 96 pipettes over to cancer screening to help us provide fast and accurate results to clinicians, which is vital for the early detection and treatment of prostate cancer. The lab is currently performing validation of these instruments for our MPS workflows, and we're confident they will help us to increase the quality and speed of results. From an R&D standpoint, the team would like to acquire more VIAFLO 96 pipettes and a wider variety of INTEGRA products, allowing us to further streamline and automate our liquid handling workflows in preparation for the diagnostic needs of the future," Jacob concluded.