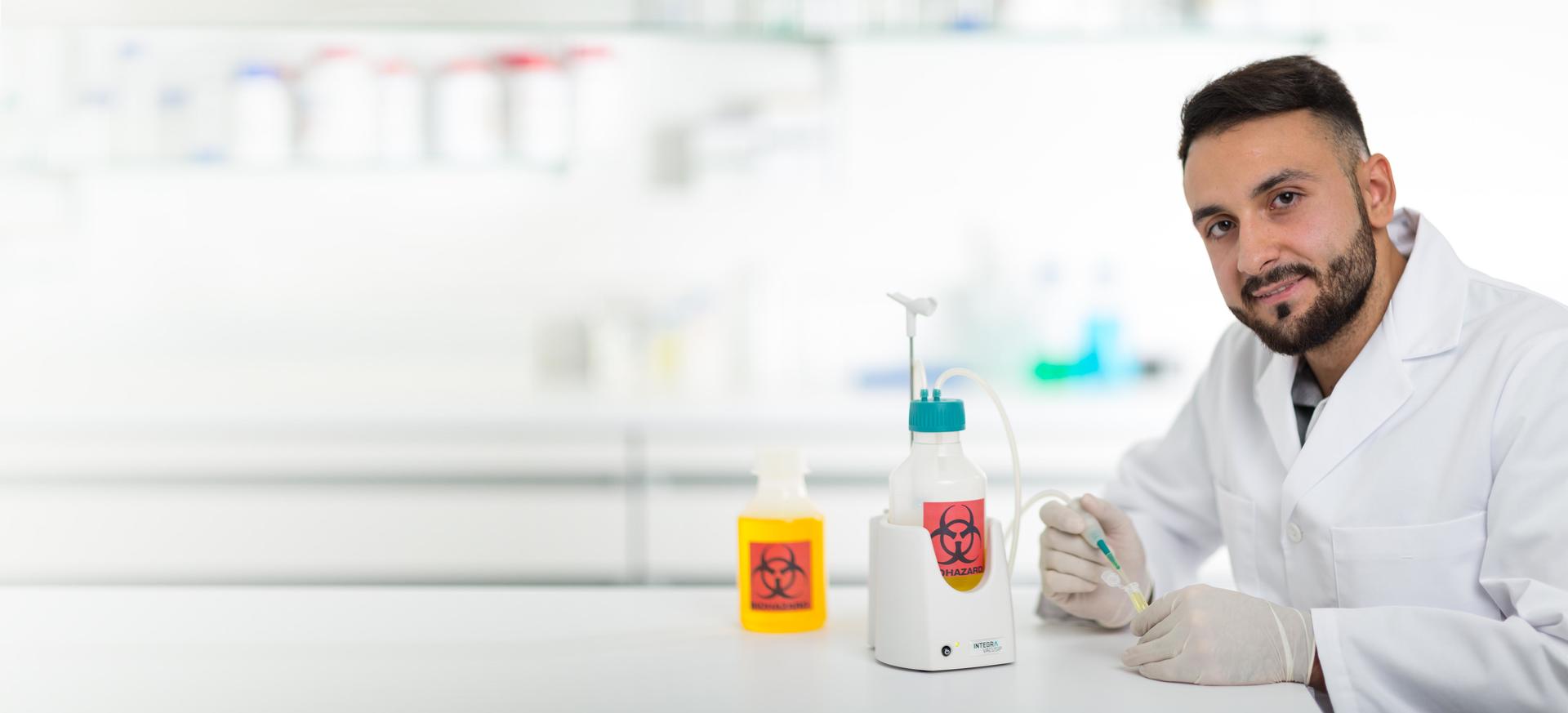 VACUSIP
Portable Aspiration System
Portable Aspiration System
Product story
Lost among small volumes of biological liquid waste?
Until now, aspiration of supernatants after centrifugation steps or removal of washing solutions from microtiter plates have been mainly accomplished by self-made systems consisting of a trap flask, a rudimentary aspiration tool and an external vacuum source. Using such self-made tools has major limitations in convenience, safety and efficiency. The different parts need to be assembled individually, the handling is cumbersome and there is a considerable risk of contaminating the house vacuum system.
To eliminate these disadvantages, INTEGRA has developed VACUSIP, a portable aspiration system for convenient and affordable liquid waste disposal. It is a compact and ready-to-use vacuum aspiration system with an integrated silent vacuum pump for the aspiration of small volumes of liquids. With VACUSIP you no longer have to worry about tedious handling or the risk of contaminating your house vacuum system.
How it Works
How it works
VACUSIP provides an out-of-the-box solution for a wide array of liquid waste disposal tasks. It features a reliable and silent pump, enabling it to operate independently from an external vacuum source. The rechargeable battery version provides even more flexibility. A unique hand operator allows for a fine regulation of the liquid flow and can be connected to various adapters.
Portable and Compact

VACUSIP is small, compact and fits on every bench.

Due to its independence from an external vacuum source or power supply, it can be relocated wherever needed.

When working in a safety cabinet, only a minimum of tubing and cable is desirable. Due to the rechargeable battery in VACUSIP, a power supply cable is not needed.

Just Convenient

VACUSIP is an out-of-the-box solution. No installation or additional equipment is required.

The integrated pump runs silently and stops automatically when the vacuum is established.

Changing a filled collection bottle of VACUSIP is clean and convenient. Simply unscrew the lid and attach an empty glass bottle or a plastic bottle for direct disposal.

To keep the workspace clean and organized, the hand operator can be placed in the integrated holder.

Versatile

The silicone hand operator allows regulation of the liquid flow by applying varying finger pressure.

Different adapters are available to match a multitude of laboratory containers.

Safety in Mind

A hydrophobic filter protects the unit from damage and contamination by aerosols and liquids.

For easy decontamination, all parts that come in contact with liquids can be autoclaved.
Customer Voices
See it Work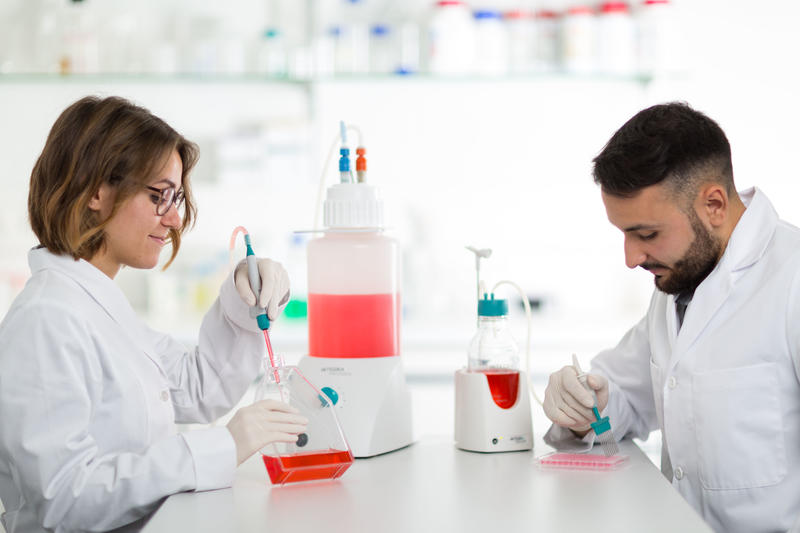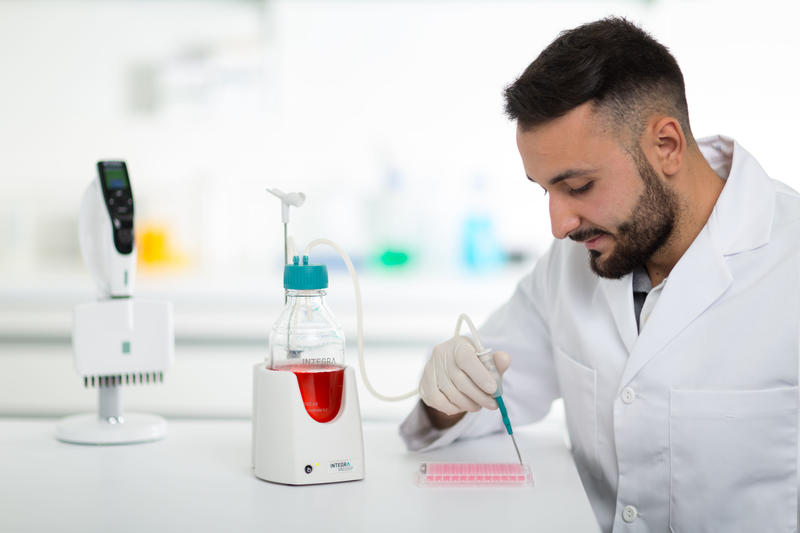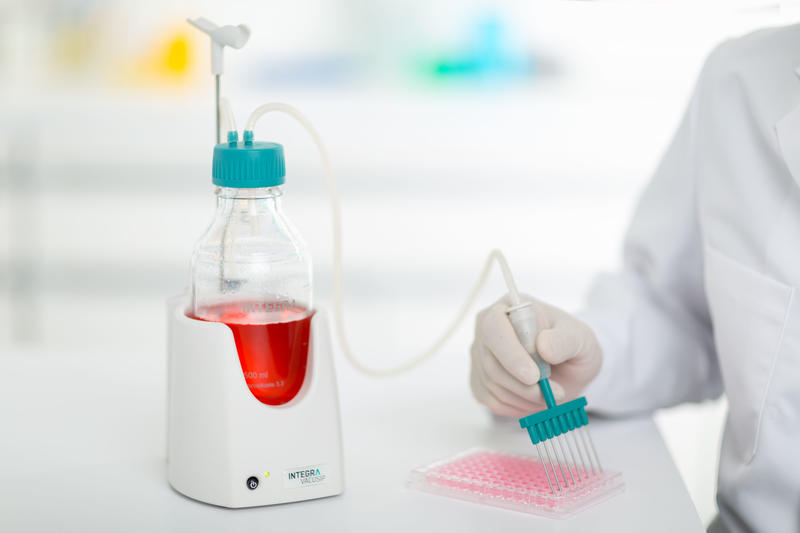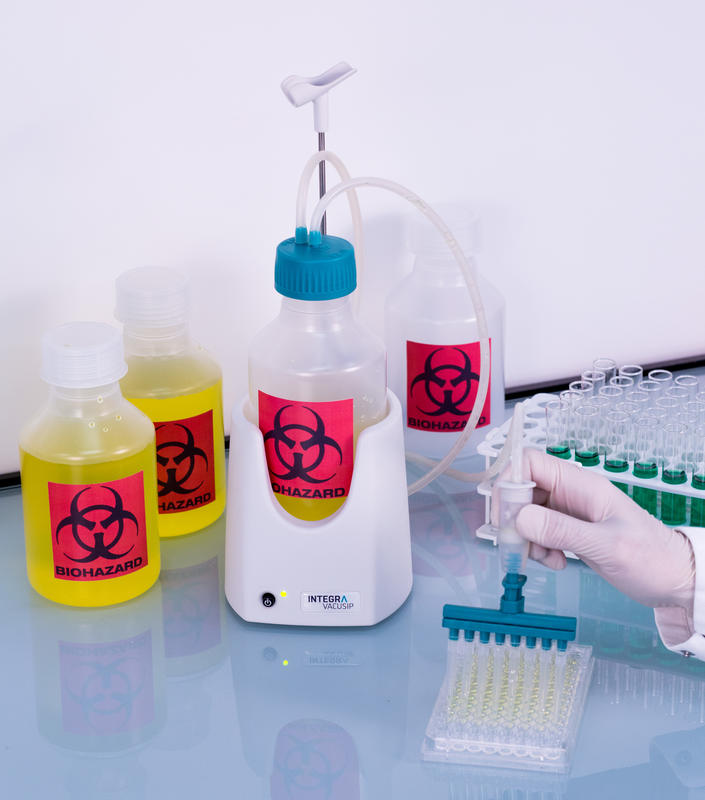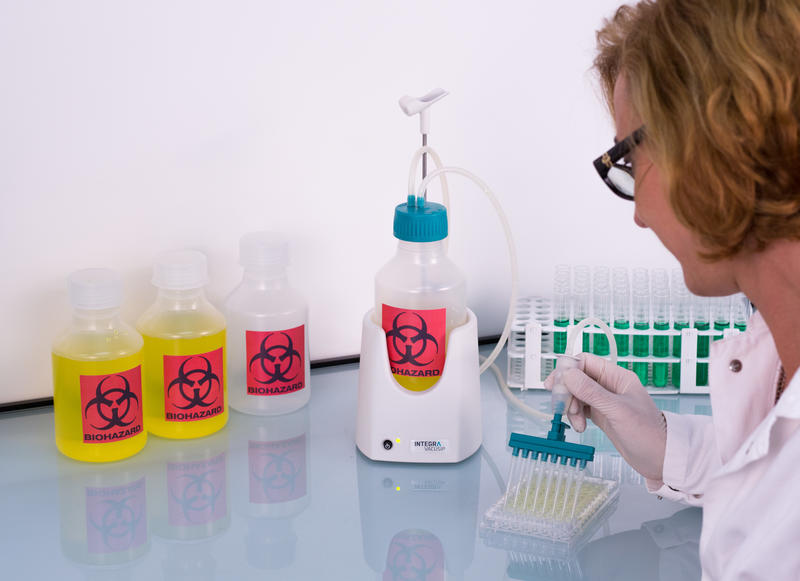 Uses and Applications
Overview
Applications
Stories
Tech Info
Tech info
Find here a quick overview of the product specifications. More detailed information can be found in the download-section below.
Vacuum range

-250 mbar ±20 %

Pump flow rate

2.3 ml/s (with stainless steel tip 40 mm)

Dimensions (HxWxD)

25 x 120 x 162 mm; Height with bottle and aspiration device: 345 mm

Weight

500 g (without bottle)

Battery

Li-Ion (rechargeable)

Autonomy with battery

5 days when aspirating 1 h per day

Filter

0.45 μm hydrophobic filter

Bottle

Borosilicate with GL45 lid, 500 ml
Downloads & More
Parts and Numbers
Parts and numbers
Instruments

Instruments

VACUSIP

| | |
| --- | --- |
| Description | Part No. |
| VACUSIP battery version | 159 000 |
| VACUSIP | 159 010 |

VACUSIP benchtop aspiration system

Accessories

Accessories

Adapters & Mains Adapter

Adapter

| | | |
| --- | --- | --- |
| Description |   | Part No. |
| 1-channel stainless steel aspiration adapter 40 mm | E | 155 502 |
| 1-channel stainless steel aspiration adapter 150 mm |   | 155 522 |
| 1-channel stainless steel aspiration adapter 280 mm | F | 155 525 |
| 1-channel adapter for disposable tips/GRIPTIPS (pack of 5) | D | 159 023 |
| 1-channel adapter with ejector for disposable tips | C | 159 026 |
| 1-channel adapter with ejector for GRIPTIPS | C | 159 027 |
| 4-channel stainless steel aspiration adapter 40 mm |   | 155 524 |
| 8-channel stainless steel aspiration adapter 40 mm | A | 155 503 |
| 8-channel adapter with ejector for disposable tips | B | 159 024 |
| 8-channel adapter with ejector for GRIPTIPS | B | 159 025 |

VACUSIP adapters

Mains Adapter

| | |
| --- | --- |
| Description | Part No. |
| EU | 156 631 |
| US | 156 630 |
| JP | 156 634 |
| UK | 156 632 |
| AU | 156 633 |

Consumables

Consumables

Filter, Tubings, Bottles and more

| | |
| --- | --- |
| Description | Part No. |
| Filter for protection of the pump, non sterile, 0.45 µm | 153 016 |
| Tubing (silicone), 3 mm ID, 2.5 m | 171 023 |
| Tubing (silicone), 3 mm ID, 25 m bulk roll | 171 033 |
| Tubing set VACUSIP. Consists of VACUSIP hand operator, silicone tubing (1.2 m and 0.22 m), 1 filter (non sterile, 0.45 µm) | 159 040 |
| INTEGRA borosilicate bottle with standard GL 45 blue lid, 500 ml | 159 031 |
| Single-use PP bottle with GL 45 lid, 500 ml (pack of 10) | 159 032 |
| Green lid GL 45 with tube fittings (pack of 2) | 159 035 |
| Hand operator VACUSIP to operate VACUSIP and attach an adapter, silicone | 159 020 |