MINI 96 portable electronic pipette wins SelectScience® Scientists' Choice Award
The ultra-compact and portable MINI 96 electronic pipette is designed specifically to meet the needs of busy labs, by effortlessly increasing pipetting productivity and reproducibility for all liquid handling workflows, as well as minimizing repetitive strain. The impact that this has had on labs across the globe is being recognized as the MINI 96 becomes the next in a line of INTEGRA products to be awarded this impressive accolade, following in the footsteps of the ASSIST PLUS pipetting robot in 2018.
Lukas Keller, Director of Marketing Communications at INTEGRA, commented: "It is truly an honor to receive this award, even more so because it was chosen directly by the laboratory professionals that our products are created for. We would like to thank everyone that took their time to vote for the MINI 96, and are pleased that it is helping to improve pipetting productivity and accuracy across the globe."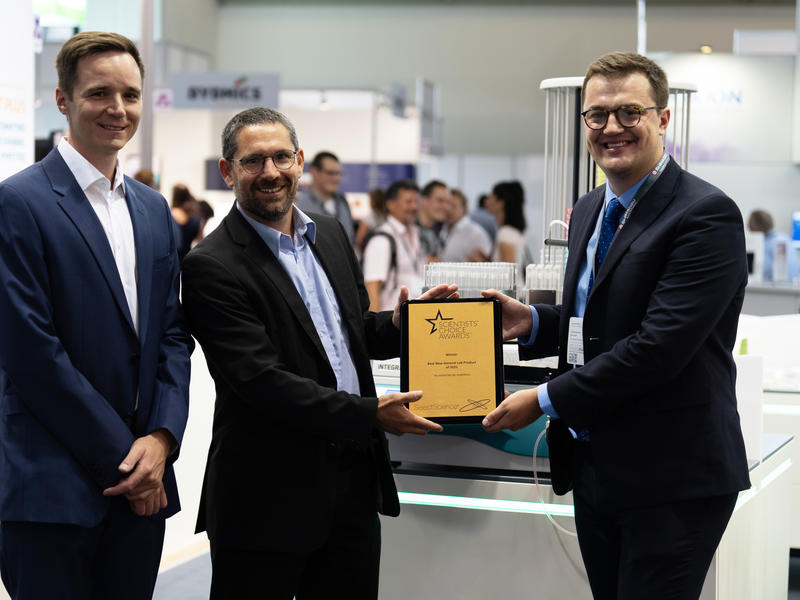 Designed with scientists in mind
Launched in spring 2021, the award-winning MINI 96 was developed to give every lab access to significantly increased liquid handling productivity, by offering the versatility of a handheld pipette in a high throughput instrument. This extremely lightweight and efficient instrument is the most affordable 96 channel electronic pipette on the market, and is available in four volume ranges – 0.5-12.5, 5-125, 10-300 and 50-1250 µl – allowing effortless and reproducible plate-to-plate transfers. Electronic tip loading and ejection, together with motor-driven pipetting and a range of advanced pipetting modes – including mixing and repeat dispense functions – make the MINI 96 ideal for repetitive liquid handling tasks. Using this system to pipette an entire 96 well plate in parallel helps to eliminate inter-operator variability and the potential for human errors, leading to more accurate and consistent pipetting.
The MINI 96 portable electronic pipette offers exceptional liquid handling at an unmatched price, without the need for dedicated personnel or complicated training. The system comes ready-to-use straight out of the box, and boasts a large touchscreen user interface with simple on-screen tutorials to intuitively guide new users through a range of pipetting tasks, maximizing operator satisfaction.
Discover the MINI 96 portable electronic pipette today and enhance your pipetting productivity.