Rethinking the divided reservoir
Reducing plastic waste
Most reservoirs have a built-in base, which means that when you're done, the whole thing is discarded, and that adds up to a lot of unnecessary plastic waste. By developing a sturdy, reusable base compatible with a range of reservoir inserts, we're helping you to reduce your plastic waste, as well as saving you money.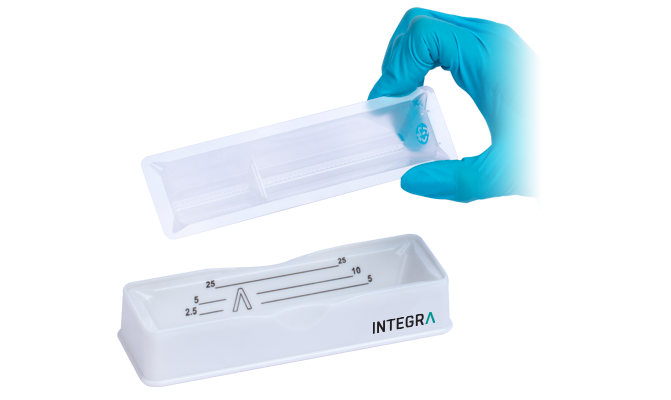 Minimizing dead volumes
Next, we turned our attention to dead volumes, which is a real problem, particularly if you are using expensive reagents, such as a PCR master mix. Many other reagent reservoirs have V-shaped bottoms to minimize dead volume. However, the truth is that as soon as one tip on a multichannel pipette starts to aspirate air, the rest of the liquid in the other tips becomes dead volume. Our solution to this age-old problem was to develop a reservoir combined with two innovations: our SureFlo™ anti-sealing array and our unique surface treatment.
SureFlo works on a simple but powerful principle. A series of tiny channels enables your pipette tips to sit on the bottom of the reservoir, without sealing or creating a vacuum, while still allowing your reagent liquid to flow smoothly. This is enhanced by our specially formulated inert, hydrophilic surface treatment that prevents liquid from pooling, resulting in a reservoir designed to offer the lowest dead volumes on the market.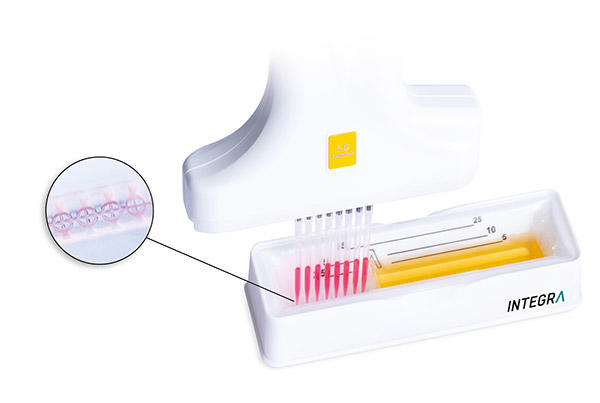 A divided reservoir with all the benefits
Our latest release is the divided reservoir, offering 5 and 10 ml volumes side-by-side, while still fitting comfortably in a 25 ml reusable base with clearly visible volume graduations for accurate filling. Incredibly, some of our early tests reveal that we can achieve dead volumes of less than 3 µl – our lowest ever – on the 5 ml side. The new design perfectly complements INTEGRA's entire family of multichannel EVOLVE manual pipettes, VIAFLO electronic pipettes and VOYAGER adjustable spacing pipettes. The eight-channel VOYAGER pipette is ideal for aspirating from the 5 ml side and then dispensing into a 96- or 384-well plate. As with other reservoirs in the family, we've molded pour-back spouts into the corners, enabling convenient, spill-free return of unused reagent to the source container, and the reservoir is available in both polystyrene and polypropylene for compatibility with a wide range of chemicals.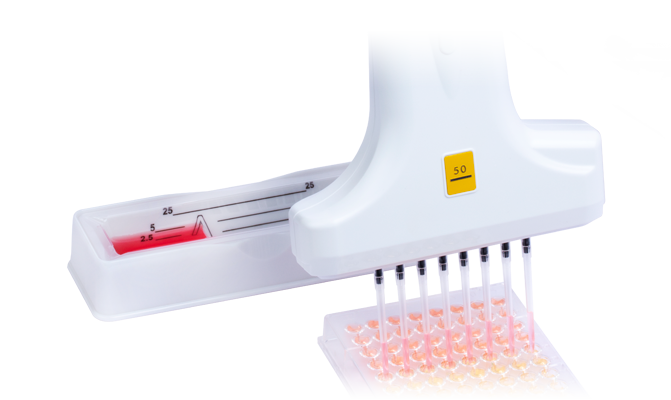 What are you waiting for?
It might be reasonable to think that all these benefits come with a hefty price tag, but we're delighted to offer the divided reservoir at a genuinely competitive rate. And when you consider the true cost of dead volumes, reagent waste and throwing away plastic, it's hard to argue against the compelling case for giving our reservoirs a try.