COVID-19 – Accelerate your PCR setup
As a result of the coronavirus pandemic, SNP found itself analyzing extreme numbers of samples, which exhausted the capacity of its automation platforms. At the same time, staff were faced with a need to spend more time working up new virus testing protocols, which were often performed manually or using semi-automated methods to fast track test response times, leaving them prone to increased ergonomic strain. There was a clear need for additional automated liquid handling instruments to increase sample processing capacity, reduce manual intervention by laboratory analysts and fast track assay development for COVID-19 sample testing.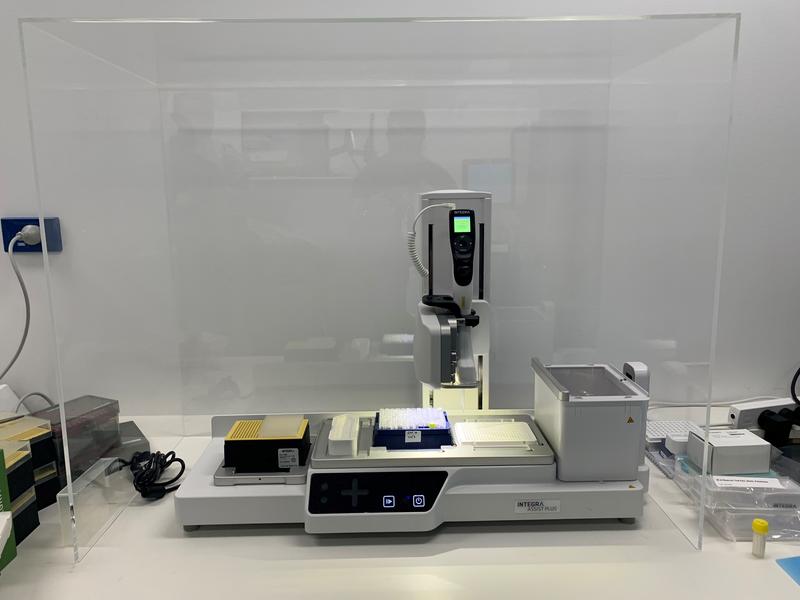 Working together
In early March 2020, Kelly Magin and James Sundholm from INTEGRA's Australian distributor, BioTools Pty Ltd, partnered with Shane Byrne, Scientific Department Head, Microbiology and Molecular Pathology Department, to support COVID-19 testing of patient samples using the ASSIST PLUS pipetting robot. An ASSIST PLUS automated pipetting protocol was developed and validated, enabling samples to be prepared in low volume, 384 well plates for subsequent processing on a rapid, high throughput, plate-based, real-time PCR amplification and detection instrument. A VOYAGER adjustable tip spacing pipette and Low Retention GripTips™ were used to transfer One-step RT-PCR Mastermix from a low dead volume (<20 µl) SureFlo™ 10 ml Reagent Reservoir into a 384 well plate. The VOYAGER pipette also allowed automatic transfer and reformatting of nucleic acid template extracted from combined nasopharyngeal/oropharyngeal flocked swab(s) or sputum samples, from 4 x FluidX™ 1.0 ml 96 format tube racks into the 384 well plate. The total PCR reaction volume was reduced to 10 µl; 7.5 µl One-step RT-PCR Mastermix and 2.5 µl of nucleic acid template. This miniaturization doubled the available testing capacity and simultaneously reduced consumption of expensive One-Step RT-PCR reagents of dwindling availability, with associated cost savings
A detailed description of the application including customizable VIALAB protocols can be found here.
Defining success
SNP successfully validated the automated protocol against its existing manual processing method, performed using a handheld electronic pipette. The results were shown to be reproducible, precise and accurate, with no contamination observed in either the control or patient samples. The compact, easy-to-use ASSIST PLUS pipetting robot, complete with validated protocol, was fully deployed within five working days. While the current protocol uses 384 well plates, it can be readily adapted to 96 well format to meet future needs.
Further reading: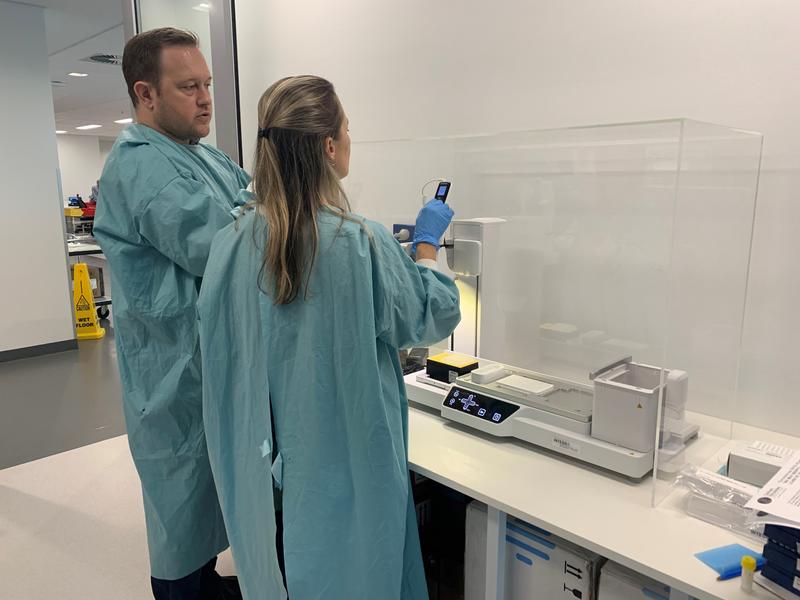 Any questions? I'm happy to help!