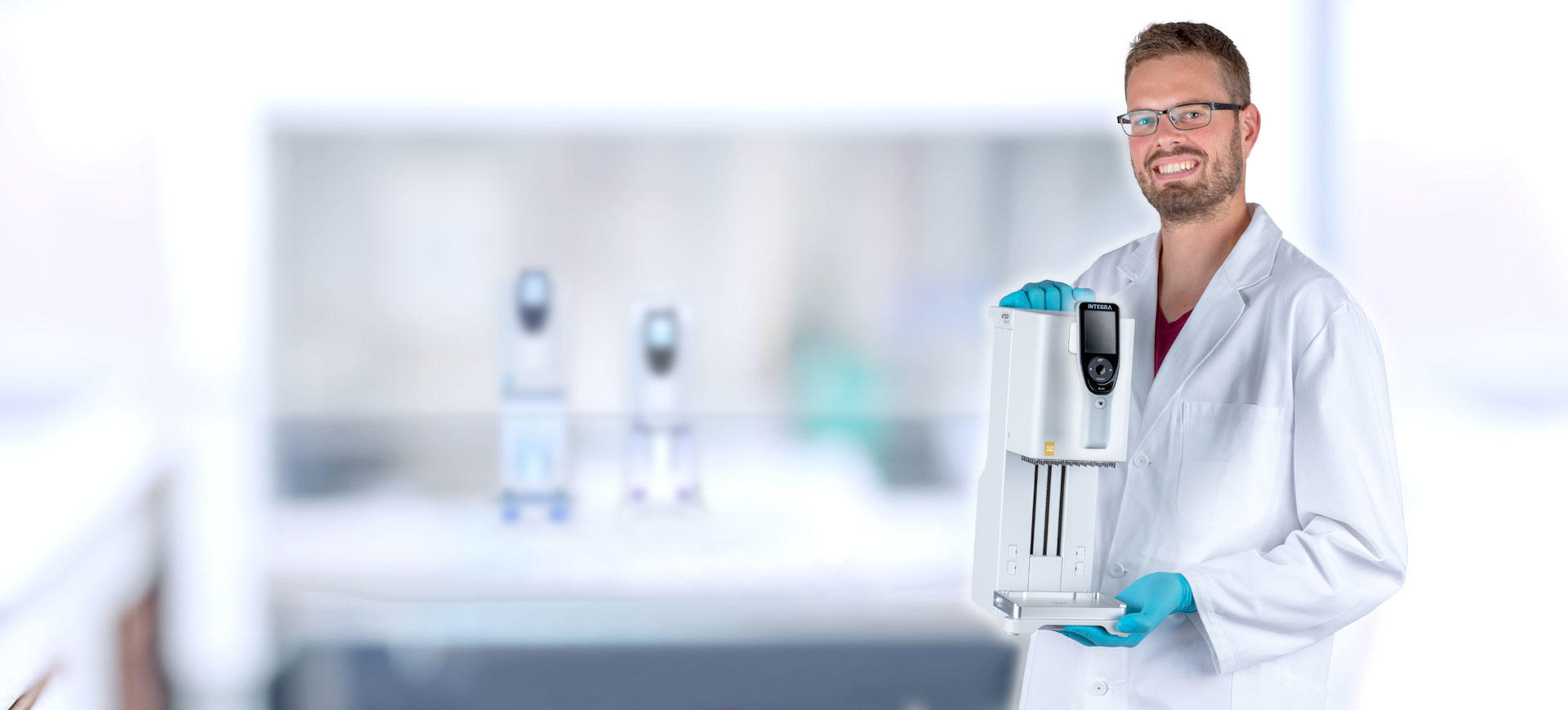 MINI 96
96 Channel Portable Electronic Pipette
96 Channel Portable Electronic Pipette
Product story
The most affordable 96 channel electronic pipette on the market – fits any budget and workspace, and ready to use straight out of the box.
The MINI 96 is the solution for laboratories that want to fill 96 and 384 well plates faster and more precisely than is possible using traditional handheld pipettes while keeping under budget. As the world's most affordable 96 channel option on the market, it enables simultaneous whole plate pipetting – as well as partial plate filling – to ensure that your lab's productivity skyrockets compared to 8 and 12 channel pipettes.
Its tiny size and portability allow the instrument to be easily moved for use anywhere in the lab, from the LAFC to small work spaces on any lab bench. The MINI 96 is also easy to use – simply turn it on and start pipetting. 
Access to more productivity for every lab, every work space, and every budget.
Did you know that there is another 96 channel instrument from INTEGRA which offers more channels (24, 384), working positions (up to 3), and hands-off time? 
How it Works
How it works
MINI 96 transfers 96 samples in a single step, making filling these plates much faster and more reproducible. In addition, individual columns of a plate can be filled as well (8 samples, 16 samples, 24 samples…), replacing the need to use 8 channel pipettes entirely. Up to two positions for labware can be used at one time (eg. Reservoir and 96 well plate).
Simple handheld operation

MINI 96 is a handheld 96 channel electronic pipette, made to increase the productivity and reproducibility of every lab filing 96 or 384 well plates. It is as simple to use as a single channel electronic pipette.  A servo motor assists all movements, resulting in effortless pipetting - just sit and start pipetting. Manual indexing from 96 to 384 format is a breeze with the flippable Base Stage.

Portable, tiny footprint

With a footprint about the size of a 96 well plate, the MINI 96 fits on any bench space in any lab. It's extremely light weight and small, allowing everyone to grab and move it to exactly where it's needed. In addition, its tiny size and portability make it the ideal instrument to use and move into and out of a Laminar Flow Cabinet.

Easy to understand menu

No formal training required – simply turn on and start pipetting, guided by the logical menu navigation. There are even tutorials to help answer any questions a new user might have.

Removable second labware position

A removable Second Stage comes standard with each MINI 96 to reduce labware handling. The source plate or reservoir can be placed on the base stage, then target plates can be loaded onto the Second Stage for filling.

Optionally fill partial plates or single columns

Filling partial plates, for example, half plates or a few columns, or performing serial dilutions is easily achieved using the optional Two Position Stage. This avoids excessive plate handling, streamlining protocols and giving you the flexibility to find the optimal set-up for you. Of course, it can also be used to load all 96 tips as well!

GRIPTIP® Pipette Tips which never leak or fall off

Losing a tip during an assay preparation can ruin hours of work. Also a reliable sealing between tip and fitting to avoid dripping tips is of key importance for accurate pipetting.

INTEGRA has redesigned the connection between pipette tip and tip fitting to eliminate these issues. The unique GRIPTIPS® Pipette Tips are comfortably loaded and ejected without any physical effort due to a power assisted mechanism activated by a push button. The loading procedure also guarantees that GRIPTIPS® are not touched by the user and remain sterile.
Customer Voices
See it Work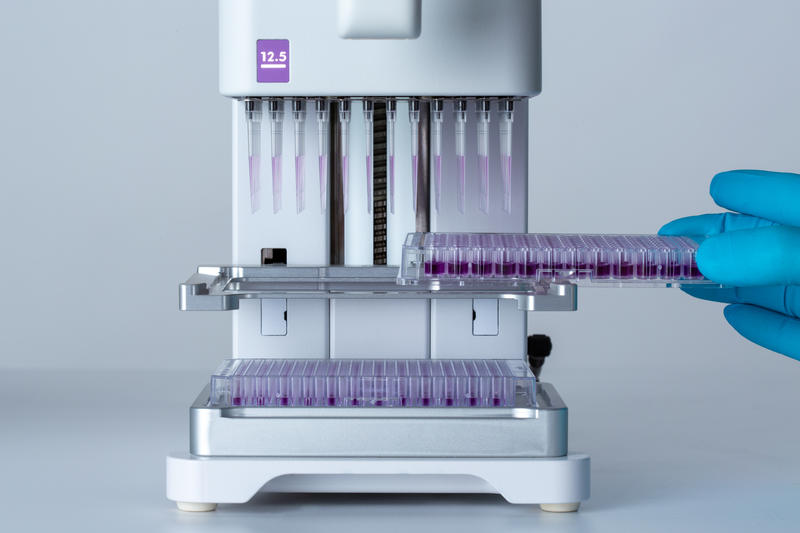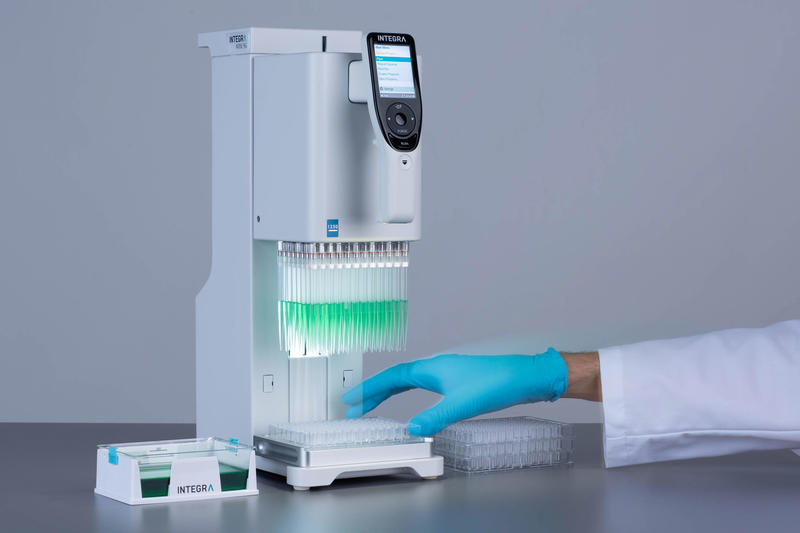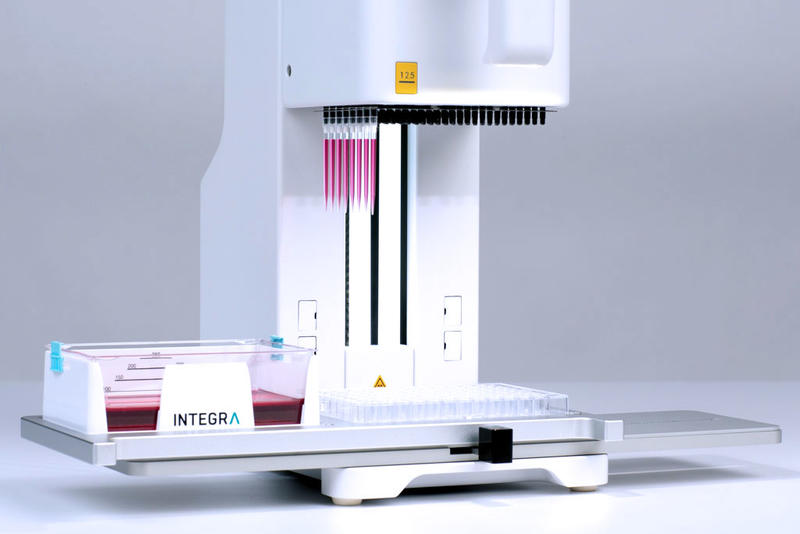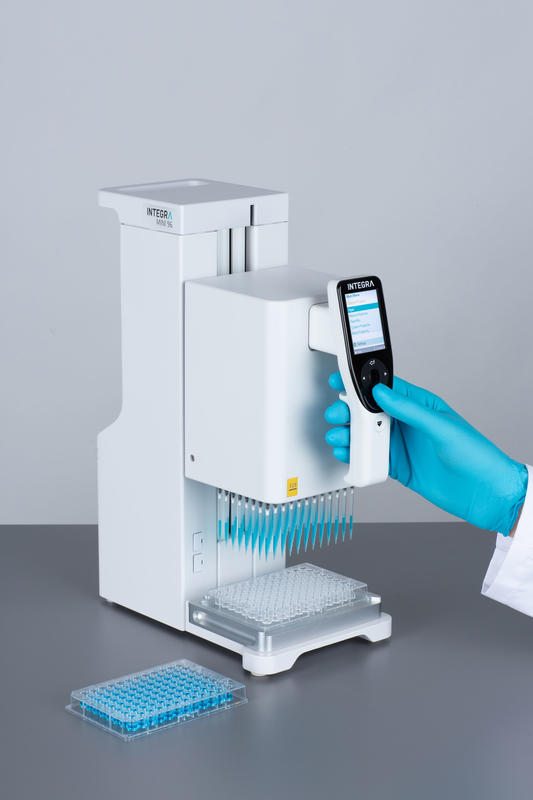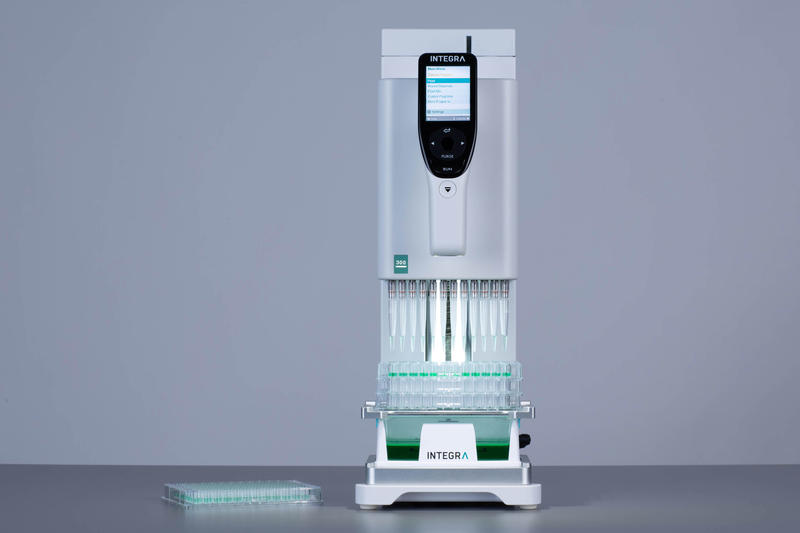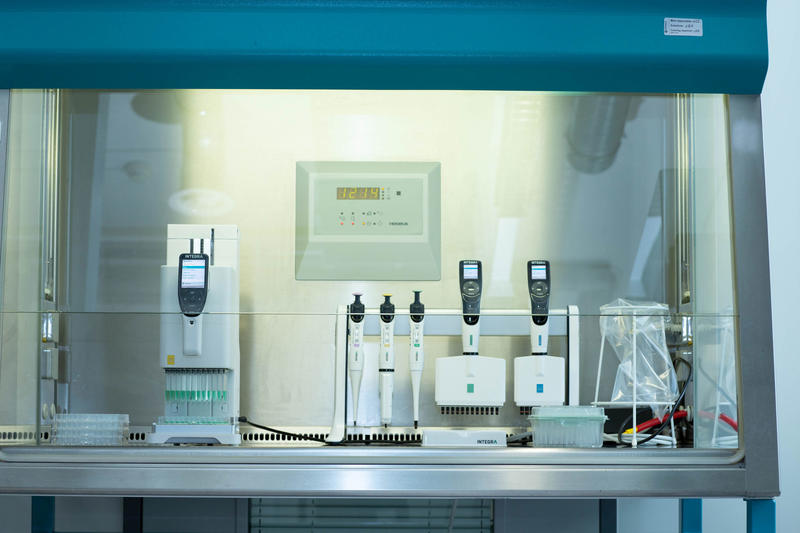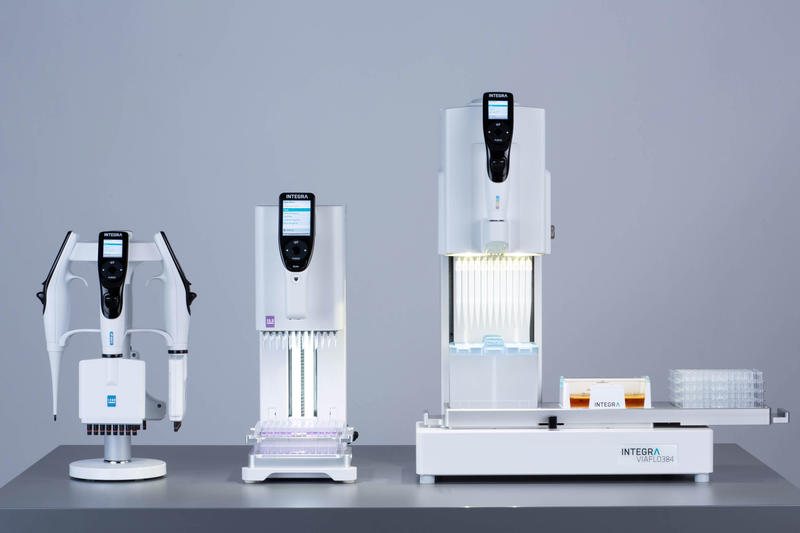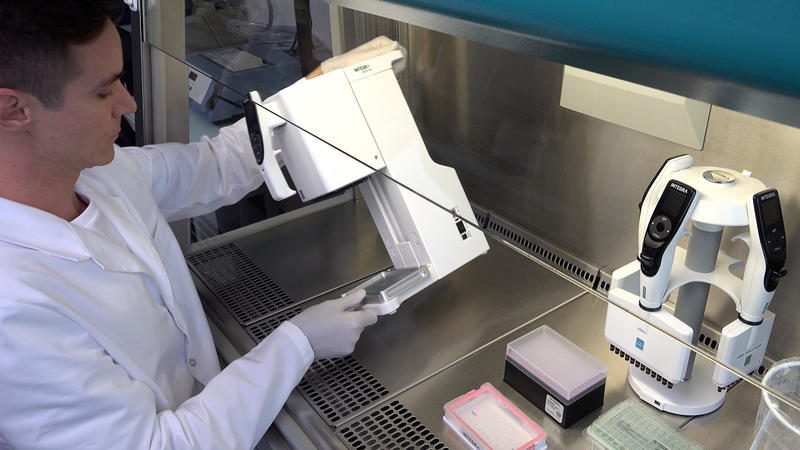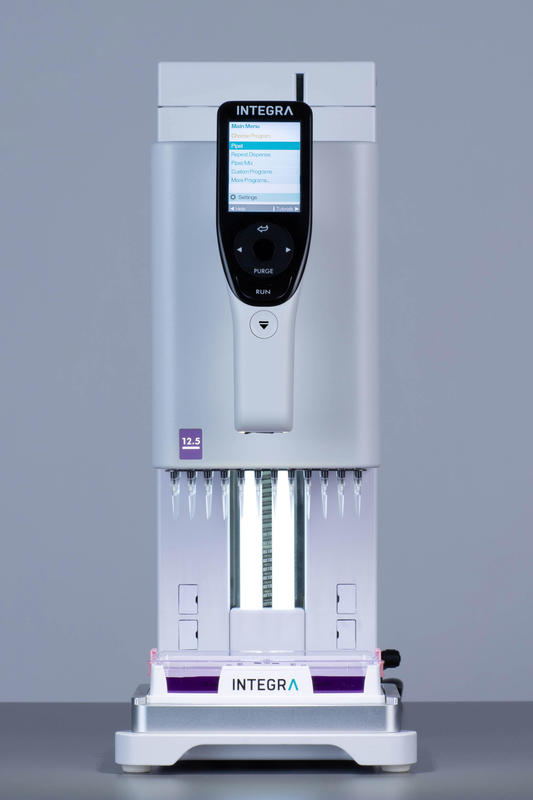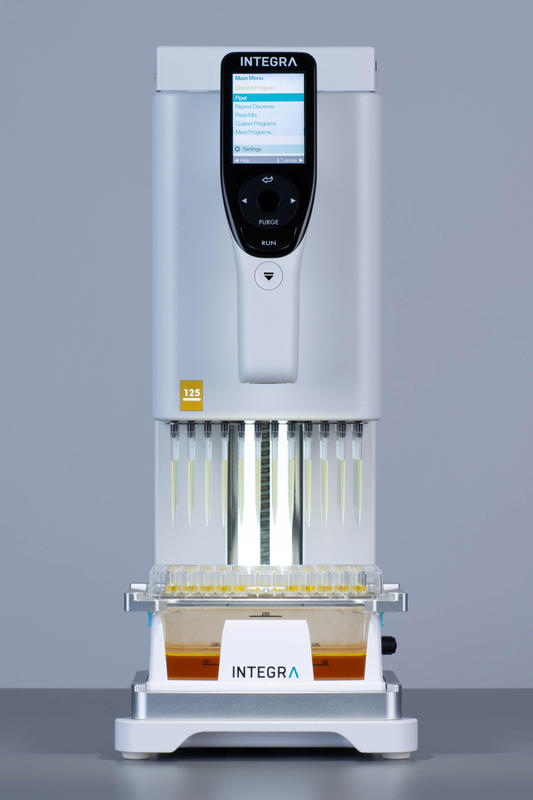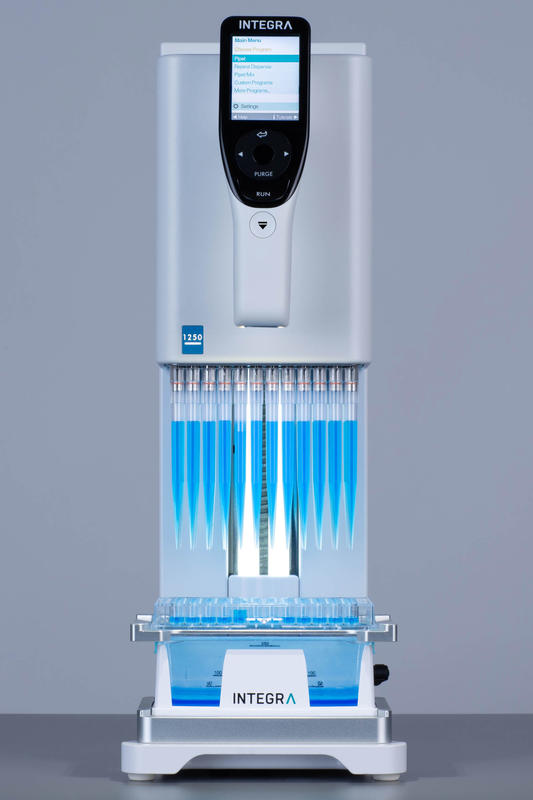 Apps
Uses and Applications
Overview
Applications
Stories
Applications
Repeat Dispense

Mixing Mode

Plate to Plate Transfers

Partial Plates and Serial Dilution
Tech Info
Tech info
Find here a quick overview of the product specifications. More detailed information can be found in the download-section below.
Dimensions 12.5 µl, 125 µl (W x D x H)

16 cm x 26 cm x 40 cm (6.3" x 10.2" x 15.8")

Dimensions 300 µl, 1250 µl (W x D x H)

16 cm x 26 cm x 44 cm (6.3" x 10.2" x 17.3")

Weight 12.5 µl, 125 µl

8.8 kg

Weight 300 µl, 1250 µl

9.4 kg

Power Requirements

100-240 VAC, 50/60 Hz

Pipetting channels

96

Compatible formats

96-, and 384-well microplates, shallow and deep well

Labware positions

Up to 2
Downloads & More
Parts and Numbers
Parts and numbers
Instruments

Two Position Stage

Automation Friendly Clear Advantage™ Reservoirs

Replacement O-Rings

Cooling

GRIPTIP® Pipette Tips