INTEGRA pipetting solutions streamline molecular diagnostics
Renegade.bio first began operating in collaboration with the New York Genome Center, and soon afterwards opened its own CLIA-certified laboratory in the San Francisco Bay Area of California, USA. The lab developed its semi-automated PCR testing workflow based on the CDC's original SARS-CoV-2 assay. It was also the first lab on the West Coast to offer the SalivaDirect™ protocol developed by Yale School of Public Health.1 This was one of the earliest saliva-based tests developed to detect SARS-CoV-2, and renegade.bio was the first company on the West Coast to receive Emergency Use Authorization to use this procedure.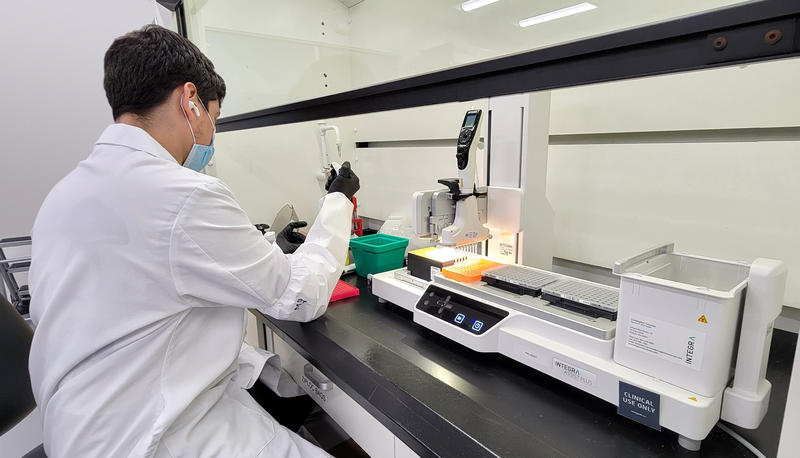 The right tool for the job
Dr Gabriel Paulino, Co-founder and Vice President of Product Development and Innovation at renegade.bio, shared his experience of setting up the new lab under such extraordinary circumstances: "At the beginning, we brought in a number of different automation platforms, and the ASSIST PLUS pipetting robot equipped with a VOYAGER adjustable tip spacing pipette remains one of our main automation platforms. This has really helped us to increase our throughput, as the distance between the racked tubes that we use is different from the spacing between the wells in the plate. The VOYAGER is our primary solution for moving samples between different labware formats, as it automatically adjusts the distance between the individual tips. We also use the VIAFLO 96 handheld electronic pipette for assay set-up, as it's really useful to be able to pipette reagents into every well of a microplate at the same time."
Achieving health equity    
Automating repetitive liquid handling tasks with INTEGRA pipetting solutions, together with a decentralized approach to sample collection, has helped renegade.bio to reduce costs while greatly increasing productivity, and still turning around assay results in as little as 12 hours.2 This significant cost saving has helped to lower the economic and logistical barriers that prevent more widespread diagnostic SARS-CoV-2 testing, making it accessible to a wider range of users.
Gabriel believes that easy to use pipetting systems are essential to the success of this approach: "We love the user interface of the INTEGRA products. It's so easy to program the pipettes, and very intuitive. INTEGRA's technology has significantly streamlined the whole assay process, so our lab personnel don't need to do any pipetting – it's all automated. This helps to reduce human error and fatigue, and allows us to work around the clock at our maximum capacity of around 2000 tests a day. INTEGRA was definitely the right solution for us, and we are confident that these products will continue to meet our needs well into the future. We've also recently invested in a MINI 96 portable electronic pipette to further streamline our workflows."