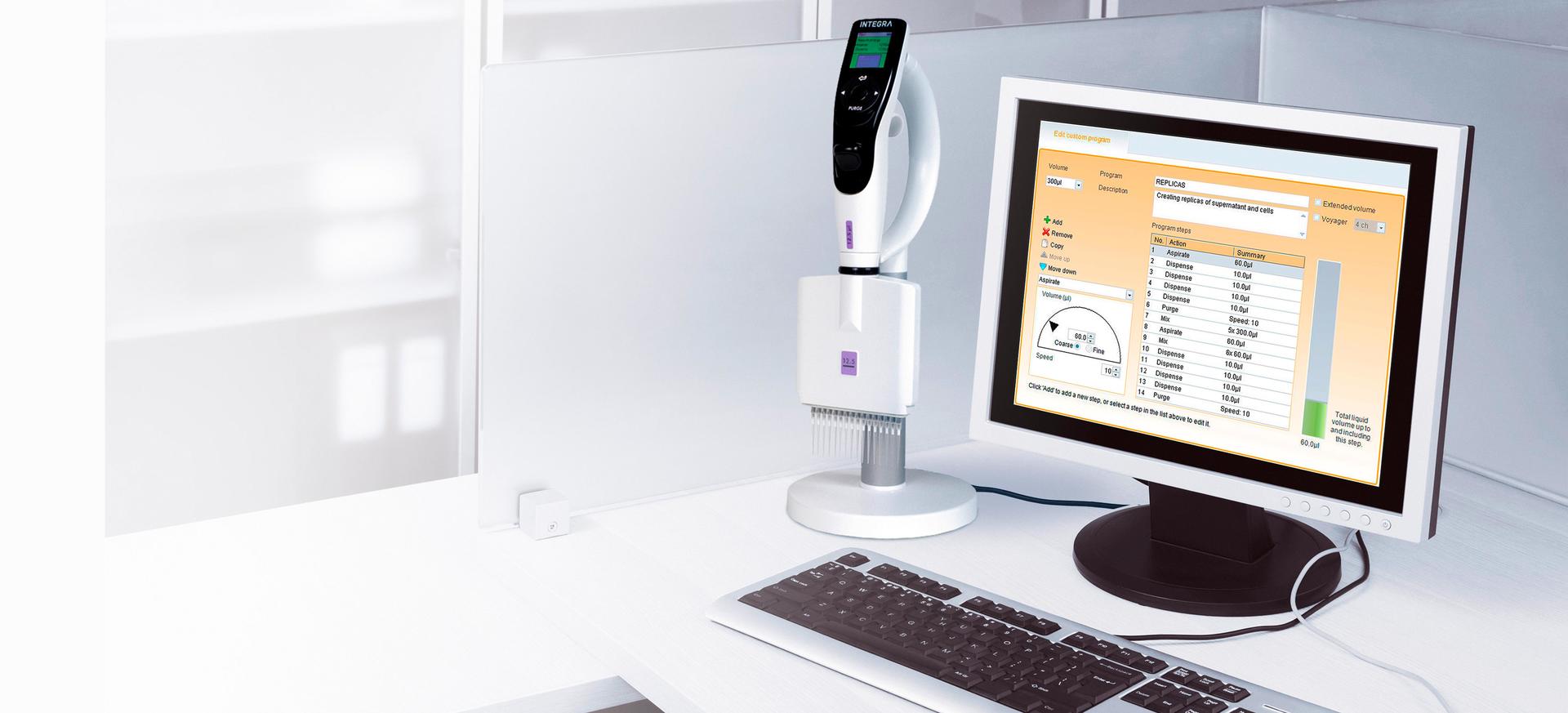 VIALINK
Pipette Management Software
Pipette Management Software
Product story
Easily manage your pipettes
Once installed on your computer, simply connect any INTEGRA electronic pipette via USB interface. Create your own pipetting programs in an intuitive and easy way, back them up on your computer and copy them to another pipette. In addition, VIALINK serves as a pipette library to keep track of all INTEGRA pipettes in the lab and allows firmware upgrades to add new features to your pipettes.
How it Works
How it works
Profit from additional features for your pipettes by using the VIALINK pipette management software:
Pipette management

All pipettes that have once been connected, are displayed in VIALINK with relevant information such as the owner's name, the pipette's serial number and its service history.

The protocol wizard

Create simple and complex pipetting protocols within a minute with the intuitive to use program editor.

All custom programs can be stored in a program library on your computer. The library serves as back up, storage of an unlimited number of pipetting programs and exchange platform between different pipettes.

Customize your electronic pipette

Up to two custom start up screens can be uploaded to the pipette. Use this feature for designated pipettes, e.g. PCR pipettes, or add a fun picture to personalize your pipette.

Keep track on service operations

With VIALINK you can create an entry in the service history of the pipette, for example "18.10.2016 Pipette calibrated".

This entry cannot be deleted afterwards to ensure an authentic service history.

Keep your pipettes up-to-date

INTEGRA regularly releases new firmware upgrades to add new features to the pipette.

With the VIALINK pipette management software you are only 2 clicks away to upgrade the pipette firmware.
Uses and Applications
Overview
Applications
Stories
Downloads & More
Parts and Numbers
Parts and numbers
VIALINK

VIALINK

Pipette Management Software

In order to connect an INTEGRA pipette to the computer and use VIALINK, the programming stand or a pipette communication module is required.

The connection between VIAFLO 96 or VIAFLO 384 and a computer is established with a USB cable (Type A to B).

| | |
| --- | --- |
| Description | Part No. |
| Programming Stand | 4211 |
| Communication module for VIAFLO/VOYAGER pipettes | 4221 |