Ready to reduce plastic use in your lab? Our ECO Racks are here to help.
Now you can reduce plastic use in your lab
Our new ECO Racks contain 60 % less plastic than alternative racks, while maintaining the high standards that you expect from INTEGRA products. Switching to ECO Racks significantly reduces the amount of plastic used in your lab and, for an even greener option, they are compatible with our GREEN CHOICE refill inserts, so you can benefit from the most environmentally friendly system.
One-handed tip loading with new PopTop Base
Simply insert an ECO Rack into our one-of-a-kind, reusable PopTop Base for the sturdiest and most convenient GRIPTIP pipetting experience. The PopTop Base is designed to allow one-handed operation, and can be opened with a simple press of a button, combatting the common problem of having to set down your pipette while working. This can significantly reduce the chance of making mistakes during pipetting procedures, streamlining your workflow and helping you to get the best results possible!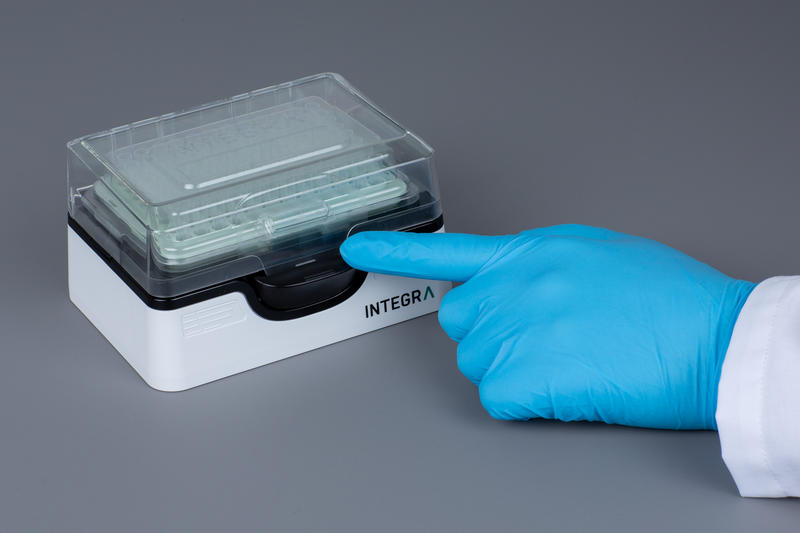 An optimized design for a range of applications
The ECO Racks are designed to work with standard 12.5 to 1,250 µl GRIPTIPS and all handheld INTEGRA pipettes, such as the VOYAGER adjustable tip spacing pipettes or the VIAFLO lightweight electronic pipettes. Available in both 96 and 384 tip configurations, these racks are ideal for a wide range of applications. Once empty, ECO Racks can be stacked and compressed to minimize the space needed in your lab's recycling, keeping your workspace clutter-free and supporting a positive working environment.