Streamlining in vitro cell culture assays to develop effective cancer treatments
The Internal Medicine VIII department at the Tübingen University Hospital focuses on the treatment of patients with advanced cancers, and includes a specially equipped Phase I clinical trials ward. In addition to providing cutting-edge patient care, the department also has an internationally recognized research team that studies different aspects of cancer biology. This close collaboration between researchers and doctors aims to develop new treatment options for previously untreatable cancers, making them available to patients as quickly as possible.
Dr Omelyan Trompak, a postdoctoral researcher in the department, described his lab's workflow: "We work with up to 50 human and animal cell lines every day, so of course we perform a lot of cell culture maintenance, as well as biochemical assays. This is where our PIPETBOY acu 2 serological pipette controllers come in. The built-in motor allows us to pipette really fast, saving us a lot of time. We have many of these controllers in the lab now, and they're the main tools we use for all of our pipetting steps."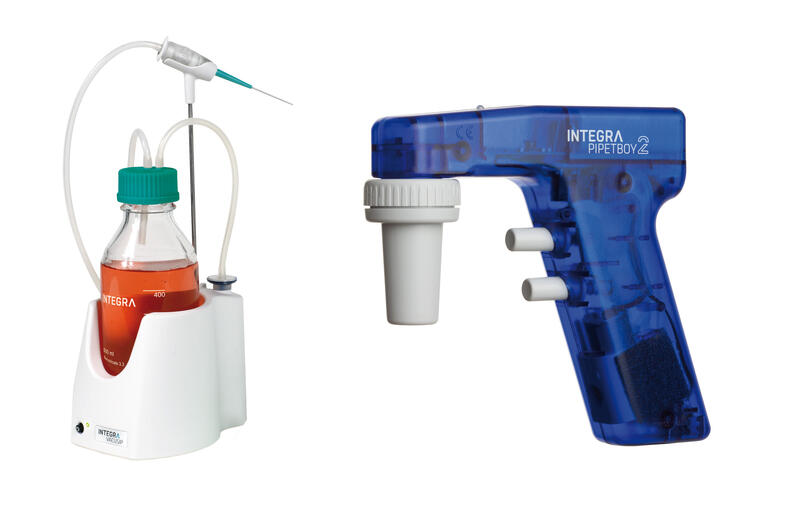 A controller that works as hard as you do
PIPETBOY acu 2 is equipped with the latest lithium-ion battery technology, which offers over 6.5 hours of non-stop cordless working, and has a rapid charging time of only 3.5 hours. Omelyan added: "The PIPETBOY batteries charge really fast. This is important for us, since we are a high throughput lab, and we often operate 24/7. We can't afford to waste time waiting for the pipette controllers to charge."
Designed with comfort in mind
"The PIPETBOY acu 2 is lightweight and well-balanced, so it feels great in the hand," Omelyan continued. "The ergonomic design also helps to reduce the physical strain on the user, as we frequently need to pipette for long stretches of time. On top of this, the controller's square shape means we can put the pipette down on the bench without compromising the sterility of the tip, since it doesn't touch the work surface. The PIPETBOY is also extremely accurate and easy to fine tune. We constantly have students in the lab, and we're always expanding with new staff, but it has been really easy to train everyone how to use the pipette controllers in a short space of time because they're so straightforward."
Rapid and reliable vacuum aspiration
The team also uses the compact VACUSIP portable aspiration system for the removal of small volumes of waste liquids. Its silicone hand operator allows the user to carefully regulate the liquid flow by applying varying finger pressure, something which is crucial for the delicate tasks involved in the department's research. "We run a lot of migration assays to analyze the invasion capacity of tumor cells, using chemoattractants to cause the cells to migrate across a barrier coated with basement membrane components. The challenge for us is to extract very small volumes of excess liquid from the wells without damaging the thin barrier membrane. The VACUSIP allows us to control pressure precisely and remove liquid without membrane damage. It works like a charm, and significantly speeds up our workflow. It's safe to say the VACUSIP is a tool that we very much rely on in the lab," he explained.
Omelyan concluded: "The lab has been using INTEGRA products for many years, and we're totally satisfied with them. We have had no problems at all, and the whole team really enjoys using our PIPETBOY acu 2s and VACUSIP system. Overall, they have enabled us to increase our lab productivity and throughput, helping to advance our vital research into cancer treatments. I'm looking forward to seeing what new products and updates INTEGRA has in store for the near future."