Freedom from routine pipetting with ASSIST PLUS
INTEGRA's latest innovation, the compact ASSIST PLUS pipetting robot, streamlines routine pipetting tasks at an affordable price, putting automation within reach of virtually every lab. Using any INTEGRA electronic multichannel pipette, it provides reproducible and error-free processing while eliminating repetitive manual pipetting tasks.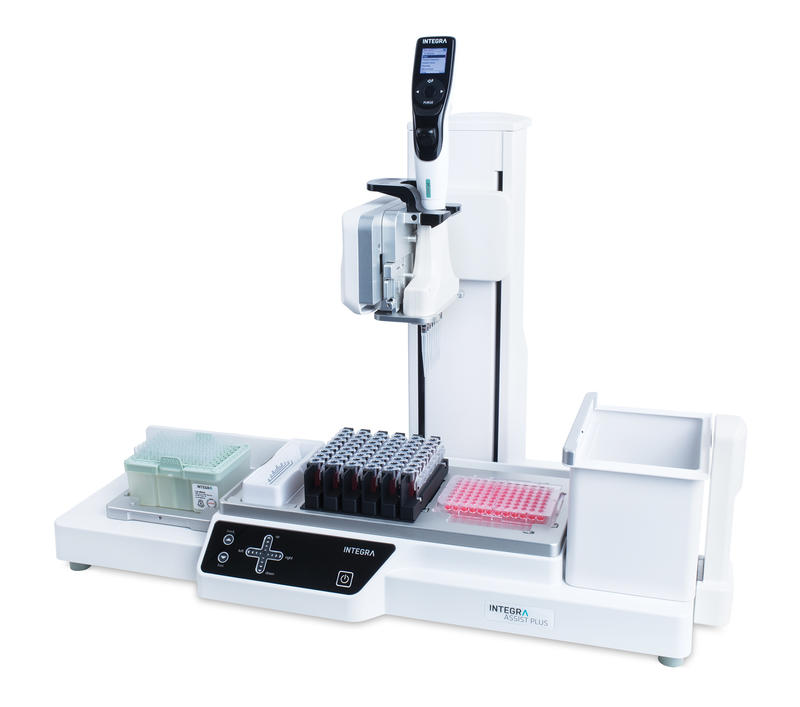 Simplify your liquid handling tasks
Whether you are reformatting samples, performing serial dilutions, or setting up assay plates, the ASSIST PLUS pipetting robot can help.
Reformatting

– Tedious, potentially error-prone reformatting tasks become easy with ASSIST PLUS. Just click in a

VOYAGER

pipette to take advantage of on-the-fly adjustment of tip spacing, allowing multichannel sample reformatting – for example, from tubes to plates – up to 12 times faster than with a single channel pipette.

Serial dilutions

– Performing serial dilutions by hand requires focus and good pipetting skills. ASSIST PLUS makes sure your serial dilutions are reproducible and error free, and tips can be exchanged after every transfer to minimize carryover of compounds clinging to the tip surface.

Plate filling and reagent addition –

Setting up assay plates typically requires the addition of multiple samples and buffers or media. The flexible deck layout of the ASSIST PLUS accommodates tubes, reservoirs and plates, enabling multi-step transfers to the assay plate.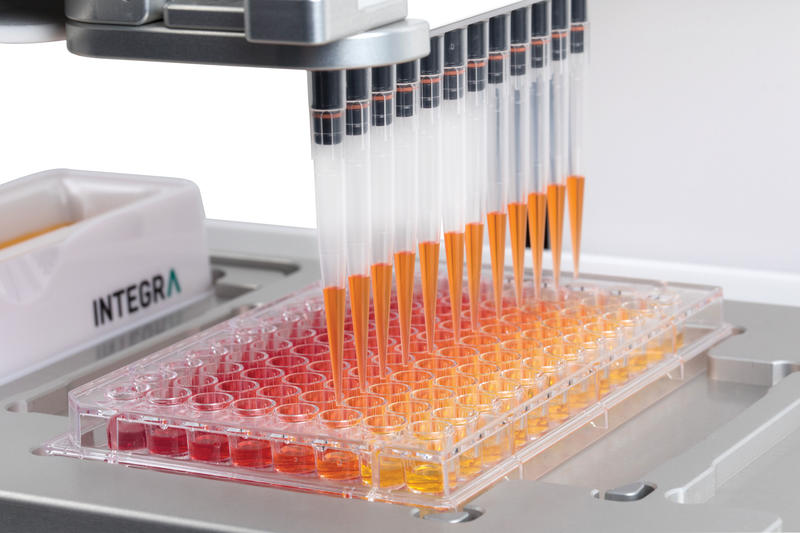 Enjoy excellent results and unmatched ergonomics
Automating pipetting processes with ASSIST PLUS ensures constant pipetting angles, consistent tip immersion depths and accurate well targeting. Interoperator variability and human errors – such as skipping rows or air aspiration – are eliminated, leading to enhanced process control, increased workflow consistency and better pipetting results.
Prolonged pipetting tasks result in physical strain for the operator, no matter how lightweight and well balanced the pipette. Automating these tasks with ASSIST PLUS relieves you of the pipetting burden and helps to prevent repetitive strain injuries.
ASSIST PLUS automated multichannel pipetting offers:
precise tip positioning in wells

optimal tip immersion depths

consistent pipetting angle

controlled pipetting speeds

no pipetting mistakes

strict adherence to pipetting programs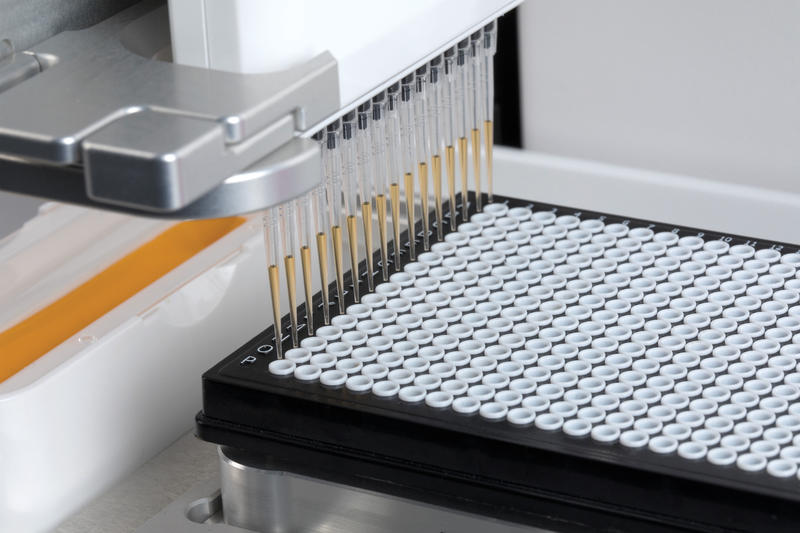 Make programming easy
Many applications require basic pipetting patterns, such as filling a plate or performing serial dilutions. These can be programmed directly on the pipette using the intuitive touch wheel interface. Simply choose a predefined program and adapt the default settings to your requirements. For more complex pipetting, take advantage of VIALAB software, with a simple and intuitive graphical user interface that allows you to create protocols with a few clicks, without extensive programming knowledge. And for advanced users, VIALINK offers the ultimate freedom of defining pipetting programs step by step. Programs from VIALAB/VIALINK can then be easily transferred to the pipette via the communication stand.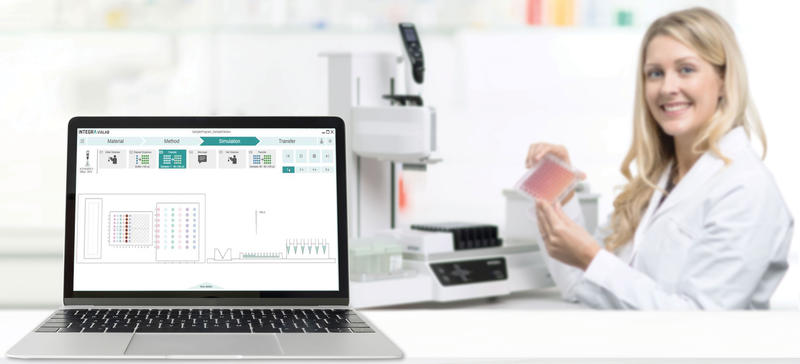 Discover the unbeatable value of ASSIST PLUS
A pipetting robot is a considerable investment for many laboratories. The ASSIST PLUS pipetting robot offers exceptional flexibility at an affordable price, without the need for dedicated personnel or complex programming. Its unique design means that it will never become obsolete – simply swap in a different INTEGRA pipette to access new applications – and you can still use the same pipettes for manual pipetting.
INTEGRA offers a wide range of electronic multichannel pipettes – from four to 16 channels – enabling precise and accurate liquid transfers from 0.5 to 1250 μl. This means that you can always select the optimal volume range for your application. And when you need adjustable tip spacing for sample reformatting – for example, from tubes to plates – and access to various labware types, the VOYAGER pipette allows changes to be made at the touch of a button.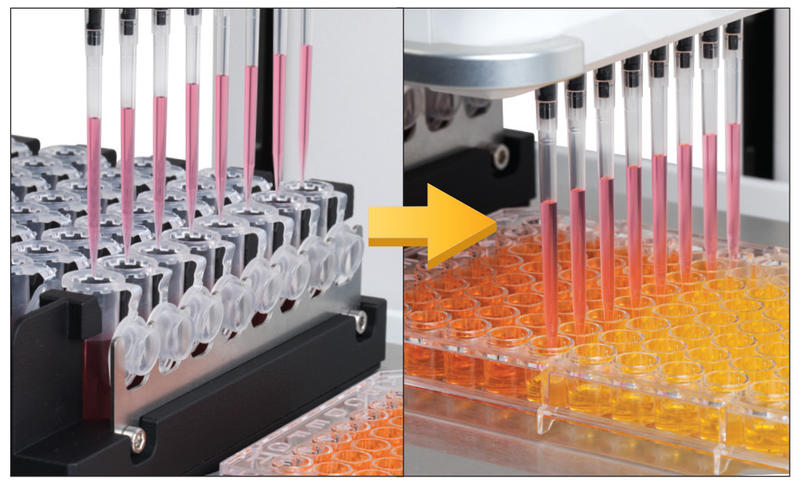 Take advantage of broad labware compatibility
ASSIST PLUS is compatible with numerous labware types, from tubes to 384-well plates in landscape and portrait orientations, with more adapters to come in the future. It can be used with INTEGRA's multichannel reservoirs – available in 10, 25 and 100 ml sizes and offering exceptionally low dead volumes – or the larger automation-friendly reservoirs.
ASSIST PLUS can be used with:
0.5, 1.5 and 2.0 ml microcentrifuge tubes – hold up to 48 tubes on removable carriers for easy loading and storage.

0.2 ml PCR tubes and 96-/384-well PCR plates – the aluminum cooling rack serves as a holder for 0.2 ml PCR tubes and keeps reagents chilled. The system can also accommodate PCR plates.

15 ml centrifuge tubes – ASSIST PLUS can also access* 15 ml centrifuge tubes (*pipette tips won't reach the very bottom of tubes).

10, 25, 100, 150 and 300 ml reagent reservoirs – Designed for minimal dead volumes.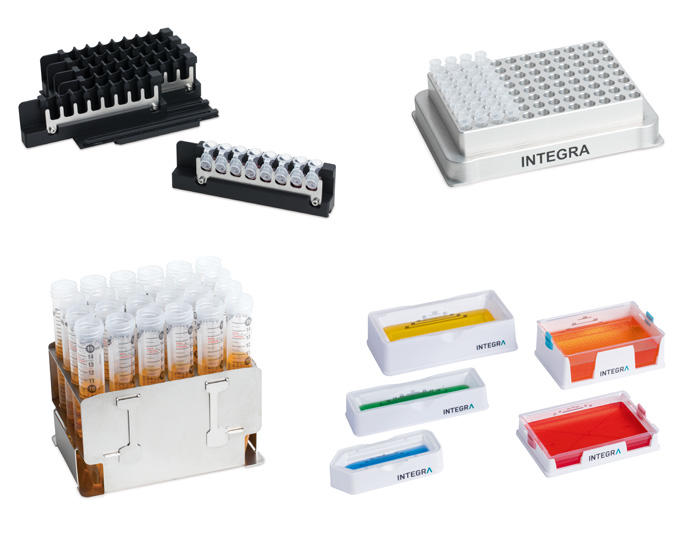 Why wait? Discover the

ASSIST PLUS

pipetting robot today and streamline your liquid handling processes using affordable automation.