Portable, precise and affordable 96 well pipette
What makes the MINI 96 the best solution for filling 96 or 384 well plates?
Faster and more efficient full or partial plate filling compared to traditional 8 or 12 channel pipettes, improving throughput capabilities.
Compact, lightweight, and portable for use everywhere in the lab. Its tiny footprint makes it especially suited for moving in and out of laminar flow cabinets.
Electronic tip loading and ejection together with the motor-driven pipetting ensure that every channel is positioned at the same height and angle, and dispenses at the same rate, providing higher precision and reproducibility than simply using 8 or 12 channel pipettes.
Fill and/or mix a 96 or 384 well plate at the push of a button for optimal productivity with limited strain on your thumb, hand and wrist.
What can the MINI 96 do?
Repeat dispensing, mixing, partial or full plate filling – whatever your dispensing needs, the MINI 96 has a solution for you:
Filling multiple 96 or 384 well plates (repeat dispense)
Pipetting using a single channel pipette, or even an 8 or 12 channel electronic pipette, can be tedious and labor intensive, especially when working with an increasing number of microplates. The MINI 96 has been developed to make this process easier and faster, whether you are transferring from a reservoir or a well plate. Precisely filling each well in a plate at the same time and at a consistent speed improves reproducibility and accuracy, allowing a higher throughput of samples without compromising on quality. 
Mixing mode
Manually mixing solutions can add strain to any task and increase the risk of human error, such as air aspiration. The mixing mode on the MINI 96 ensures that dispensed liquids are homogenous in every well, even across multiple plates.
Plate to plate transfers
Manually transferring between plates, whether for simple duplication or from 96 to 384 wells, can be a challenge, as it is easy for errors to occur. The MINI 96 makes plate to plate transfers simple, with a choice of predefined pipetting protocols or custom options to exactly match your workflow. With the MINI 96, you can even precisely define the aspiration height to avoid the risk of tips crashing during transfers.
Partial plates and serial dilutions
Filling partial plates, for example half plates or a few columns, or performing serial dilutions is easily achieved using the optional Two Position Stage. This avoids excessive plate handling, streamlining protocols and giving you the flexibility to find the optimal set-up for you.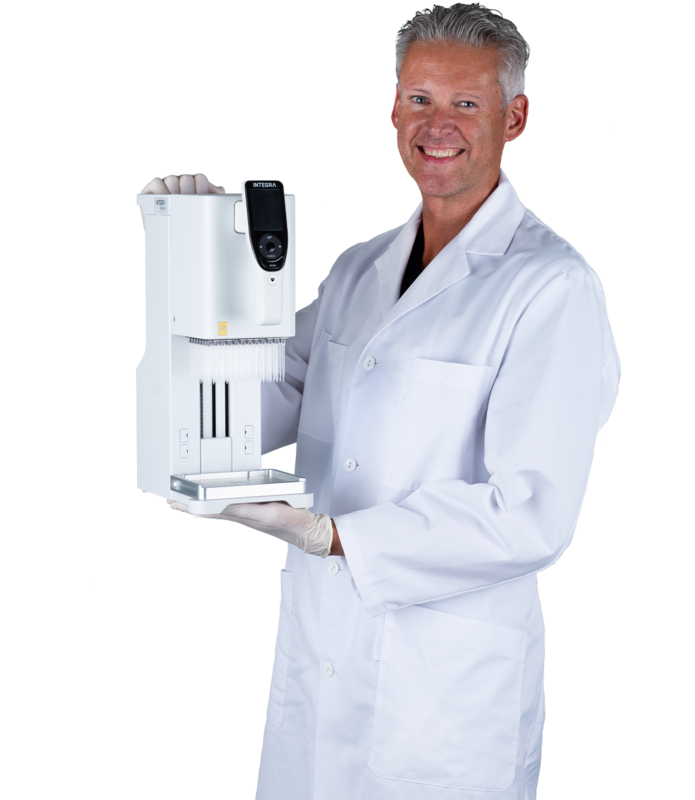 Efficient technology at an affordable price
The MINI 96, with its tiny footprint and lightweight design, is suitable for virtually any 96 or 384 well microplate filling application in any lab space. Finding workbench space can be a challenge in a busy lab, but the MINI 96's sleek design and carrying handles allow it to be moved around the lab effortlessly – even into laminar flow cabinets – fitting seamlessly into your workflow. The MINI 96 is the most affordable 96 channel pipette on the market and is available with four liquid volume ranges – 0.5-12.5 µl, 5-125 µl, 10-300 µl and 50-1250 µl – to suit every need. With its slim design, you can even have multiple MINI 96 pipettes side-by-side to perform different steps in the same workflow, further increasing productivity.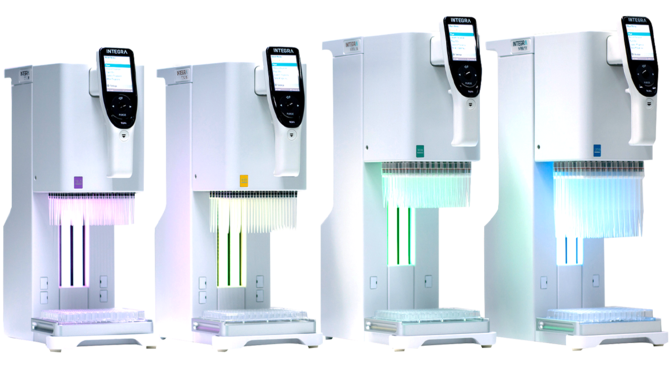 Simplicity of use
With motor-assisted operation for precise, electronic tip loading and ejection, mixing, and dispensing, you can have confidence in the continual accuracy of pipetting, without concern for human error. The comprehensive and intuitive user interface, with touch wheel technology, guides the user through a choice of predefined pipetting modes, tasks and customization options. A series of on-screen tutorials, as well as a simple Getting Starting Video, helps first time users quickly understand how easy it is to get the most benefit out of the MINI 96, without the need for any dedicated personnel and training.
GripTip pipette tips
The MINI 96 features INTEGRA's advanced GripTip system. This securely locks the tips to the pipetting head to ensure perfect alignment and eliminates the risk of loose or leaking tips – even during sidewall touch offs. Available in a range of volumes – as well as sterile and filtered configurations – these high quality tips provide a perfect seal to maximize pipetting accuracy and reduce tip loading forces. The MINI 96 even offers power-assisted tip loading and ejection to minimize the risk of fatigue and repetitive strain injuries.
See how the MINI 96, with its four volume ranges, can transform the productivity of your workflow.