Pipette Controllers
The world's most popular pipettors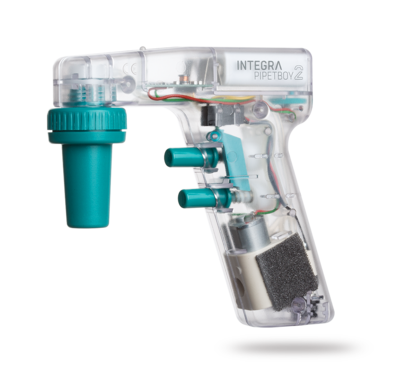 With over four decades of liquid handling experience and hundreds of thousands of instruments in use worldwide, INTEGRA PIPETBOYs have set an unrivaled standard for precise and efficient serological pipetting.
All PIPETBOY pipette controllers have been designed to handle liquids with any type of glass and plastic serological pipettes. They benefit from a unique valve and dosing system, which offers an unmatched control of pipetting speeds from drop by drop or gravity dispense to fast liquid displacement. The speed is easily regulated with the tips of your fingers, providing you with a sensitive control of the liquid level in the pipette. Designed for comfortable and effortless pipetting even during long lasting sessions, INTEGRA's pipettors brighten your lab and your daily work.
Choose among the following models:
PIPETBOY acu 2, the fastest pipette aid on the market with its Turbo Mode, is available in nine different colors and offers an unmatched pipetting experience.
PIPETBOY pro, available in five colors, features an integrated LED providing an optimal illumination of the area around the pipette for accurate pipetting and preventing eyestrain.