Aspiration Systems
Aspiration systems for laboratories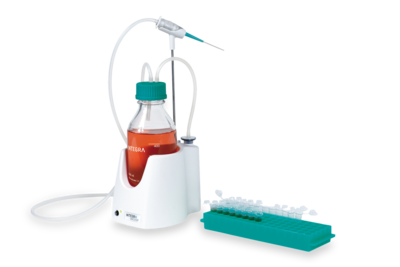 Life Science laboratories are daily confronted with biological liquid waste generation. Common applications include the removal of media from cell cultures, of supernatants after centrifugation and of wash solutions from immuno-assay well-plates. Vacuum systems are then widely used for liquid aspiration, collection and subsequent disposal.
A simple routine task like the aspiration of liquids requires user-friendly equipment that is easy to install and convenient to operate. Protecting the vacuum source from contamination by liquids and aerosols with an overflow trap and a filter is not only good laboratory practice, but also imperative as a personal protection measure when working with biological or hazardous liquids.
As an alternative to "do-it-yourself" systems typically found in laboratories, INTEGRA's aspiration systems are designed for an easy, efficient and safe collection of biological liquid waste from virtually any laboratory containers.
A hydrophobic filter protects the integrated vacuum pump from contamination and liquid entry. Exchanging a full collection bottle is both safe and easy and all components coming in contact with liquids can be autoclaved.
We offer the following liquid aspiration systems:
VACUSAFE: this all-in-one solution provides a safe, user-friendly and versatile way to collect and dispose of biological liquid waste. VACUSAFE offers the ideal solution for total containment of hazardous liquids and maximum personal protection.
VACUSIP: the ideal benchtop solution for the aspiration of small volumes of liquids. Silent and completely independent from external vacuum, this compact and ready-to-use aspiration system is even more flexible in its battery version.
VACUBOY: versatile aspiration tool that converts a vacuum source into a user-friendly system. Offering a large range of different adapters, VACUBOY fits the size and form of any labware.