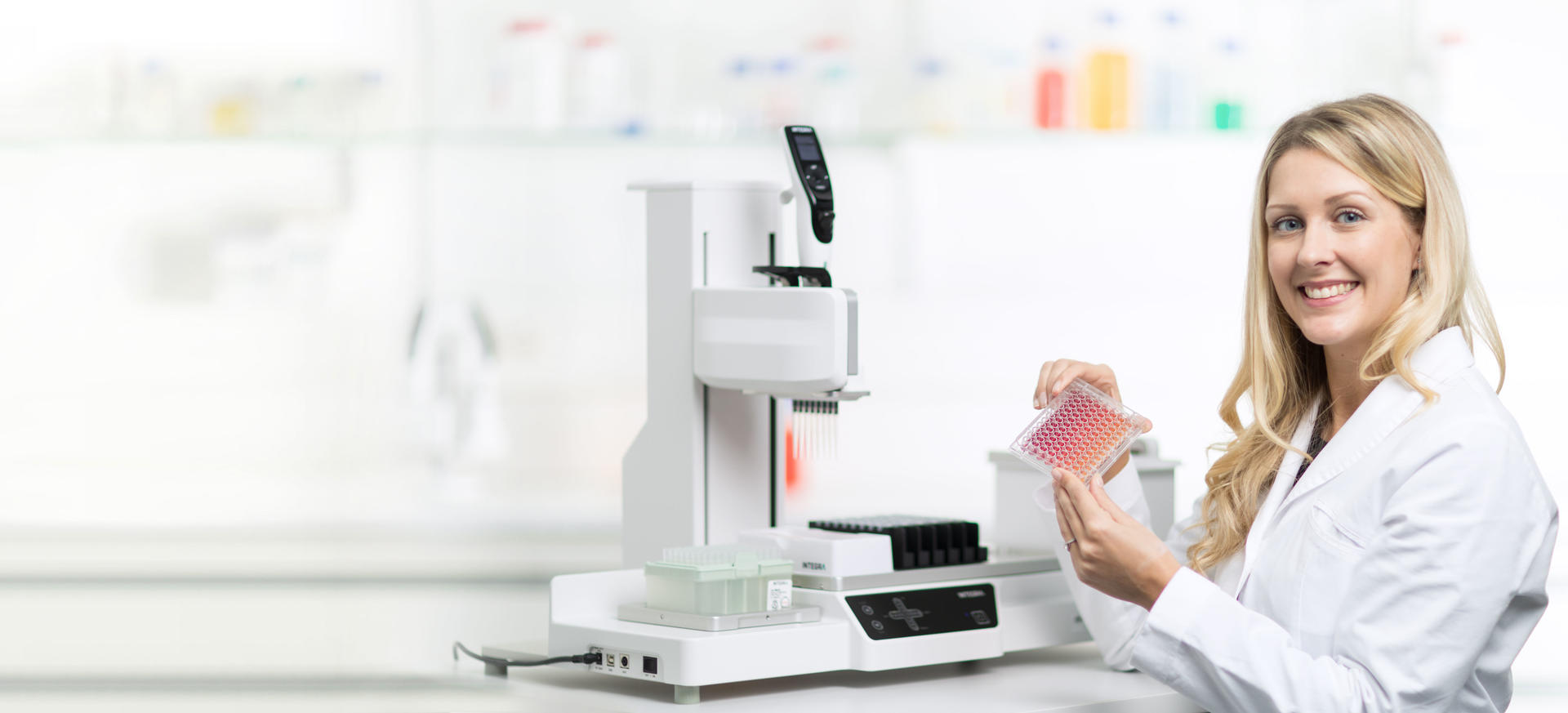 ASSIST PLUS
Pipetting Robot For Full Workflow Automation
Pipetting Robot For Full Workflow Automation
Product story
Frees you from routine pipetting and provides excellent results
The use of electronic pipettes helps to increase throughput in today's laboratories. However, prolonged manual pipetting takes up precious time, and can lead to repetitive strain injuries. Ever-decreasing sample sizes have also made it increasingly difficult to pipette without errors.
INTEGRA has developed the ASSIST PLUS pipetting robot to streamline routine pipetting tasks at an affordable price. Using INTEGRA electronic multichannel pipettes or the D-ONE single channel pipetting module, this system automates repetitive tasks while eliminating physical strain, providing superior reproducibility and ensuring error-free processing. 
How it Works
How it works
Simply mount an INTEGRA VIAFLO or VOYAGER electronic multichannel pipette or D-ONE single channel pipetting module onto the ASSIST PLUS pipette holder, choose a pipetting protocol, add a tip rack and your labware, and press 'RUN'. ASSIST PLUS will then automatically carry out the pipetting task.
Overview

1) Pipette adapter: accommodates all INTEGRA electronic multichannel pipettes – with fixed and adjustable tip spacing – and the D-ONE single channel pipetting module.
2) User Interface: program setup and selection is done using the pipette's intuitive user interface.
3) Deck: up to four work positions are available to accommodate reagent reservoirs, tube racks and plates.
4) Automatic tip change: two dedicated positions for automatic tip loading and ejection.

Excellent results

ASSIST PLUS ensures:

optimal tip immersion depths
consistent pipetting angle
controlled pipetting speeds
precise tip positioning in wells
no pipetting mistakes are made
strict adherence to pipetting programs


This leads to superior pipetting results and work flow consistency, while also eliminating human errors such as skipping rows. 

Versatility

Smart Pipette Adapter

The pipette adapter of ASSIST PLUS allows the use of all VIAFLO and VOYAGER multichannel pipettes and, for unlimited flexibility, the D-ONE single channel pipetting module. Pipette from one to 16 channels, and cover a volume range of 0.5 to 1250 μl, for many different applications.

Labware compatibility

ASSIST PLUS can accommodate numerous labware types, from tubes to 384-well plates in landscape or portrait orientation. INTEGRA multichannel reservoirs, which are available in 10, 25 and 100 ml sizes offer exceptionally low dead volumes. For larger storage volumes, INTEGRA's automation-friendly reservoirs can be used.

D-ONE single channel pipetting module

To go beyond multichannel pipetting on the ASSIST PLUS, the D-ONE pipetting module is the perfect add-on, allowing automation of unlimited applications. Tedious tasks like normalization, hit picking or pipetting of complex plate layouts are easily possible. It offers a choice of two wide volume ranges, from 0.5 to 300 µl and 5 to 1250 µl, as well as liquid level detection for optimal pipetting results. Learn about the D-ONE single channel pipetting module.

Setting up pipetting tasks

Directly on the pipette

Protocol setup and selection is done using the pipette's intuitive user interface. The Touch Wheel allows extremely fast menu navigation and volume adjustments. Simply choose a predefined program and adapt the default settings to your requirements. 

Using a computer

The VIALAB software offers a simple and intuitive graphical user interface, allowing you to create protocols with a few clicks, without extensive programming knowledge.

VIALINK Pipette Management Software offers advanced users the ultimate freedom of defining pipetting programs step by step.

GRIPTIPS®

GRIPTIPS® are always firmly attached and perfectly aligned, regardless of how many side well touch offs are performed. You no longer have to hammer your pipette tips on or worry about pipette tips falling off!

1) Lobes
2) O-Ring Seal
3) Rim snaps over the Lobes
4) Shoulder

The rim (3) of the GRIPTIPS® will snap over the Multi-Lobes (1), attaching firmly. As a result, GRIPTIPS® will never accidently fall off.

A shoulder (4) provides a positive stop to prevent over-tightening of the tip. It can only be attached up to that point and no further, ensuring that all tips are at the same height. That means, the tip is either on or off, but nothing in between.

Getting Started Videos

To make your life easier and get you up and running quickly with our ASSIST PLUS, we have prepared some helpful videos.

 
Customer Voices
See it Work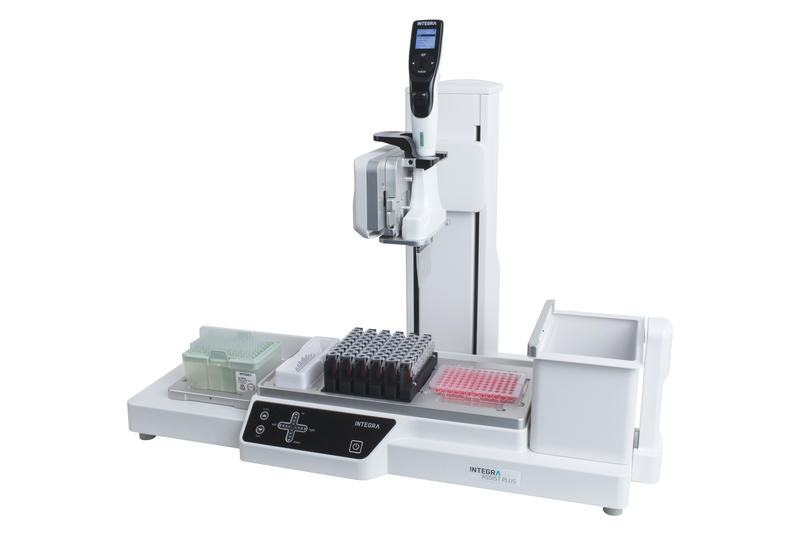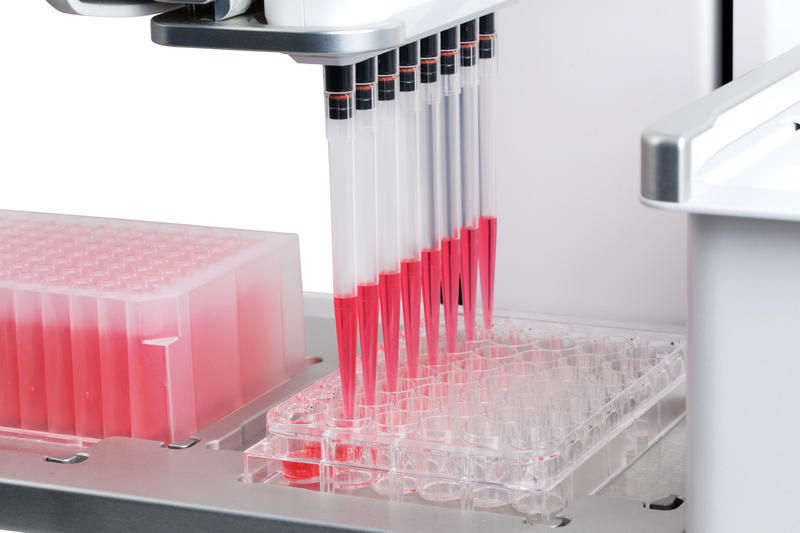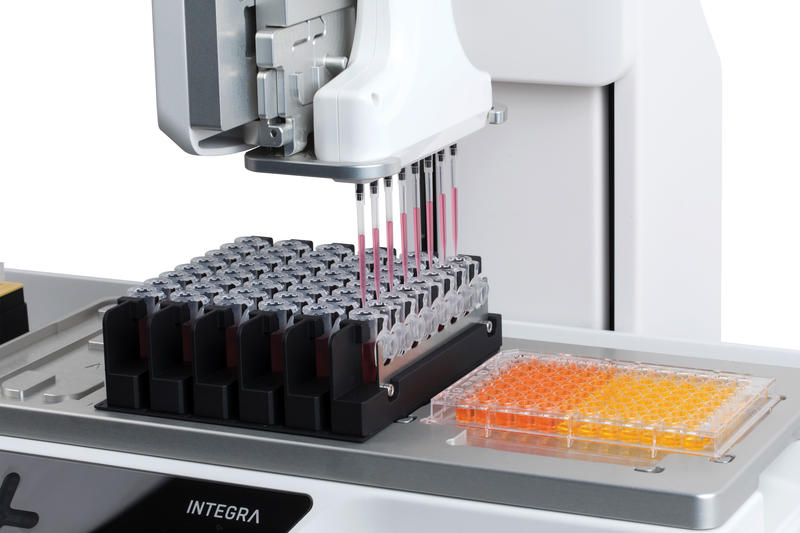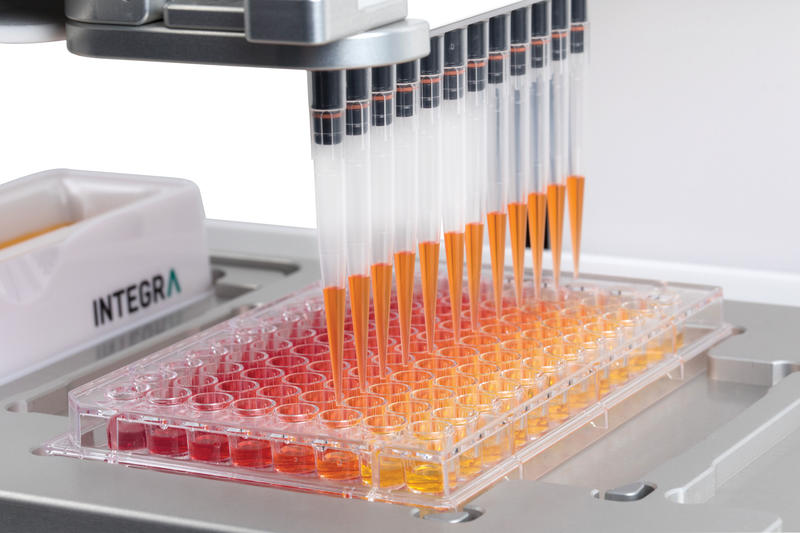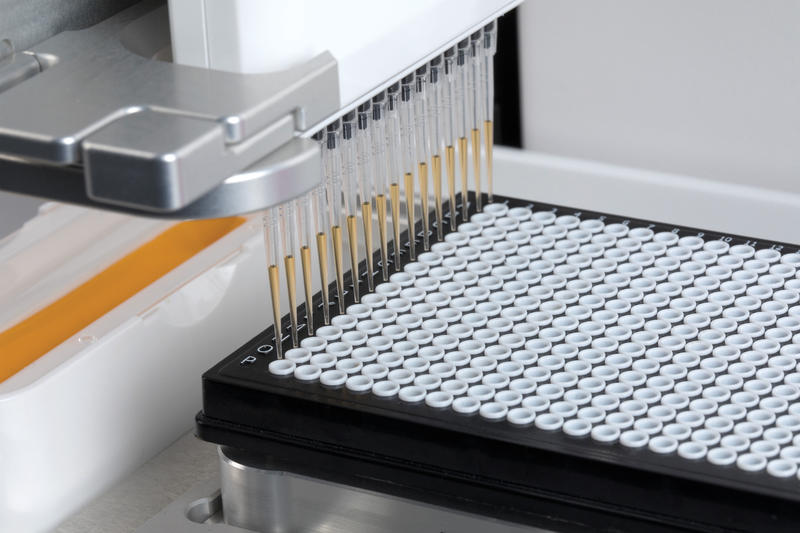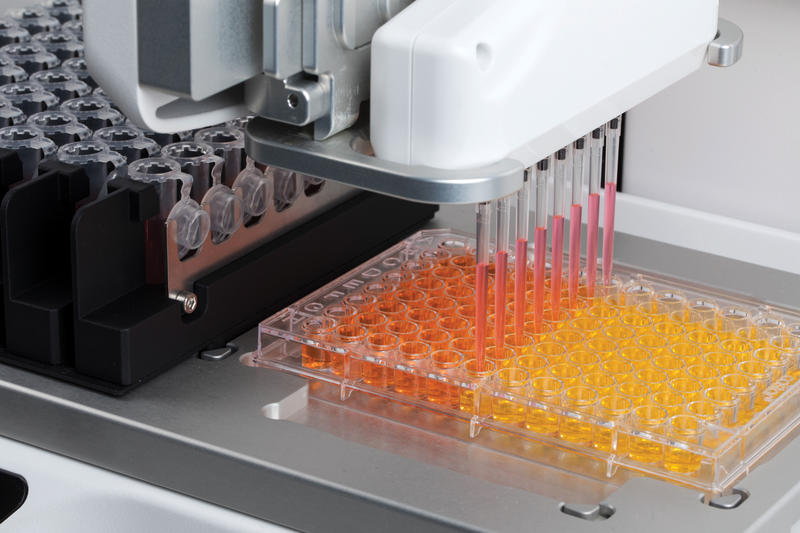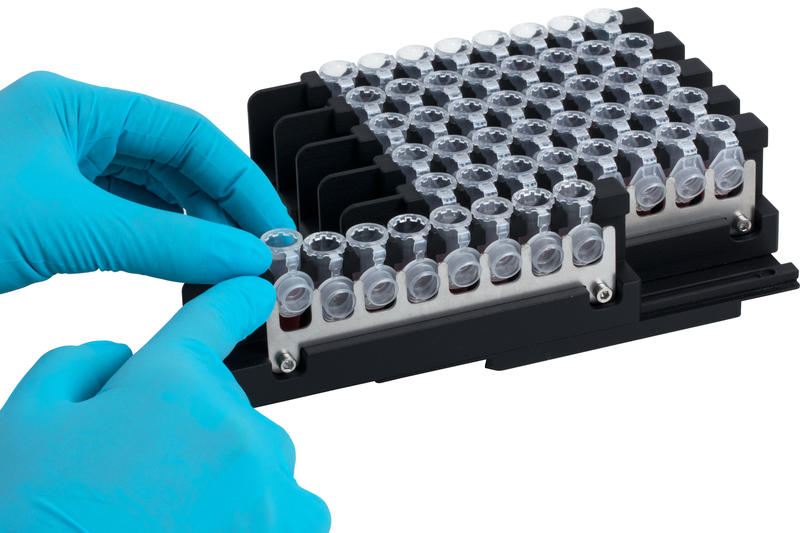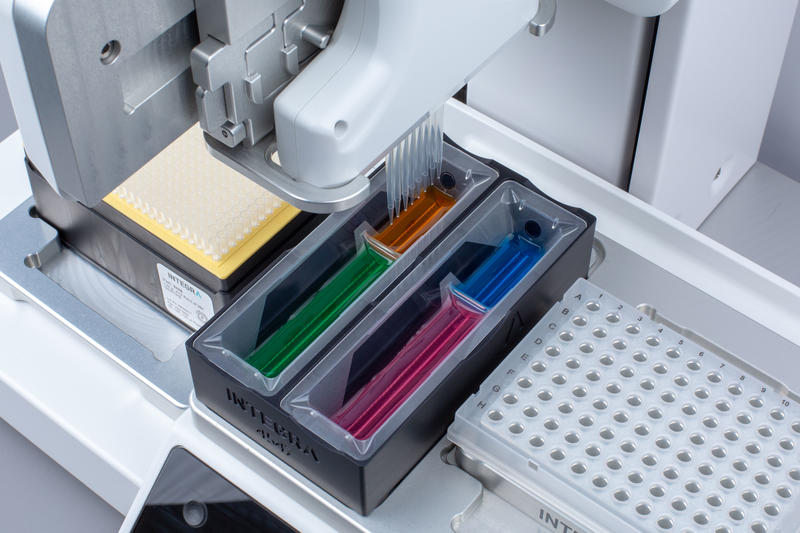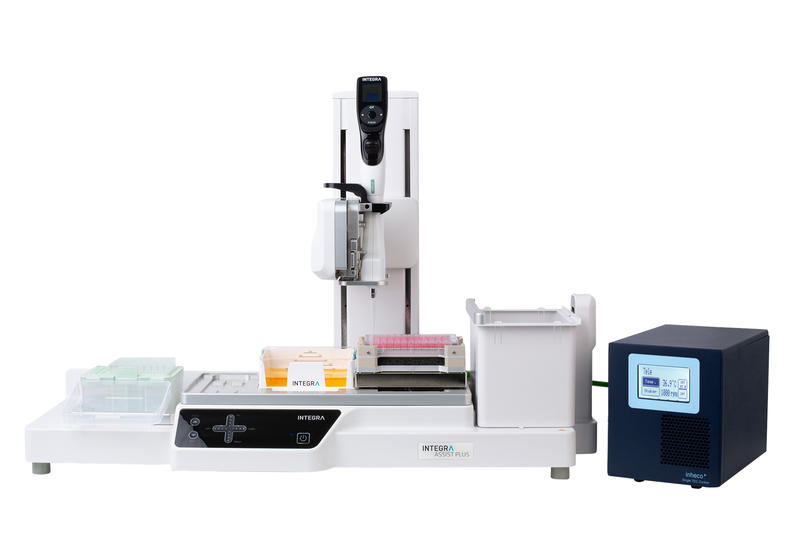 Apps
Uses and Applications
Overview
Applications
Stories
Applications
Serial dilutions

Reformatting

Plate filling & reagent addition

Normalization

Hit Picking/ Cherry Picking

Master mix preparation

Compatible Labware

Heating, Cooling & Shaking
Tech Info
Tech info
Find here a quick overview of the product specifications. More detailed information can be found in the download-section below.
Dimensions (W x D x H)

747 mm x 383 mm x 511 mm (30" x 15" x 21") - (with pipette attached: height 63 cm / 25")

Weight

25 kg

Operating Conditions

Temperature: 5 °C – 40 °C (41°F–104°F), Humidity: <85 % non-condensing

Power requirements

100 – 240 VAC, 47 – 63 Hz

Pipetting technology

Air displacement
Downloads & More
Parts and Numbers
Parts and numbers
Instrument

Instrument & Pipette Accessories

Labware Accessories

D-ONE Pipetting Modules

VIAFLO Electronic Pipettes

VOYAGER Electronic Tip Spacing Pipettes

GRIPTIP® Pipette Tips