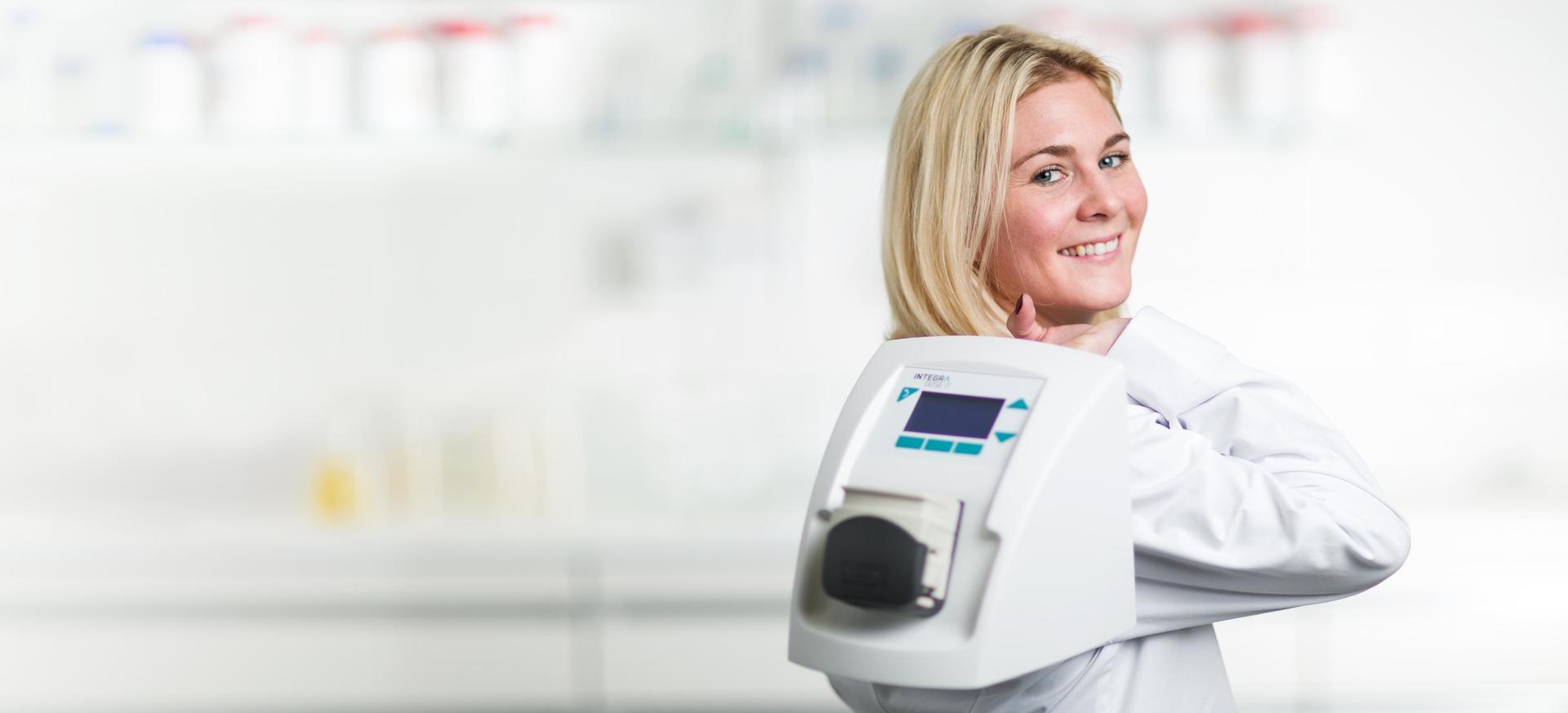 DOSE IT
Laboratory Peristaltic Pump
Laboratory Peristaltic Pump
Product story
Looking for an easy-to-use peristaltic pump?
In today's laboratories, peristaltic pumps are often first choice when liquids within the range of several milliliters to several liters have to be transferred. The main advantage of these pumps is that the liquid transferred remains enclosed inside the tubing. As a result, the risk of contaminating either the product or the pump itself is prevented. However, most instruments are difficult to program, are oversized and bulky.
DOSE IT has been especially designed for laboratories looking for an easy-to-use, compact and portable peristaltic pump. With its light weight and compact design, DOSE IT fits everywhere in the lab and can be easily moved. The intuitive user interface with straightforward instructions makes it very easy to operate. DOSE IT is especially helpful for dispensing culture media, buffers or other solutions.
How it Works
How it works
DOSE IT offers easy handling and straight-forward setting of parameters. It is lightweight, fits everywhere in the lab and can be moved easily. The large display and the intuitive user interface make it very easy to set the parameters and operate DOSE IT. Simply choose a dispensing protocol and press run.
Overview

 

1) Compact design - fits everywhere
2) Large display allows for intuitive programming and operation
3) Fliptop pumphead allows for an easy and quick tubing exchange
4) Different tubing sizes - compatible with tubing from 1-8 mm inner diameter

Easy handling

The intuitive user interface coupled with the large display makes it extremely simple to program and operate the DOSE IT. The setting of all functions and parameters is self-explanatory so that with minimal learning time everybody can start working immediately. The flip-top pumphead for easy tube loading further reduces the time for preparation and set up of the pump.

Compact and portable

With its very small footprint and light weight, DOSE IT fits everywhere in the lab and can be moved easily – no need to waste valuable bench space or to have a pump in every lab. The smooth and rounded surface makes it easy to clean. The position of the pumphead, display and keypad is optimal for ergonomic working.

Process documentation

DOSE IT provides all features necessary to support the individual needs in quality control. All process relevant information can be documented using a standard label printer (e.g. the EPSON TM-U220) or by directly transferring the information to a personal computer.
Versatility

Versatility

The DOSE IT pumphead accommodates different tubing sizes (1 to 8 mm) so that a wide range of volumes can be dispensed with speed and precision. The dispensed volume can range from hundred microlitres to several litres. The versatility of the DOSE IT reduces the need to have several single-purpose pumps in a lab.

DOSE IT

Wide range of volumes: typical volume and flow values for different tubing sizes

Tubing inner diameter

1 mm
2 mm
3 mm
4 mm
6 mm

Dose volume at CV*

<

1 %

>0.5 ml

>1 ml

>3 ml

>7 ml

>15 ml

Flow rate range (ml/min)

0.6 – 52

2.1 – 203

4.8 – 475

8.4 – 837

16 – 1634

*Coefficient of variation (CV), a measure for the reproducibility of dosing.
8 mm ID silicone tubing recommended for pumping applications only.
Customer Voices
See it Work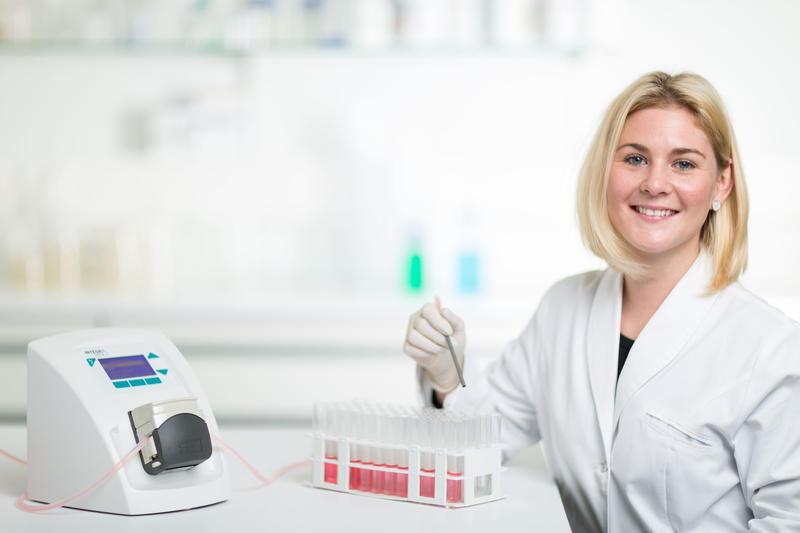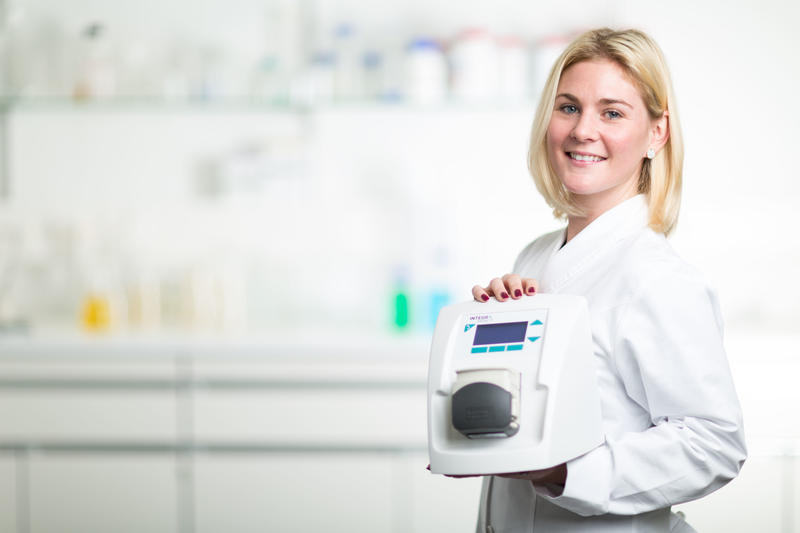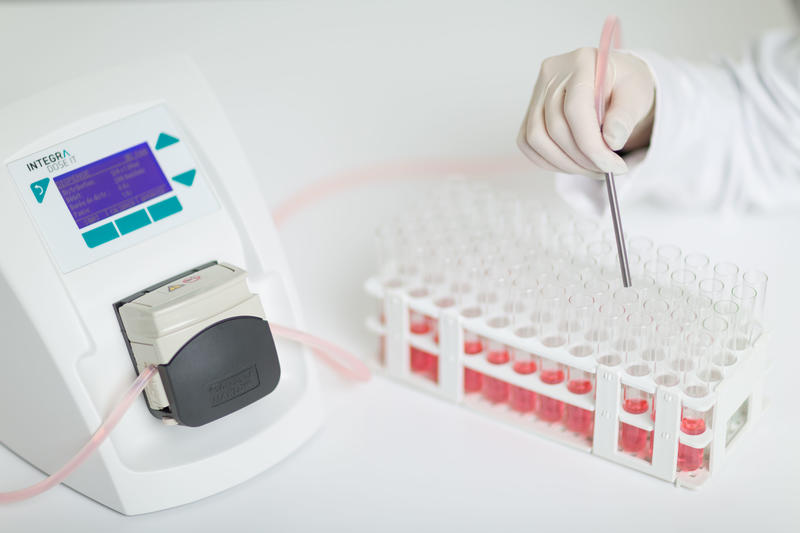 Apps
Uses and Applications
Overview
Applications
Stories
Applications
Media dispensing

Coating or washing of Petri dishes

Filling of density gradient tubes

Serial dilutions
Tech Info
Tech info
Find here a quick overview of the product specifications. More detailed information can be found in the download-section below.
Dose volume

0.1 ml – 9999 ml

Flow rate

0.6 ml/min – 5 l/min

Tubing inner diameter

1 – 8 mm

Tubing wall thickness

1.5 mm

Dimensions (H x W x D)

203 x 210 x 191 mm

Weight

3.5 kg

Interface

2x RS232

Input voltage

100 – 240 VAC 50/60 Hz
Downloads & More
Parts and Numbers
Parts and numbers
Instrument

Instrument

DOSE IT P910

Description
Part No.

Programmable pump complete with:

1 Silicone tubing, inner diameter 4 mm, length 2.5 m

2 Aspiration/dispensing tubes, length 10 cm, stainless steel, one end dented

1 Aspiration/dispensing tube, length 35 cm, stainless steel, one end dented

1 Tube collar

1 Pipette-tubing connector

Mains adapter

171 000

DOSE IT

Accessories

Accessories

General accessories, stainless steel tubes and tube collars

General Accessories

 Stainless steel tubes and collars

Description
ID (mm)
Part No.

Aspiration/dispensing tube, length 10 cm, stainless steel, one end dented

1




2




3




4




6




8

171 051




171 052




171 053




171 054




171 056




171 058

Aspiration/dispensing tube, length 35 cm, stainless steel, one end dented

4




6




8

171 064




171 066




171 068

Tube collar used as a weight for the aspiration tube or as a clamp spacer for the dispensing tube

1 – 3




4 – 6

171 071




171 074

Stainless tube and collar

Silicone Tubing

Silicone Tubing

Length 2.5 m and 25 m (bulk roll)

2.5 m, autoclavable tubing

| | |
| --- | --- |
| ID (mm) | Part No. |
| 1 | 171 021 |
| 2 | 171 022 |
| 3 | 171 023 |
| 4 | 171 024 |
| 6 | 171 026 |
| 8 | 171 028 |

25 m (bulk roll), autoclavable tubing

| | |
| --- | --- |
| ID (mm) | Part No. |
| 1 | 171 031 |
| 2 | 171 032 |
| 3 | 171 033 |
| 4 | 171 034 |
| 6 | 171 036 |
| 8 | 171 038 |