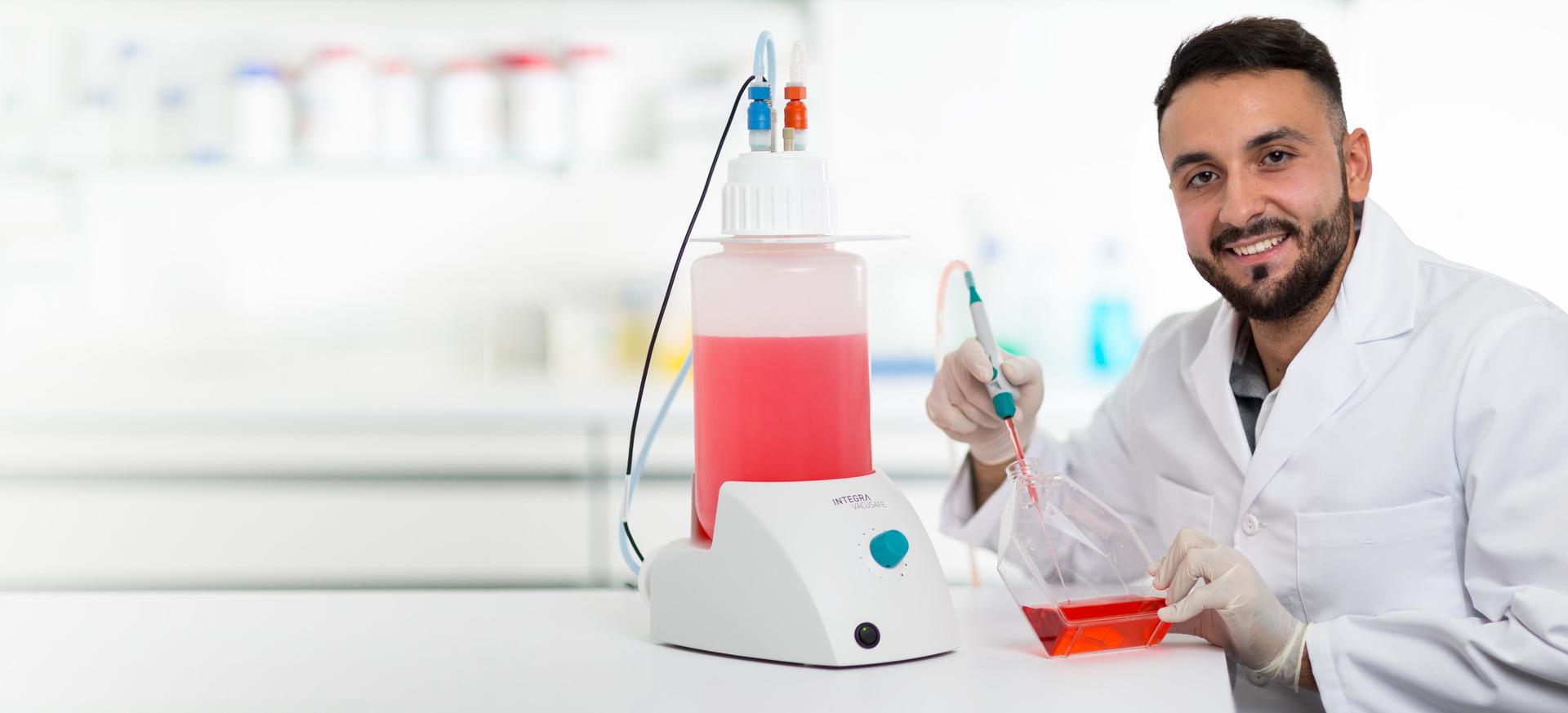 VACUSAFE
Safe Aspiration System
Safe Aspiration System
Product story
Safe disposal of biological liquids
Vacuum systems are widely used in biological laboratories for the aspiration, collection and subsequent disposal of biological liquid waste. Typically, "do-it-yourself" systems, consisting of a vacuum flask connected via a tubing to a water-jet pump, are found in laboratories. However, these self-made systems have some significant drawbacks. Emptying the flask is tedious and messy, connected Pasteur pipettes can get broken and injure the operator and most critical, the vacuum source often gets contaminated by liquids or aerosols.
As a much safer and user-friendly alternative, INTEGRA developed the VACUSAFE aspiration system. VACUSAFE is a compact, all-in-one laboratory vacuum pump, providing a safe and efficient way to collect and contain biological liquid waste. For maximum safety, VACUSAFE is equipped with vacuum source protection, a shatterproof bottle and a secure stand that holds the bottle in place.
How it Works
How it works
VACUSAFE combines vacuum pump, collection bottle, overflow protection and filter in an all-in-one liquid aspiration system. Such a closed aspiration system offers the most effective method for containment of biohazardous liquids by maximal personal protection.
Safety first - Protect yourself and the lab

The VACUSAFE product range offers different levels of safety depending on the requirements of specific applications.

For total containment of hazardous liquids, VACUSAFE provides following safety features:

Integrated pump with vacuum control
Self-closing connectors to avoid escape of drops or aerosols
Level sensor detecting when the bottle is full

VACUSAFE enables Biosafety level 1, 2 and 3 labs to comply with the stringent user safety guidelines for handling contaminated solutions while maximising productivity and minimising noise and operational inconveniences.

User-friendly - For productive aspiration tasks

A simple routine task like the aspiration of liquids requires user-friendly equipment that is easy to install and convenient to operate. Several aspects make VACUSAFE a convenient tool for productive aspiration:

All-in-one system includes all necessary components
Straightforward operation – simply switch on, set the desired vacuum and start working
Integrated pump / valve is switched off automatically when the vacuum is established in the bottle
Noise of the integrated pump is well below 65 dB(A)
Quick tubing connectors speed up bottle removal

Versatile tools for all liquid aspiration tasks

An important component contributing to the versatility of the VACUSAFE system is the vacuum aspiration tool VACUBOY because it can be fitted with different adapters for removal of liquids from virtually every laboratory vessel.

The application range is further expanded by the possibility to adjust the vacuum level depending on the needs: from gentle removal of supernatants from a centrifuge tube or 96-well plate to fast emptying of a large culture flask.
VACUSAFE product range

VACUSAFE product range

Common and specific features of all available models

VACUSAFE Instrument Models

 Features common to all models:

Shatterproof autoclavable waste collection bottle and handle
Hydrophobic filter for protection against overflow of liquid and escape of aerosols
Autoclavable VACUBOY aspiration tool with different adapters and tubing
Vacuum control: noise reduction, increased pump's lifetime, minimised evaporation of volatile solvents.

|   | 158 320 | 158 310 | 158 300 |
| --- | --- | --- | --- |
| Electronic level detection: prevention of liquid overflow | - | yes | yes |
| Autoclavable quick couplings made of PVDF: lid is autoclavable, bottle and tubing couplings are self-sealing for full containment of biohazardous liquids. | - | yes | yes |
| 4 litres polypropylene bottle | yes | yes | - |
| 3 litres safety coated glass bottle, for fast autoclaving (20 min. at 121 °C) | - | - | yes |
Customer Voices
See it Work
Uses and Applications
Overview
Applications
Stories
Tech Info
Tech info
Find here a quick overview of the product specifications. More detailed information can be found in the download-section below.
Vacuum range

-300 to -600 mbar (adjustable)

Pump flow rate

8 l/min (air)

Aspiration rate

17 ml/s (aspiration pipette)

Noise emission

<50 dB (A) at 1 m

Dimensions (H x W x D)

53 x 18 x 32 cm

Weight

3.4 kg

Input voltage

100 – 240 VAC, 50/60 Hz
Downloads
Parts and Numbers
Parts and numbers
Instruments

Instruments

VACUSAFE

Aspiration system with integrated vacuum pump, complete with collection bottle, bottle handle, tubing set with filter, mains adapter and VACUBOY hand operator (155 510).

Description
Part No.

3 litres bottle (safety coated glass)

Level detection and lid with quick tubing couplings (PVDF)

158 300

4 litres bottle (polypropylene)

Level detection and lid with quick tubing couplings (PVDF)

158 310

4 litres bottle (polypropylene)

Lid with tubing fittings

158 320

Full range of VACUSAFE aspiration systems

Accessories

Accessories

General Accessories for VACUSAFE

| | |
| --- | --- |
| Description | Part No. |
| Bottle 4 litres, polypropylene | 158 370 |
| Bottle 3 litres, safety coated glass | 158 420 |
| Lid for 4 litres polypropylene bottle, with quick couplings (PVDF) and level detection | 158 401 |
| Lid for 4 litres polypropylene bottle, with tubing fittings | 158 372 |
| Lid for 3 litres safety coated glass bottle, with quick couplings (PVDF) and level detection | 158 418 |
| Bottle 4 litres polypropylene, lid with quick couplings (PVDF) and level detection (part no. 158 370 and 158 401) | 158 431 |
| Bottle 4 litres polypropylene, lid with tubing fitting (part no. 158 370 and 158 372) | 158 432 |
| Bottle 3 litres safety coated glass bottle, lid with quick couplings (PVDF) and level detection (part no. 158 420 and 158 418) | 158 430 |
| Level detection sensor cable | 158 403 |
| Bottle handle for carrying polypropylene bottle, removable | 158 625 |
| Bottle stand for 4 litres polypropylene bottle | 158 630 |
| Stand for PIPETBOY and VACUBOY | 155 065 |
| Mains adapter (100 – 240 VAC, 50/60 Hz) | 158 395 |
| Air outlet connector for connection of tubing 4 – 6 mm to the air outlet of the pump (without tubing) | 158 427 |
| Y-connector for connection of a second VACUBOY hand operator | 158 354 |
| VACUBOY hand operator (description: see VACUBOY ordering information) | 155 510 |

Consumables

Consumables

Tubing and Filter

| | |
| --- | --- |
| Description | Part No. |
| Tubing for connection of hand operator VACUBOY to bottle, 180 cm, silicone | 158 332 |
| Tubing for connection of bottle to instrument pump, 70 cm, silicone | 158 331 |
| Tubing set with filter (part no. 158 331, 158 332 and 158 015) | 158 342 |
| Filter non-sterile 0.45 µm for VACUSAFE | 158 015 |
| Filter non-sterile 0.2 µm for VACUSAFE | 158 020 |