Pipetting Robots
Automating Multichannel Pipettes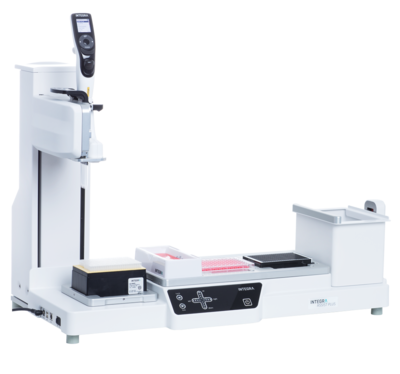 Electronic multichannel pipettes are used around the globe to increase productivity in life science laboratories, as they allow for quick reagent addition, well plate reformatting or sample dilution. However, continuous manual pipetting over a long period remains a tedious task. In consequence, many lab professionals face problems ranging from increased pipetting errors to medical problems such as repetitive strain injuries.
In light of these issues, INTEGRA has developed a family of two compact and easy to use pipetting robots, which are compatible with our Multichannel Electronic Pipettes and therefore free you from repetitive pipetting routines. Basic pipetting protocols can be set up directly on the pipette, whereas tasks that are more elaborate are easily created using the dedicated VIALAB software. Simply mount a multichannel pipette on the ASSIST and turn it into a personal pipetting robot, ensuring superior reproducibility and error free pipetting without any physical strain for the user.
Comparison of the ASSIST Pipetting Robots
 
ASSIST
ASSIST PLUS
Part number
4500
4505
Pipette compatibility

VIAFLO Electronic Pipettes with fixed tip spacing

VIAFLO and VOYAGER Pipettes with fixed and variable adjustable tip spacing

Channels

8 – 16
4 – 16
Volume range
0.5 – 12.5 µl


2 – 50

µl


5 – 125

µl


10 – 300

µl


50 – 1'250 

µl

0.5 – 12.5 µl


2 – 50

µl


5 – 125

µl


10 – 300

µl


50 – 1'250 

µl

Typical applications

Serial dilutions
Plate filling
Reagent addition
Serial dilutions
Plate filling
Reagent addition
Plate reformatting
Plate duplications
Tube-to-plate transfers

Tip loading/ejection

manual
automatic

Deck layout

1 reservoir / PCR tubes
1 well plate
1 tip rack
3 well plates / reservoirs / tube racks
1 tip waste bin
For more information download the ASSIST & ASSIST PLUS Pipetting Robots Flyer.