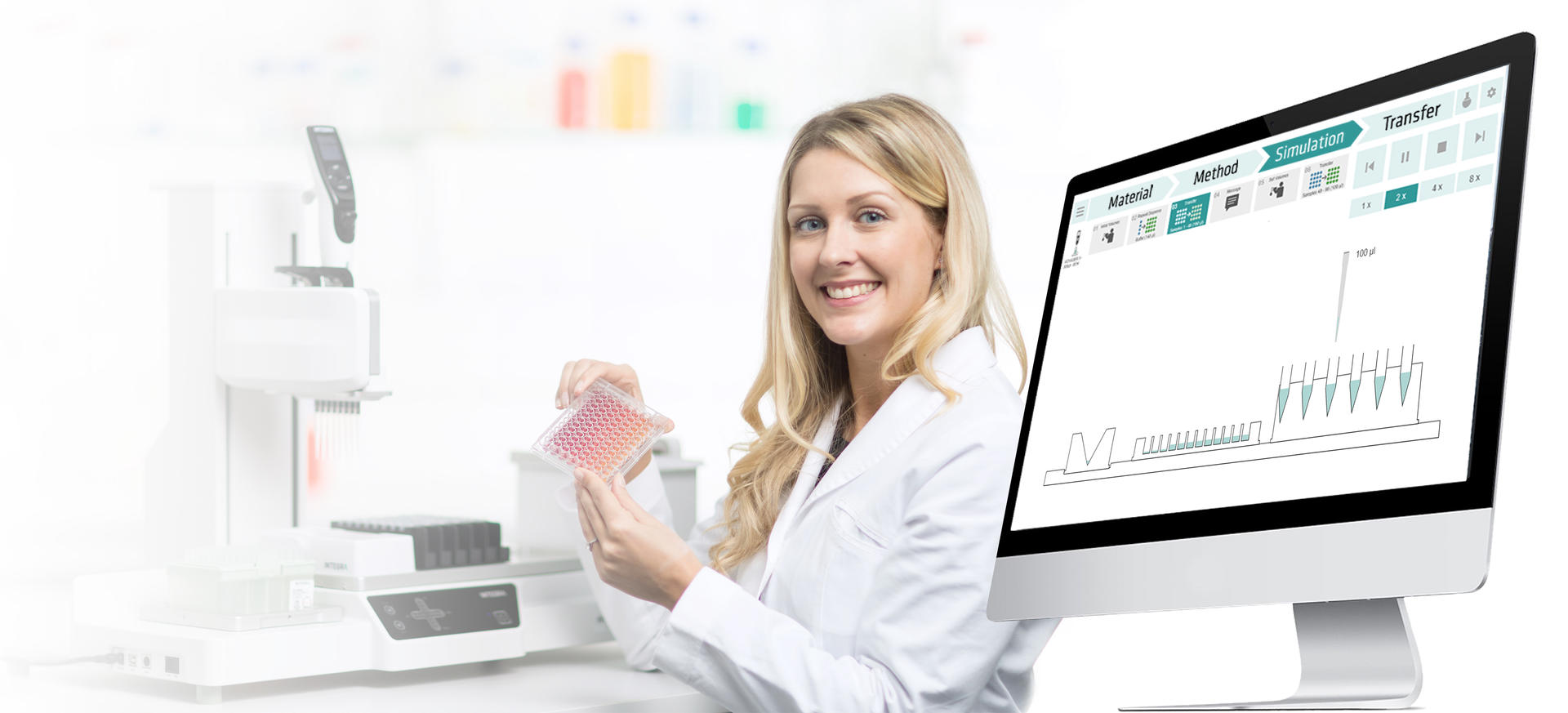 VIALAB
Pipette Automation Software
Pipette Automation Software
Product story
Easy Setup of Automated Pipetting
Combining INTEGRA's ASSIST PLUS pipetting robot with VIALAB software makes it easy to create automated pipetting protocols for a variety of applications. The intuitive visual interface helps you to create automated programs without any programming knowledge within a few minutes instead of hours.
Download and try the VIALAB pipetting automation software for free!
How it Works
How it works
Each VIALAB program consists of four parts: Material, Method, Simulation and Transfer.
Material: Simply pick and place labware

Choose the pipette and tips needed for your assay, then place labware – such as plates, reservoirs or tube racks – on the deck.

VIALAB includes a comprehensive labware library of over 100 plates, plus all INTEGRA reservoirs and tube racks. You can also define your own labware formats.

Method: Define your pipetting steps

Choose a predefined pipetting step, then adapt it to your needs. Select correct volumes, source and target wells by drag-and-drop, then fine tune it by modifying pipetting speeds, heights, etc.

The software displays the liquid filling levels in each well to allow convenient adjustment of pipetting heights, and constantly validates your program in the background to avoid set-up errors.

Simulation: Make a final check

Perform a final check of your program by watching it run on the screen. This shows pipetting locations, volumes transferred, pipetting heights and the movement of tips on the deck.

You can even speed up the simulation, giving you a quick overview to ensure your program represents your application.

Transfer: Send Your Program to the Pipette

Upload your completed program directly to the pipette via communication module or USB. After the transfer is complete, no connection between VIALAB and the pipette is needed. The pipette controls the ASSIST PLUS instrument!

SUMMARY REPORTING

Create a PDF report for your lab notebook or data filing, summarizing all labware, pipettes and pipetting steps in the program.

Download a sample report (PDF).
See it Work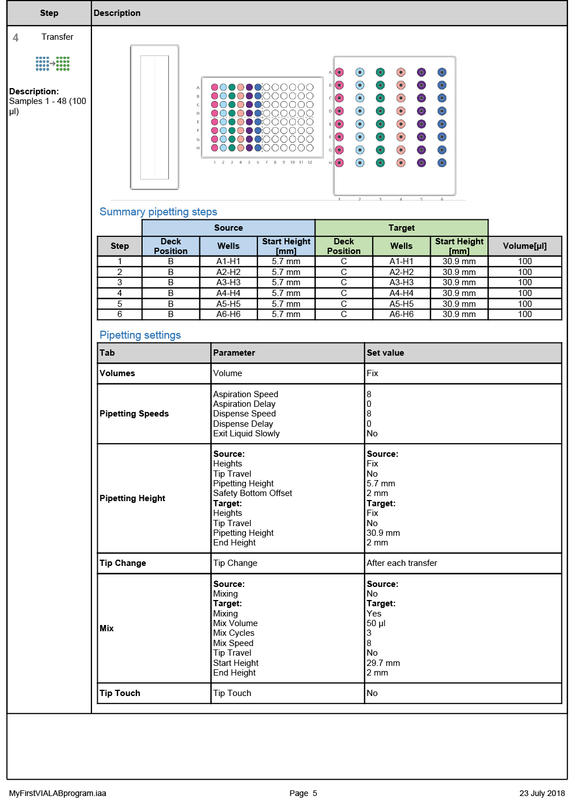 Uses and Applications
Overview
Applications
Stories
Downloads & More
Parts and Numbers
Parts and numbers
Communication Options

Communication Options

Communication options for VIALAB pipette automation software

| Type | Description | Part No. |
| --- | --- | --- |
| Communication module | For VIAFLO / VOYAGER pipette | 4221 |
| Charging / communication stand for 1 pipette | In addition to charging, this stand enables communication between the pipette and a PC using VIALINK or VIALAB. (Incl. mains adapter) | 4211 |
| Charging/communication station | In addition to charging, this station enables communication between the pipette and a PC using VIALINK or VIALAB. [Needs to be attached to the linear stand (PN 3215) and a mains adapter (3216)] | 3218 |
| Linear stand | Accommodates all types of INTEGRA pipettes. It can be converted to a charging and communication stand by attaching the charging/communication station (3218) and equipping a mains adapter (3216). | 3215 |
| Mains adapter | Required to convert the linear stand into a charging/communication stand. | 3216 |