VOYAGER pipette: a workhorse for investigating the cellular powerhouse
Screening for defect-correcting therapeutics
The Wellcome Centre for Mitochondrial Research (WCMR), within the Faculty of Medical Sciences at Newcastle University in the UK, studies all aspects of mitochondrial disorders and their implications for human health. Its aim is to transform the lives of patients with mitochondrial disease and dysfunction, by investigating etiological mechanisms and advancing revolutionary treatments that can restore mitochondrial health. An active area of research at the WCMR is the development of novel assays to screen large numbers of therapeutic compounds and identify drugs that are capable of rescuing mitochondrial function, improving patients' quality of life. The multidisciplinary team uses high throughput methods to screen large compound libraries, narrowing down thousands of candidates to the most promising few.
Researchers within the WCMR are using the VOYAGER adjustable tip spacing pipette – in combination with GRIPTIPS® pipette tips – for various steps in their high throughput screening assays and tissue culture methods. Adam Creigh, a researcher in the group, explained: "There is massive heterogeneity involved in mitochondrial disease pathology and, within the center, there are a lot of people investigating very different aspects of these disorders. Our team is focused on finding treatments by working with drugs from large compound libraries, and testing them on patient cell lines with a range of different mutations. Given the complexity of the work, accuracy and efficiency are crucial in our research process. Having versatile and reliable equipment like INTEGRA's VOYAGER pipettes is a gamechanger, as we can be focused on entirely different compounds and assays from one day to the next."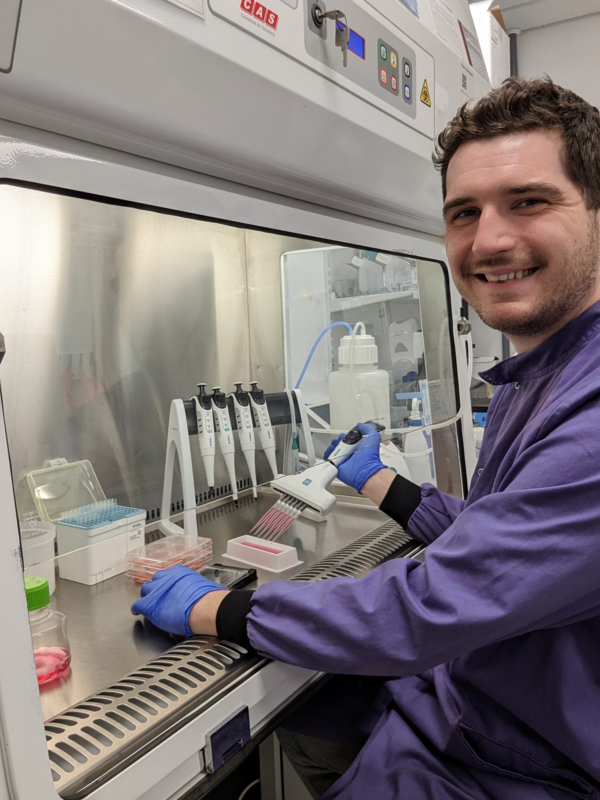 A versatile tool that offers comfort and flexibility
The ergonomic design of the VOYAGER has been important to the researchers, who typically spend a significant amount of time pipetting, making comfort and ease of use crucial. Adam continued: "The amount of liquid handling that is involved in screening thousands of therapeutic compounds is enormous, and it is incredibly repetitive. With so many assays to repeat, it is important to reduce the risk of human and equipment errors while retaining high levels of accuracy and precision. The VOYAGER's lightweight design has reduced hand fatigue and strain, allowing us to work for longer periods without discomfort. This has had a positive impact on our productivity, as well as overall wellbeing in the laboratory. Furthermore, the tip spacing can be changed at the push of a button to accommodate different types of plates and wells, and this flexibility is invaluable when we are working with various assays and sample formats. It saves us time and effort, as we don't have to switch between different pipettes or manually change the tip spacings. We have never had any issues with the GRIPTIPS dropping off the VOYAGER, and the convenience and efficiency that the combination brings to our workflows is remarkable."
The VOYAGER's reliability and precision has won over the researchers. Adam added: "While other pipettes we have used often encounter issues with damaged pistons or inaccurate volumes, INTEGRA's electronic pipettes have consistently delivered outstanding results. The VOYAGER is therefore in constant demand throughout the center. The efficiency of our workflows has been enhanced thanks to the reproducibility it offers, as well as the easy calibration process and ability to quickly change the volume."
Variable aspiration speeds for delicate cell lines
The ability to finely control the speed of aspiration is crucial to minimize shear forces and maintain cell viability, particularly for delicate cell lines, such as induced pluripotent stem cells (iPSC)-derived neurons. Adam continued: "Even a slight knock to a delicate cell culture plate can cause the cells to come off the surface and ruin the experiment, but the VOYAGER's programmable aspiration speeds offer more control than can be achieved manually, so that these cell lines can be efficiently handled with care. Setting it to a slow and gentle aspiration ensures that cells are not disturbed during the pipetting process, providing a level of precision that is essential for our research."
Progressing the pursuit to find new treatments
"The variable speed of aspiration, adjustable tip spacing and ergonomic design have made the VOYAGER an indispensable tool for our mitochondrial disease research. Looking ahead, we hope to get a few more of these pipettes of different volumes to expand our high throughput screening capabilities. This will further our mission to find treatments for people affected with severe phenotypes resulting from mitochondrial dysfunction," Adam concluded.