Automation Friendly Reagent Reservoirs
Fits All Industry Standard Microplate Holders
Fits All Industry Standard Microplate Holders
Product story
Fully Compatible With All Liquid Handling Systems
As automation becomes more and more important, reagent reservoirs varying in dimensions are problematic. The automation friendly reagent reservoirs from INTEGRA are especially designed for use with VIAFLO 96 and VIAFLO 384 pipettes or other liquid handling platforms. The microplate format makes them ideal for all automated liquid handling systems using the clearly defined footprint of the Society for Biomolecular Sciences (SBS).
INTEGRA offers two types of automation friendly reagent reservoirs:
150 ml and 300 ml Clear Advantage™ reagent reservoirs which are made of both crystal clear virgin polystyrene and polypropylene. Both options fit into a reusable automation friendly base with bold, crisp, clearly visible graduation markings.
 
The 300 ml open well, 12 column and 8 row polypropylene reservoir blocks offer improved chemical compatibility.
How it Works
How it works
The INTEGRA automation friendly reservoirs utilize reusable bases. Simply keep the base and replace either the 150 ml or 300 ml reservoirs inserts. The INTEGRA reservoir design saves you both precious lab space and money.
INTEGRA also offers polypropylene reagent reservoirs in both the Clear Advantage™ and sturdy block formats for improved chemical compatibility. 
Clear Advantage™ Automation Friendly Reservoirs

1) 

Dual Viewing Windows

The windows allow users to safely position tips directly at the bottom of the reservoir without crashing pipette tips or aspirating air. Having two windows allows for visibility whether 96, 384 or a single column of tips are being used.

2) Low Dead Volume

The SureFlo™ Array located on the flat bottom reservoir prevents pipette tip seal off. This allows users to rest the pipette tips directly on the bottom of the reservoir offering an incredibly low dead volume of less than 3 ml!

3) Latching Lid With Gasket

Both reagent reservoir bases feature latches for securing lids. Both lids incorporate a gasket which prevents spillage during transport and evaporation during short term storage.

4) *NEW* Polypropylene Options

Clear Advantage™ polypropylene reservoirs are available in both 150 and 300 ml volume ranges and use the same sturdy bases. These reservoirs feature improved chemical compatibility.

Polypropylene Reagent Reservoirs Blocks

1) Polypropylene Design

The polypropylene design improves the reservoirs chemical compatibility.

2) Three Configurations

These options include a 300 ml open well reservoir with 96 pyramid shaped indentations, a 12 column and an 8 row reservoir.

3) Automation Friendly Footprint

All three reservoirs feature an automation friendly footprint for use with VIAFLO 96, VIAFLO 384 and other automated workstations.

Assured quality

Our reagent reservoirs are manufactured from 100% virgin polypropylene under strictly controlled conditions. All GripTips are certified free of RNase, DNase, pyrogens, PCR inhibitors and endotoxins.
Customer Voices
See it Work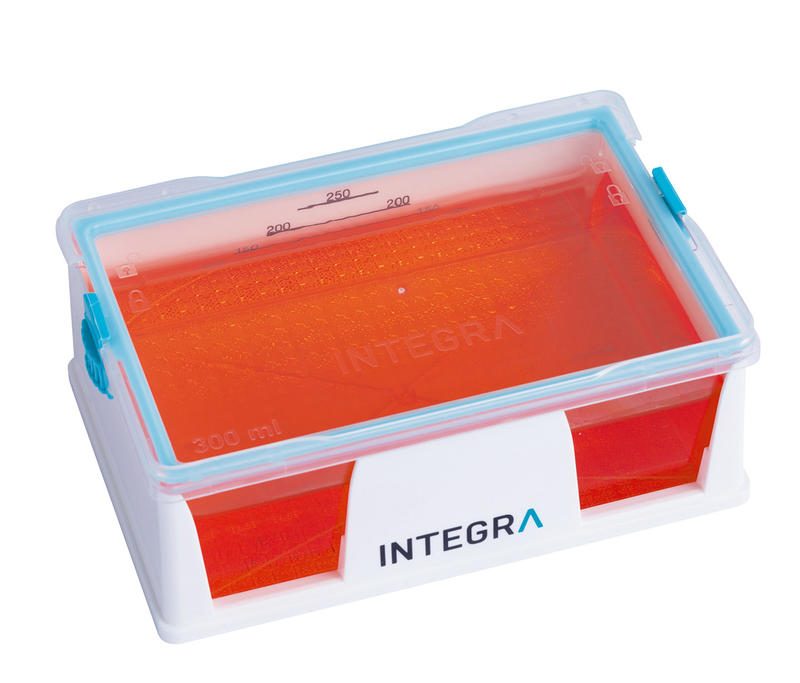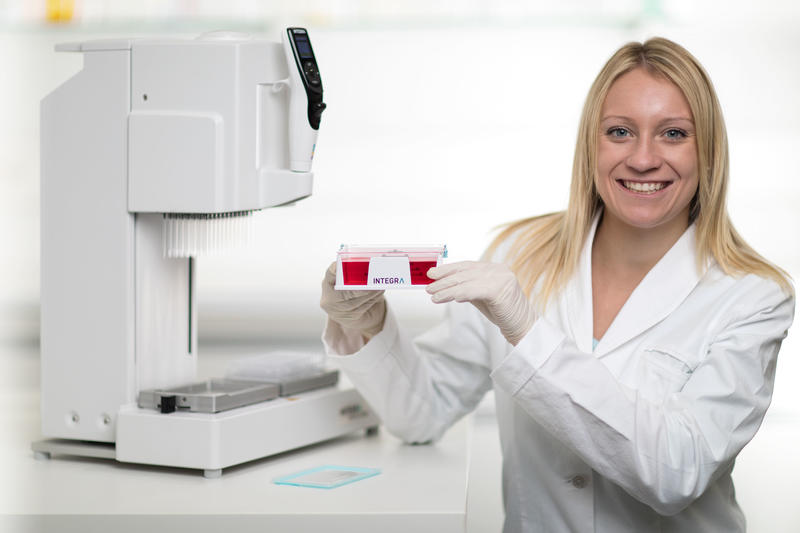 Uses and Applications
Overview
Applications
Stories
Downloads & More
Parts and Numbers
Parts and numbers
150 ml Reservoirs (Polystyrene)

150 ml Reservoirs (Polypropylene)

300 ml Reservoirs (Polystyrene)

300 ml Reservoirs (Polypropylene)

96 Well Reservoirs, 300 ml (Polypropylene)

12 Column Reservoirs, 252 ml (Polypropylene)

8 Row Reservoirs, 256 ml (Polypropylene)