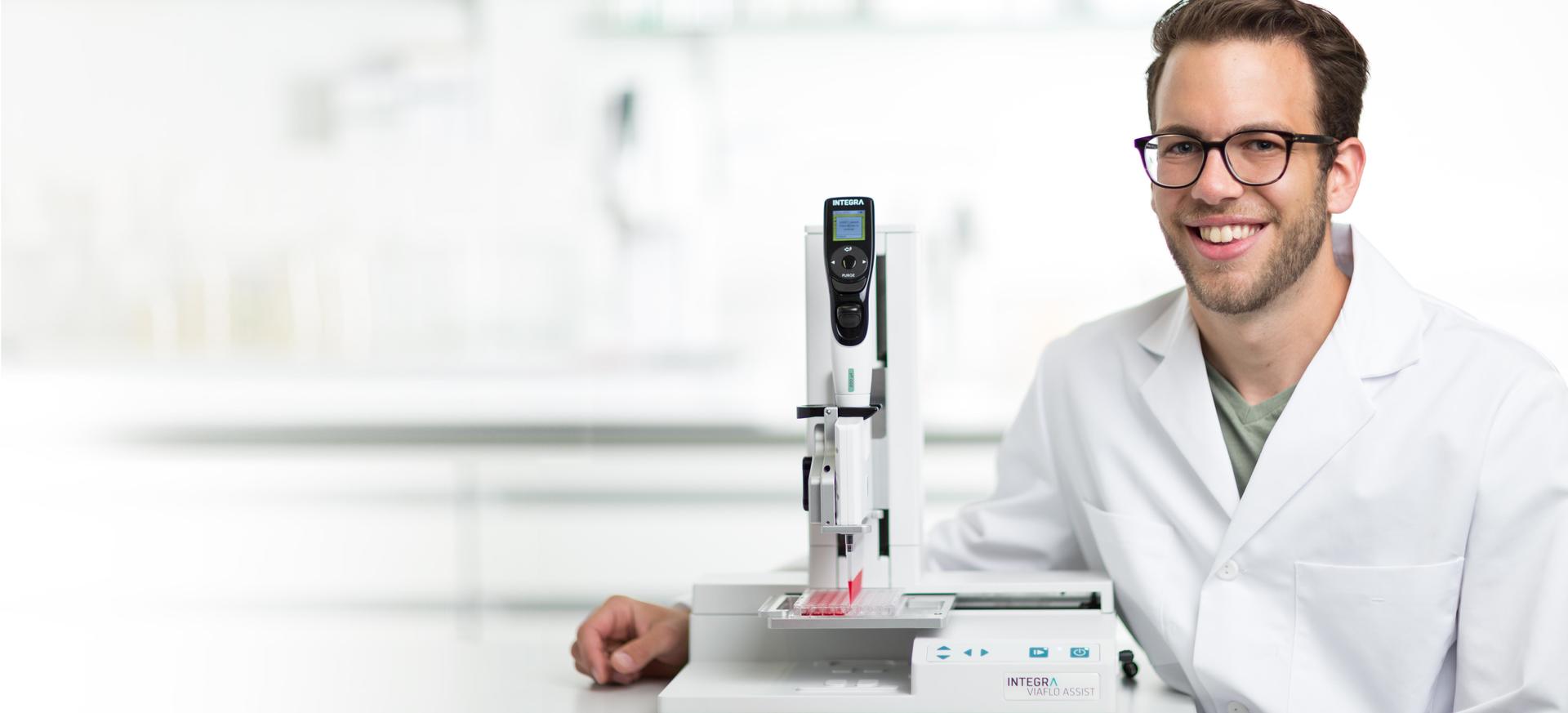 ASSIST
Automating Multichannel Pipettes
Automating Multichannel Pipettes
Product story
Best results – unmatched ergonomics
!
Pipette design and good pipetting practice have always been in the focus to improve ergonomics and reproducibility of pipetting.
For the design of the ASSIST, INTEGRA kept these critical factors in mind but went even a step further: by automating our multichannel pipettes. Simply mount a VIAFLO electronic pipette onto the ASSIST to start automated pipetting. This prevents you from repetitive strain injuries (RSI) while increasing the reproducibility of prolonged pipetting protocols such as serial dilutions, plate filling and reagent addition.
How it Works
How it works
Simply mount any INTEGRA VIAFLO electronic pipette onto the ASSIST pipette adapter, choose a pipetting protocol and press the run button. ASSIST will then obtain the protocol via Bluetooth from the VIAFLO electronic pipette and automatically execute the desired application.
Overview

1) Touch wheel interface
2) Bluetooth communication
3) Smart pipette adapter
4) Compact size
5) Plate compatibility
6) Choice of reservoirs

Automated Multichannel Pipetting

Ergonomics

No matter how light and well balanced a pipette is, prolonged pipetting tasks remain physically and mentally challenging. While some steps always need to be performed manually, many other steps can be automated.

ASSIST lets you switch between the manual and automated pipetting tasks on the fly, relieving you of the routine pipetting.

Consistent pipetting

The major source of problems in pipetting performance are human errors. Typical parameters influencing the performance are tip immersion depth and pipetting angle. The automated pipetting capability of ASSIST ensures these parameters are always the same, resulting in increased reproducibility. Also, ASSIST makes no pipetting mistakes!

Versatility

Smart pipette adapter

The pipette adapter of ASSIST allows the use of all VIAFLO multichannel pipettes. The width of the adapter can be adjusted so that 8-, 12-, and 16-channel pipettes can fit. The pipettes cover a volume range of 0.5 – 1250 µl.

Plate compatibility

Plates of 6-wells to 384-wells can be used. The plate sledge accommodates the plates either in portrait or landscape orientation.

Bluetooth Communication

The VIAFLO pipette and ASSIST communicate via Bluetooth, supporting simple wireless connectivity.

Pipetting protocols are transmitted from the pipette to ASSIST and are then carried out automatically.

User Interface

Navigation

Protocol setup and selection is done using the pipette's intuitive user interface. It is based on the popular Touch Wheel and allows extremely fast menu navigation and volume adjustments. Simply by moving a finger over the touch wheel, menus and settings can be accessed.

Choosing a protocol

Three predefined protocols allow a quick start: Serial Dilution, Repeat Dispense and Variable Dispense. For more elaborate pipetting routines, custom programs can be created in an easy step by step setup.

Grip Tips

GripTips are always firmly attached and perfectly aligned, regardless of how many side well touch offs are performed. You no longer have to hammer your pipette tips on or worry about pipette tips falling off!

1) Lobes
2) O-Ring Seal
3) Rim snaps over the Lobes
4) Shoulder

The rim (3) of the GripTips will snap over the Multi-Lobes (1), attaching firmly. As a result, GripTips will never accidently fall off.

A shoulder (4) provides a positive stop to prevent over-tightening of the tip. It can only be attached up to that point and no further, ensuring that all tips are at the same height. That means, the tip is either on or off, but nothing in between.
Customer Voices
See it Work
Apps
Applications
Serial Dilutions

Serial Dilutions

Carry out serial dilutions automatically

Serial dilutions can be tedious due to the many mixing steps that are required. ASSIST carries out your serial dilution protocols automatically. Simply define the number of mixing cycles, speed and mix volume.

Serial dilutions are often carried out with the plate in portrait orientation. This allows more samples to be diluted. ASSIST allows working in landscape and portrait format.

The concentrated sample can be drawn from a reagent reservoir, a PCR tube strip and the plate itself (e.g. First column). In addition, the sample can also be aspirated with the pipette from an external source before placing it on the ASSIST and starting the protocol.

Serial Dilution using ASSIST

Plate Fillings

Plate Fillings

Filling microplates without risking repetitive strain injury

Filling multiple plates might not be a difficult task but is strenuous nonetheless. In order to improve pipetting ergonomics, manual pipetting should be minimized.

ASSIST helps you to fill microplates without risking repetitive strain injury.

Plate Filling using ASSIST

Reagent Additions

Reagent Additions

Homogenous distribution of samples

Draw reagent from the reagent reservoir, a PCR tube strip , the plate itself or an external source to add it to the target plate.

An optional mixing step helps to achieve a homogenous distribution of the sample. For a precise liquid transfer and to make sure that no remaining liquid clings to the tip end, performing a touch off is common practice. ASSIST allows both a touch off on the side wall of the well or inside the liquid.

Reagent Addition using ASSIST
Tech Info
Tech info
Find here a quick overview of the product specifications. More detailed information can be found in the download-section below.
Dimensions (W x D x H)

34 cm x 36 cm x 40 cm

Weight

10 kg

Operating conditions

Temperature: 5 °C – 40 °C, Humidity: <85 % non-condensing

Power requirements

100 – 240 VAC, 50/60 Hz

Pipetting technology

Air displacement
Downloads
Parts and Numbers
Parts and numbers
Instruments

Instruments

ASSIST

| Description | Part No. |
| --- | --- |
| Pipetting Platform, incl. a reservoir sample pack of each size | 4500 |

 

ASSIST base unit

VIAFLO Electronic Pipettes

VIAFLO Electronic Pipettes

8-, 12- and 16-Channel VIAFLO Pipettes
For accessories, pipette tips etc., please visit the VIAFLO product page.

8-Channel VIAFLO Pipettes

(Bluetooth module and power supply not included)

Volume Range
Part No.
0.5 – 12.5

µl

4621
2 – 50

µl

4626
5 – 125

µl

4622
10 – 300

µl

4623
50 – 1250

µl

4624

 12-Channel VIAFLO Pipettes

(Bluetooth module and power supply not included)

Volume Range
Part No.
0.5 – 12.5

µl

4631
2 – 50

µl

4636
5 – 125

µl

4632
10 – 300

µl

4633
50 – 1250

µl

4634

16-Channel VIAFLO Pipettes

(Bluetooth module and power supply not included)

Volume Range
Part No.
0.5 – 12.5

µl

4641
2 – 50

µl

4646
5 – 125

µl

4642

VIAFLO multichannel electronic pipettes