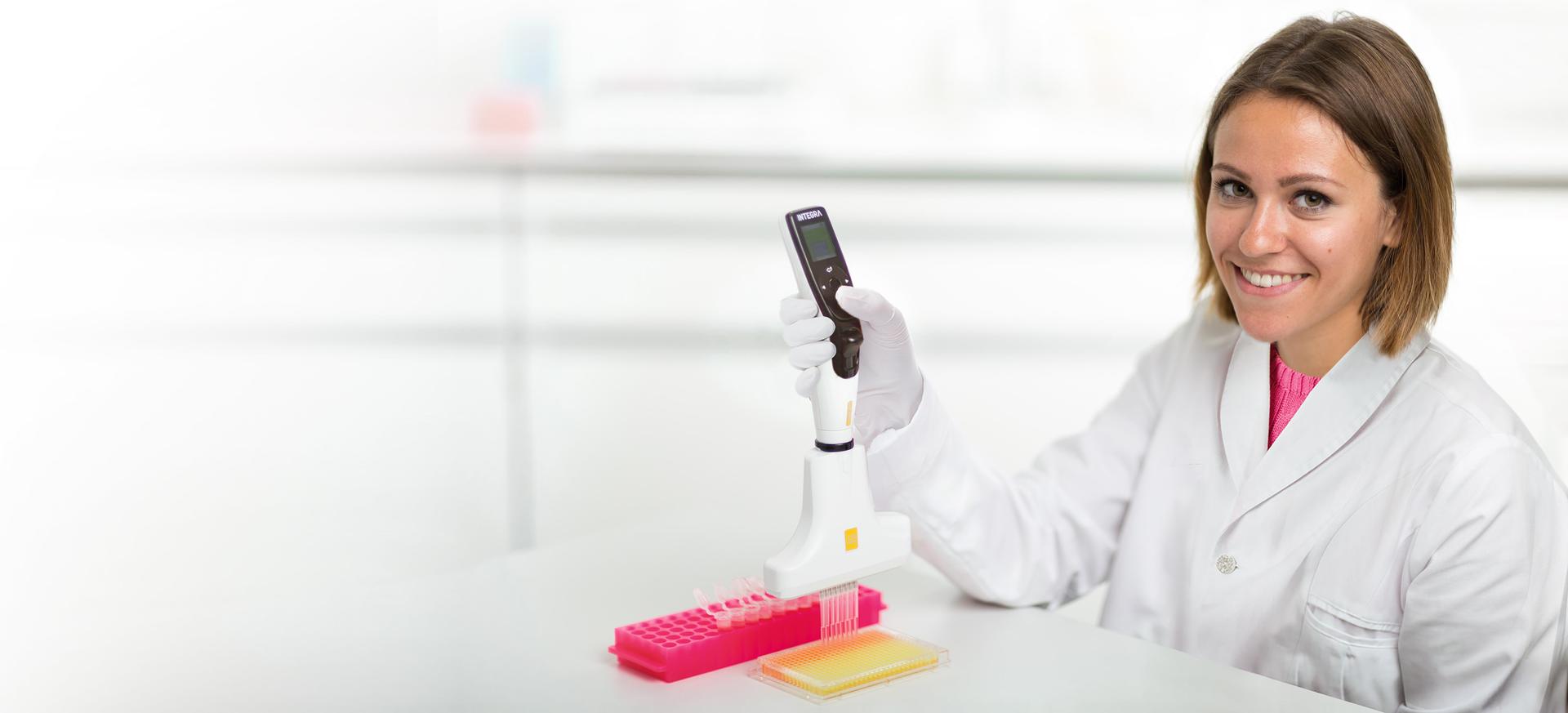 Product story
Save hours of pipetting by using a VOYAGER pipette
In the past, scientists were restricted to use single channel pipettes when transferring samples between labware of different formats. Such single transfers as gel loading, tube to plate transfers or 96-well to 384-well plate reformatting are tedious and an error prone tasks.
VOYAGER multichannel pipettes have been designed to address this problem specifically. It is the first and only automatic adjustable tip spacing pipette on the market. Using a VOYAGER you can transfer multiple samples at once in the blink of an eye. Moreover, by reducing transfer steps, VOYAGER helps you prevent repetitive strain injuries (RSI) and pipetting errors.
How it Works
How it works
VOYAGER pipettes feature a unique motorized tip spacing, enabling parallel transfer of multiple samples between labware of different sizes and formats. The tip spacing can be changed by a simple push of a button.
Electronically adjustable tip spacing

VOYAGER pipettes allow the tip spacing to expand anywhere between 4.5 mm and 33 mm at the push of a button.

The motorized tip spacing offers many advantages over manual tip spacing adjustments:

Single handed operation leaves the other hand free to handle labware.
On the fly access to up to 3 user-defined tip spacings.
These user defined tip spacings are saved. No need to memorize spacings of different labware formats.

GRIPTIP® pipette tips which never leak or fall off

GRIPTIPS® are always firmly attached and perfectly aligned, regardless of how many side well touch offs are performed. You no longer have to hammer your pipette tips on or worry about pipette tips falling off!

1) LOBES
2) O-RING Seal
3) RIM SNAPS OVER THE LOBES
4) SHOULDER

The rim (3) of the GRIPTIPS® will snap over the Multi-Lobes (1), attaching firmly. As a result, GRIPTIPS® will never accidently fall off.

A shoulder (4) provides a positive stop to prevent over-tightening of the tip. It can only be attached up to that point and no further, ensuring that all tips are at the same height. As a result, the tip is either on or off, but nothing in between.

Intuitive operation and navigation

The Touch Wheel interface offers a quick and ergonomic way to modify pipetting parameters. It enables you to browse through menus, change pipetting volumes and speeds or other settings. Changing a dispense volume has never been so fast and easy!

The full color screen provides full text menus and displays pipetting protocols without abbreviations, making INTEGRA's pipettes particularly easy to understand and intuitive to use.

Various pipetting modes

For the most common liquid handling tasks 10 preset pipetting programs are available, in which only basic parameters need to be defined.

For more elaborate pipetting protocols, up to 40 user defined custom programs can be created.

1) Currently active pipetting mode
2) Next pipetting step is marked
3) Aspiration volume
4) Other parameters such as speed

If connected to the VIALINK PIPETTE MANAGEMENT SOFTWARE, even complex custom programs can be quickly created and stored in a library on the computer.

Possibility to automate

Simply mount an INTEGRA VOYAGER electronic pipette with electronically adjustable tip spacing onto the ASSIST PLUS pipetting robot, choose a pipetting protocol, add a tip rack and your labware. Press RUN and ASSIST PLUS will automatically carry out the full workflow.
Customer Voices
See it Work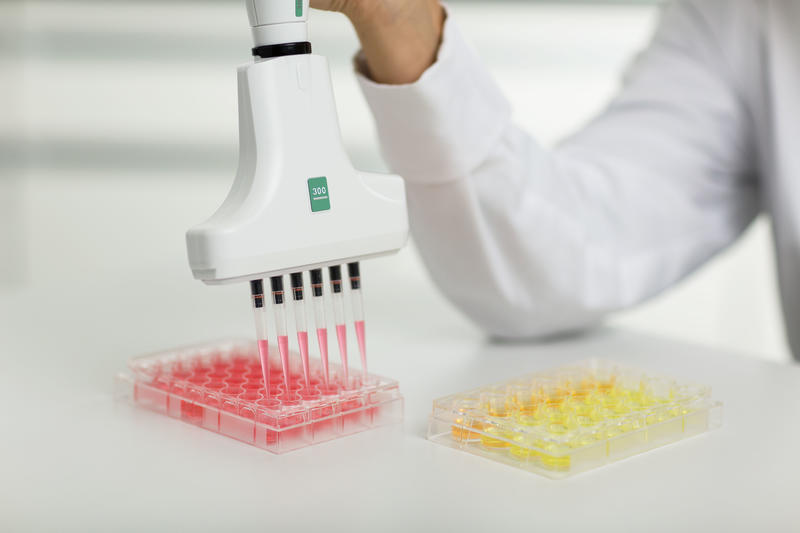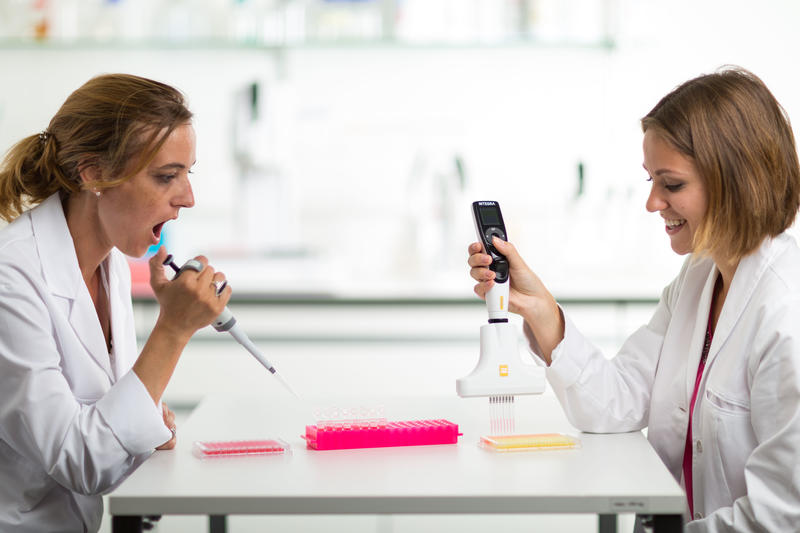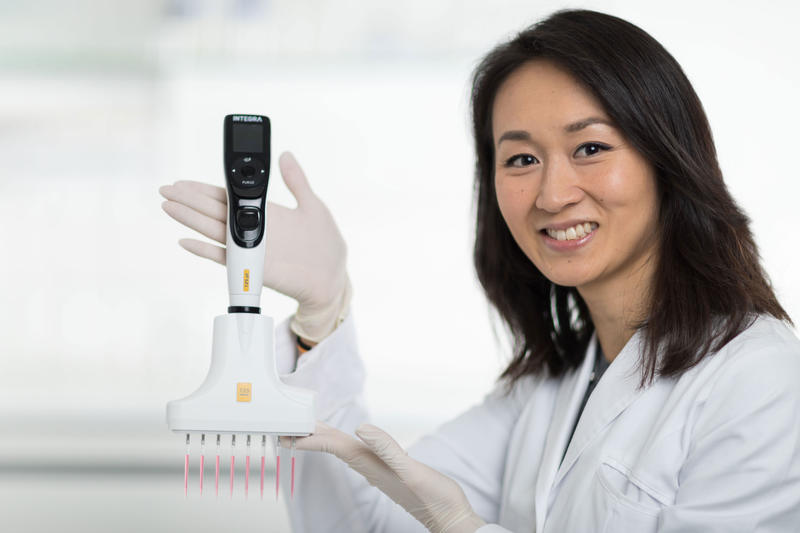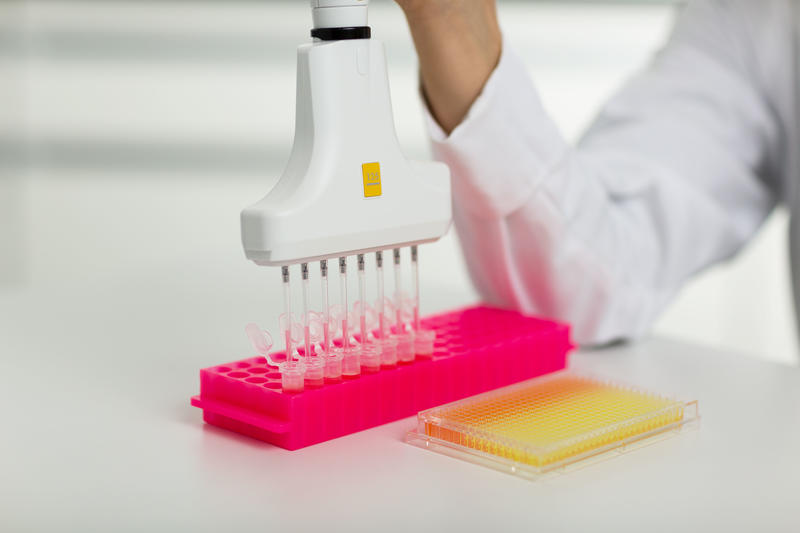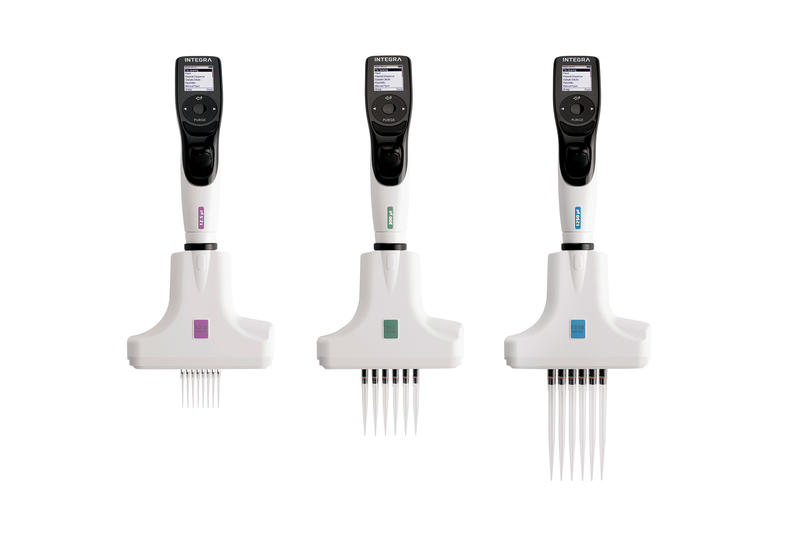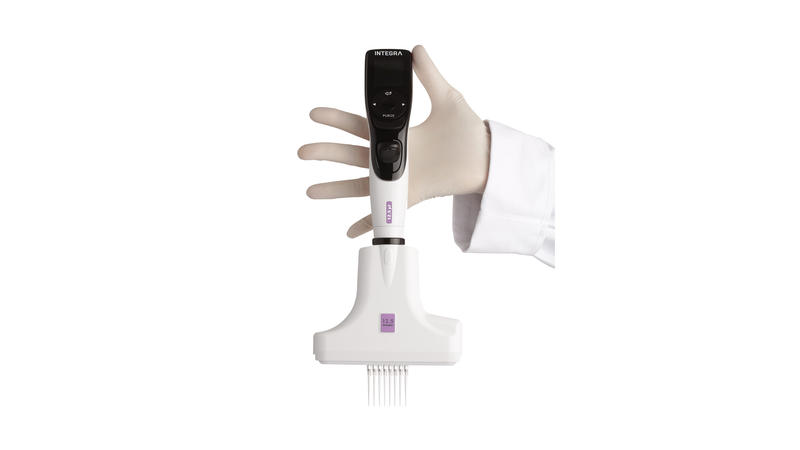 Apps
Uses and Applications
Overview
Applications
Stories
Applications
Pipette tip spacing

Gel loading

Plate reformatting

Transfers from tubes to plates

Cell seeding

Screening applications and genotyping

qRT-PCR Assay Setup using a VOYAGER
Tech Info
Tech info
Find here a quick overview of the product specifications. More detailed information can be found in the download-section below.
Battery

Rechargeable, Li-ion, 3.7 V, 1050 mAh; Typical charging time: 2.5 hours

Mains adapter

Input: 100 – 240 V, 50/60 Hz; Output: 5.7 – 6.4 V, 3 W

Pipetting channels

4, 6, 8, or 12
Downloads & More
Parts and Numbers
Parts and numbers
VOYAGER Electronic Pipettes

Charging Options and Accessories

Replacement O-Rings

GRIPTIPS®