Electronic Pipettes
Productive pipetting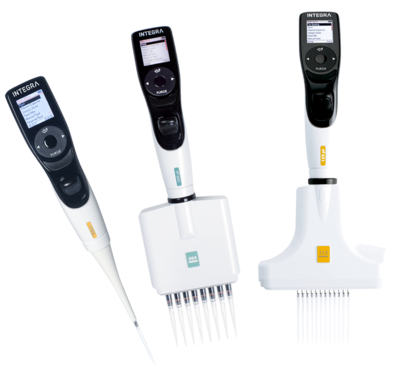 Our electronic pipettes make daily pipetting easier for you through a range of unique features. Even switching from manual to electronic pipettes is fast and easy thanks to the intuitive user interface.
Any pipetting work can be easily programmed and performed via the control wheel on the large color display: from individual transfers to complex protocols and pipetting into microtiter plates.
We have perfectly matched the unique pipette tip fittings to the INTEGRA GripTip pipette tips. This enables us to achieve a very low attachment and ejection force, which significantly simplifies daily pipetting. Thanks to the perfect fit and GripTip system the tips cannot fall off, are always perfectly aligned and will not leak.
Various electronic single and multichannel pipettes are available in different volume ranges:
VOYAGER: Adjustable tip spacing multichannel pipettes where the tip spacing can be adjusted at the push of a button.
VIAFLO: Electronic single and multichannel pipettes.
VIAFLO 96/384: Manually operated, electronic 24, 96 and 384 channel pipettes.