MIRO CANVAS
Fully automated NGS sample prep
Fully automated NGS sample prep
Product story
A revolutionary microfluidics platform which enables full automation of NGS prep protocols
The compact MIRO CANVAS provides true walk-away automation of complex next generation sequencing (NGS) library preparation and hybridization protocols, requiring only 15 minutes of hands-on time. The affordable and easy-to-use system uses innovative MIRO cartridges to minimize reagent consumption and produce high quality results with verified protocols for long-read sequencing, target enrichment and on-demand processing of samples.
Fully automated
Simple, walk-away automation for on-demand NGS sample preparation
Efficient
Minimize costs with up to 75 % reduction in reagent use and only 15 minutes of hands-on time
Flexible
Established NGS sample prep protocols for both short- and long-read sequencing platforms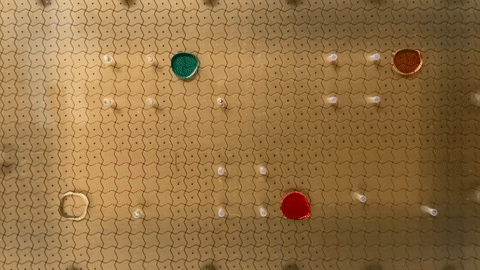 How it Works
MIRO CANVAS uses digital microfluidics to perform sample preparation steps within the singe-use MIRO cartridge. Sample and reagents are pipetted into the cartridge, and the microfluidics system automatically performs steps required for sample and library preparation, without user intervention, to produce samples for sequencing.
MIRO technology

MIRO technology uses electromechanical forces to move droplets over an array of electrodes. The electrode board has four thermal and four magnetic zones so that thermal cycling and magnetic bead operations can be performed automatically. Droplets move within the cartridge and are surrounded by air. The microfluidics technology also enables reduction of volumes for reduced running costs.

MIRO cartridge

The system uses MIRO cartridges, which are compatible with all commonly used reagents for sample preparation and enable easy experimental set-up. It is electronics-free, and incorporates microfluidic channels that sit in a layer above an open electrowetting plane, where the movement of droplets is controlled digitally by the electrodes that the cartridge sits upon.

Full walk-away automation

The system integrates steps necessary to perform sample preparation, including thermal cycling and magnetic bead operations, to minimize hands-on time and provide complete walkaway automation. The system senses reactions during the run, and ensures that all reagents and processes follow the same protocol from day to day, or site to site.

Simple run set-up

The onboard touchscreen on the MIRO CANVAS guides the user through setting up the run in minutes. The system also senses when a reagent has been loaded, and prompts the user to move onto the next step.

Long DNA Fragments

The microfluidics technology used in MIRO CANVAS provides a gentle environment and is favorable to long DNA fragments.
Customer Voices
See it Work










Apps
Uses and Applications
Overview
Applications
Stories
Applications
Key Applications

Key Applications

Long-read sequencing

The microfluidics platform reduces reagent usage and provides a gentle environment that is more favorable for long DNA fragments.

Target enrichment hybridization

The system provides full automation of the most critical steps for target enrichment, in single- or multiplex sample formats.

On-demand sequencing

Samples can be processed as they are received, without the need for batching, which can be critical for clinical applications.
Tech Info
Tech info
Find here a quick overview of the product specifications. More detailed information can be found in the download-section below.
Dimensions

20 x 41 x 18 cm (8 x 16 x 7")

Space requirements

Minimum 30 x 45 cm (W x D) on a stable surface

Weight

6 kg (13 lb)

Operating conditions

Temperature: 19-25 °C; Humidity: 20-80 %, non-condensing; Atmospheric pressure: 78-107 kPa

Power requirements

100-240 VAC, 50/60 Hz
Downloads & More
Parts and Numbers
Parts and numbers
System, Cartridge and Accessories

System, Cartridge and Accessories

MIRO CANVAS NGS prep system, MIRO Cartridge, MIRO Dropgloss

| Description | Part no. |
| --- | --- |
| MIRO CANVAS NGS prep system | M-01-0001-001-01 |
| MIRO Dropgloss (4 ml) | M-03-0001-001-01 |
| MIRO Cartridge, pack of 10 with MIRO Dropgloss (4 ml) | M-02-0001-002-02 |