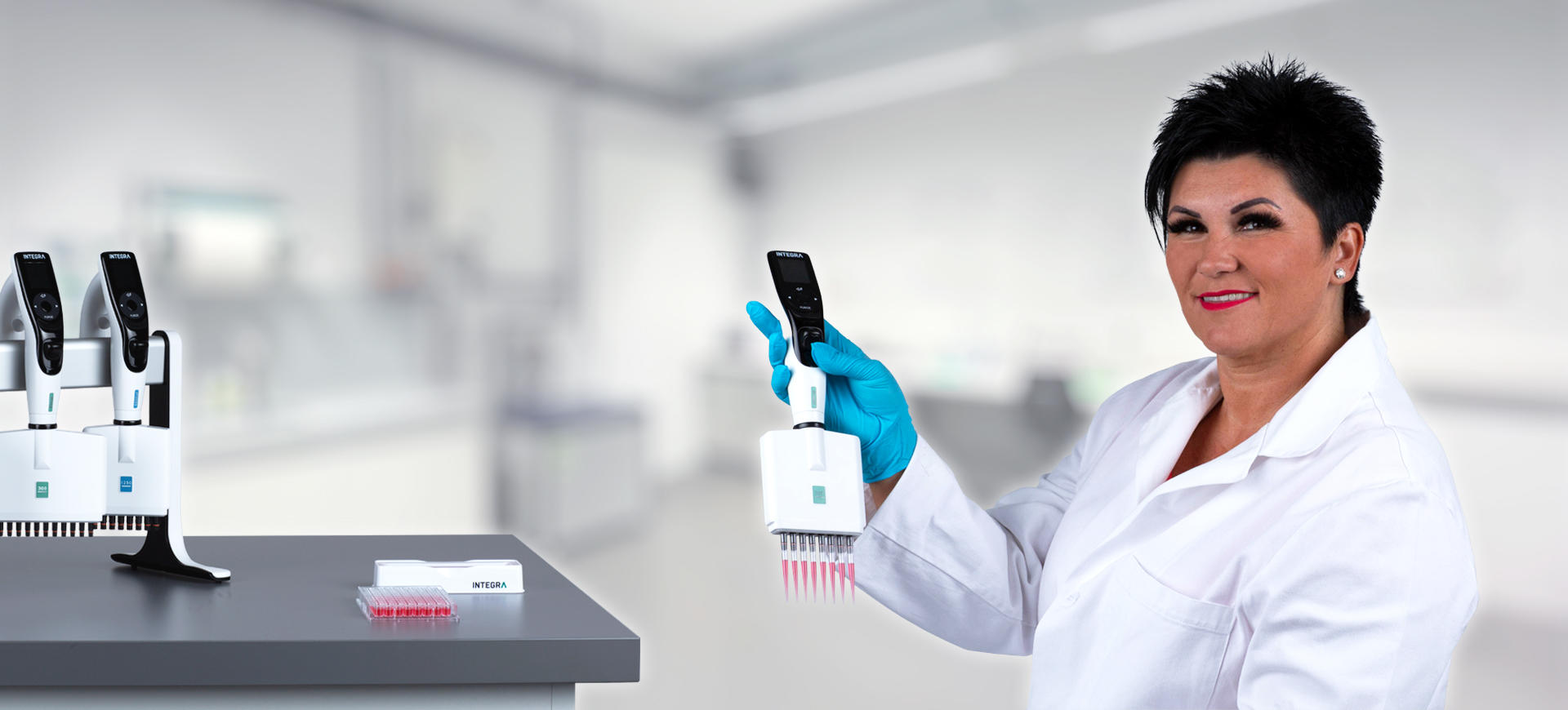 VIAFLO
Lightweight Electronic Pipettes
Lightweight Electronic Pipettes
Product story
The perfect pipetting system
Do your pipette tips ever loosen, leak or fall off? This is a common issue in laboratories, caused by the use of universal pipette tips. Such tips require "hammering on" which stretches the shape of the pipette tip rim. The stretched pipette tip rim immediately starts moving back to its original shape and away from the tip cone. This can cause leaking, misaligned tips and even pipette tips that completely fall off the pipette!
That is why INTEGRA designed the pipettes and GRIPTIPS® in combination, resulting in a perfectly matched pipetting system. GRIPTIPS® snap into place with minimal tip loading effort, providing a secure connection. GRIPTIPS® never fall off and are always perfectly aligned, resulting in superior accuracy and precision results.
How it Works
How it works
Solving many issues of traditional manual pipetting, VIAFLO electronic pipettes excel in terms of ergonomics, ease of use and productivity:
GRIPTIP® system

GRIPTIPS® are always securely attached and perfectly aligned, regardless of how many side well touch offs are performed. You no longer have to hammer your pipette tips on or worry about pipette tips falling off!

1) LOBES
2) O-RING SEAL
3) RIM SNAPS OVER THE LOBES
4) SHOULDER

The rim (3) of the GRIPTIPS® will snap over the Multi-Lobes (1), attaching firmly. As a result, GRIPTIPS® will never accidently fall off.

A shoulder (4) provides a positive stop to prevent over-tightening of the tip. It can only be attached up to that point and no further, ensuring that all tips are at the same height. That means that the tip is either on or off, but nothing in between.

Convenient operation and navigation

The Touch Wheel is a quick and ergonomic way to modify pipetting parameters. Instead of repeatedly pushing buttons or twisting fingers to modify volumes, you simply slide your finger over the wheel.

The full color screen provides full text menus (in multiple languages) and displays pipetting protocols without abbreviations, making VIAFLO pipettes particularly easy to understand and intuitive to use.

Various pipetting modes

VIAFLO pipettes feature 10 preset PIPETTING PROGRAMS, for which only a few parameters such as volume and speed need to be defined.

For more elaborate pipetting protocols, up to 40 user defined custom programs can be created. The custom program is a step-based setup queuing liquid handling steps such as aspirate, dispense, mix and more.

If connected to the VIALINK PIPETTE MANAGEMENT SOFTWARE, also complex custom programs can be quickly created and stored in a library on the computer.

1) Currently active pipetting mode
2) Next pipetting step is marked
3) Aspiration volume
4) Other parameters such as speed

Possibilty to automate

Simply mount an INTEGRA VIAFLO electronic pipette onto the ASSIST PLUS pipetting robot, choose a pipetting protocol, add a tip rack and your labware. Press RUN and ASSIST PLUS will automatically carry out the full workflow.
Customer Voices
See it Work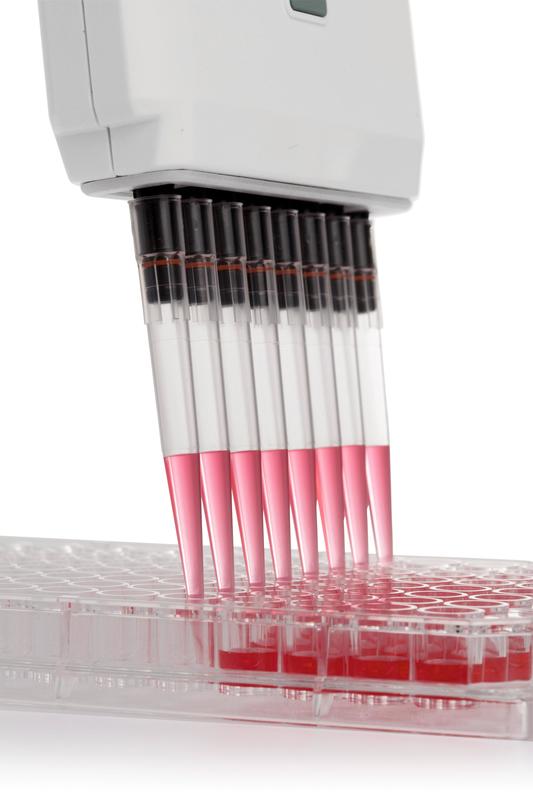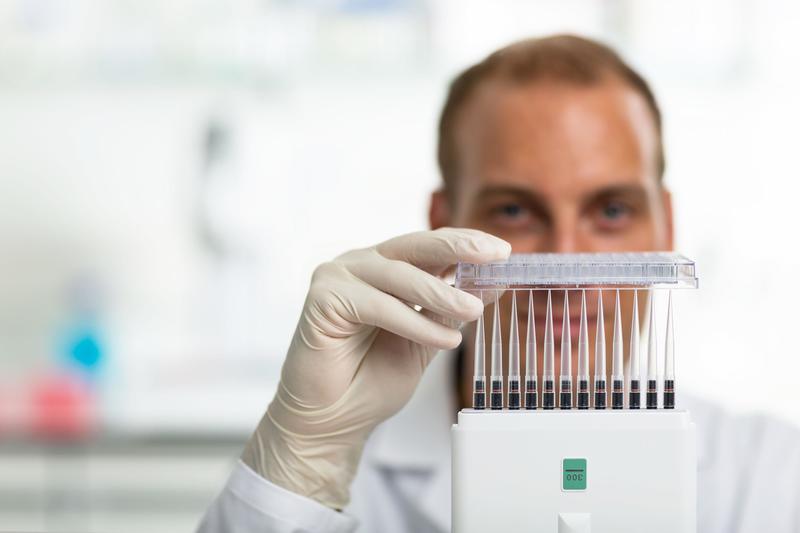 Apps
Uses and Applications
Overview
Applications
Stories
Applications
Pipet Mode

Repeat Dispense

Sample Dilute

Pipet/Mix

Manual Pipet

Reverse Pipet

Variable Dispense

Multi aspiration mode

Sample Dilute/Mix

Serial dilution mode

Custom Programs
Tech Info
Tech info
Find here a quick overview of the product specifications. More detailed information can be found in the download-section below.
Battery type

Rechargeable, Li-ion, 3.7 V, 1050 mAh, Typical charging time: 2.5 hours

Mains adapter

Input: 100 – 240 V, 50/60 Hz; Output: 5.7 – 6.4 V, 3 W

Pipetting channels

1, 8, 12 or 16
Downloads & More
Parts and Numbers
Parts and numbers
VIAFLO Electronic Pipettes

Charging Options and Accessories

Replacement O-Rings

GRIPTIPS®