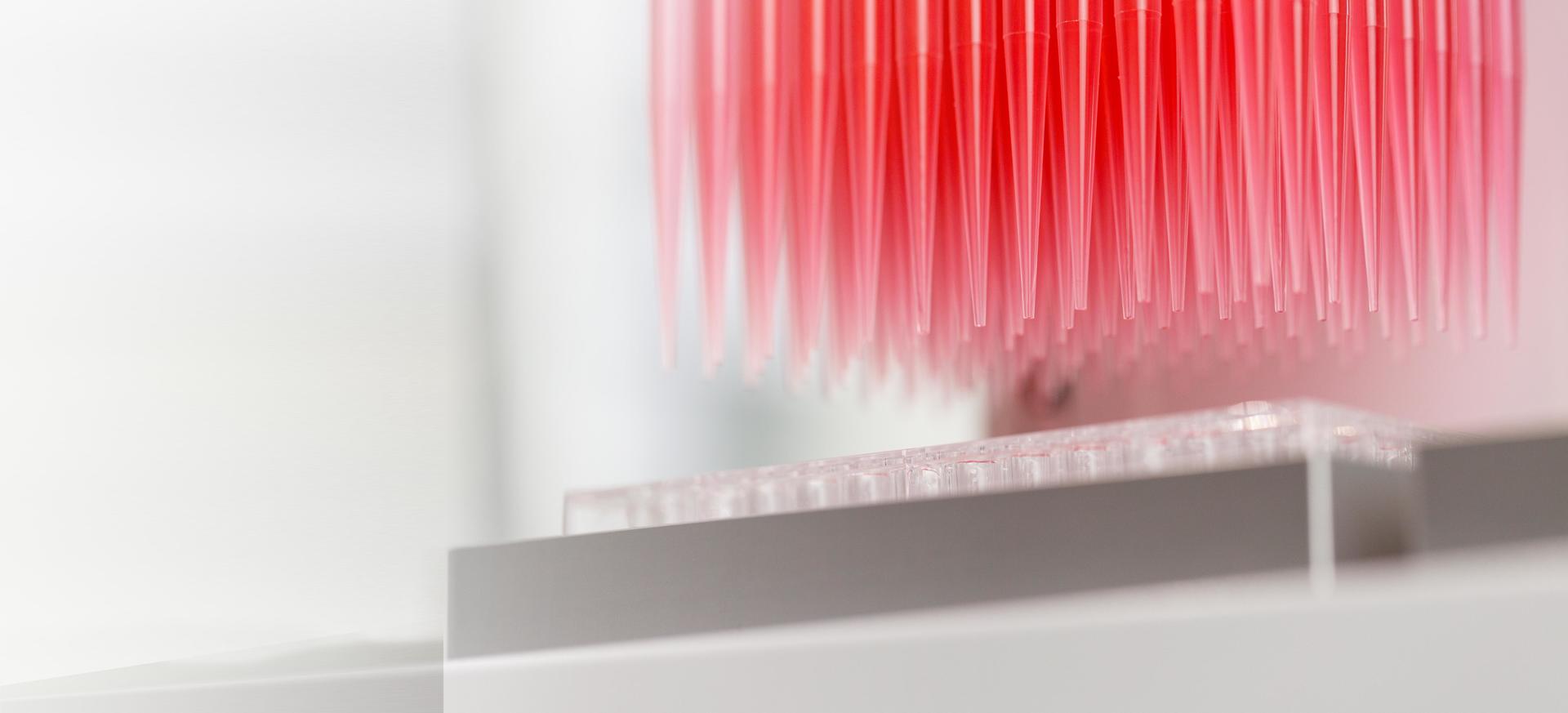 Product story
Perfecting the connection between pipetting head and tips
Do your pipette tips ever loosen, leak or fall off? This is a common issue in laboratories, caused by the use of universal pipette tips. Losing a tip during assay preparation can ruin the entire assay; a reliable seal is essential for accurate pipetting.
INTEGRA has redesigned the connection between the pipette tip and the tip fitting to resolve this issue. GRIPTIPS® pipette tips perfectly match the multi-lobe tip fitting, snapping firmly on during loading. This guarantees a perfect seal on every tip, preventing them from loosening, leaking or completely falling off. All tips are precisely aligned horizontally, enabling accurate touch-offs, even when pipetting with 384 tips.
GRIPTIPS® suitable for our benchtop pipetting platforms undergo additional quality control procedures – such as a secondary straightness test – to guarantee perfect targeting of wells for automatic pipetting or simultaneous pipetting with up to 384 tips. The tip racks are also reinforced to withstand the forces required to load 384 tips.
How it Works
How it works
Precise and consistent tip seal ensures that all tips on VIAFLO 96, VIAFLO 384, and ASSIST PLUS are precisely at an identical height for reliable touch offs and consistent pipetting results. An additional tip straightness inspection process ensures all pipette tips access wells even when dispensing to a 384 well plate.
GRIPTIP® Pipette tips which never leak or fall off

Losing a tip during an assay preparation can ruin the entire assay and a reliable sealing is of key importance for accurate pipetting.

INTEGRA has redesigned the connection between pipette tip and tip fitting to resolve this issue. The unique GRIPTIPS® pipette tips are comfortably loaded and ejected without any physical effort due to a power assisted mechanism activated by a push button. The loading procedure for all benchtop pipetting platforms also guarantees that GRIPTIPS® are not touched by the user and remain sterile.

1) LOBES
2) O-RING SEAL
3) RIM SNAPS OVER THE LOBES
4) SHOULDER

Extended length design

INTEGRA's GRIPTIPS® LONG feature an extended length design enabling easy access into labware types such as tubes and deep well blocks.

The extended length design also reduces PCR cross contamination as the elongated tip prevents the pipette shaft from contacting the wall of the PCR tubes.

Low retention GRIPTIP® pipette tips

Viscous samples, detergents and other low surface tension liquids tend to interact with standard pipette tips forming a thin liquid film on the pipette tip inner wall. This effect leads to pipetting inaccuracy and inconsistency as well as loss of precious reagents. INTEGRA uses a unique polypropylene blend to mold Low Retention GRIPTIPS® with heightened hydrophobic properties. Using Low Retention GRIPTIPS® prevents low surface tension samples from spreading out and "wetting" the inner wall of the tips, allowing them to bead-up for a maximum liquid recovery.

Assured quality

Our GRIPTIPS® are manufactured from 100% virgin polypropylene under strictly controlled conditions. All GRIPTIPS® are certified free of RNase, DNase, pyrogens, PCR inhibitors and endotoxins.

GRIPTIP® Packaging Options

1) Tip Racks with single inserts in a 96-tip configuration – Reinforced Tip Racks for 300 and 1,250 µl straightness tested GRIPTIPS® for use with 96-channel pipetting heads and automated multichannel pipettes on the ASSIST/ASSIST PLUS.

2) XYZ Tip Racks – Extra sturdy and in an SBS format to withstand the loading forces from automated multichannel pipettes (ASSIST/ASSIST PLUS), and 96 and 384channel pipetting heads (12.5 to 125 µl tips). GRIPTIPS® are ionized to dissipate existing static, and then loaded into carbon-filled, antistatic XYZ boxes.

3) GREEN CHOICE refill system – an environmentally friendly refill system allows you to reuse your existing Tip Racks, reducing plastic waste by 60 % (300 and 1,250 µl tips only).
See it Work
Uses and Applications
Overview
Applications
Stories
Downloads & More
Parts and Numbers