Cell culture made easy with new 24 channel pipetting heads for VIAFLO 96/384
At INTEGRA, we are committed to listening to our customers and delivering solutions to increase productivity in the lab, which is why we are releasing 24 channel pipetting heads for the VIAFLO 96/384 multichannel pipette. Designed to make cell biology workflows even more efficient and reliable, the new 24 channel options allow high throughput pipetting at a fraction of the cost of large and complicated liquid handling robots. This user-friendly technology enables plate filling, reagent addition or sample transfers to be performed in a single step for precise, stress-free and accurate pipetting.
Two versions of the 24 channel heads are available to accommodate the need for different volumes – a 10 to 300 µl option for cell or reagent addition, and a larger 50 to 1,250 µl version for media and buffer transfers – allowing you to fill a 24 well plate in seconds. Both options use our proprietary GripTips pipette tips system, which ensures perfect alignment and eliminates the risk of pipette tips leaking or falling off.
As with existing 96 and 384 channel options, all of INTEGRA's pipetting heads are easily interchangeable, allowing the user to seamlessly switch between 24, 96, 384 and 1,536 well plate formats in less than a minute to streamline workflows. The easy-to-use system also minimizes the risk of human error, making lab results more accurate and reproducible.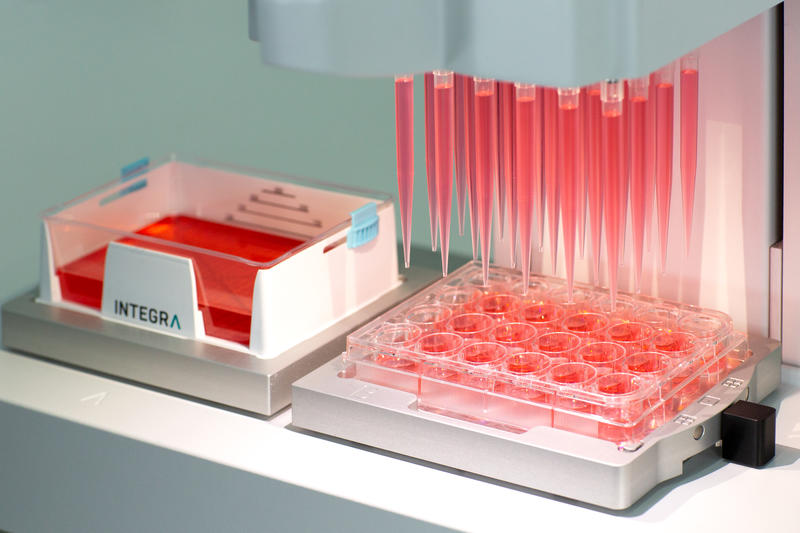 Any questions? I'm happy to help!