WELLJET – a revolutionary new and affordable reagent dispenser
Combining low running costs with speed and flexibility
The WELLJET dispenser and WELLJET dispenser stacker offer convenient and precise reagent dispensing with low running costs. Both models can process any plate format from six to 1536 wells, as well as deep well plates and ANSI/SLAS-footprint tube racks, and feature an ultracompact design to save valuable bench space or fit inside a laminar flow cabinet. These dispensers offer a superior user experience and enable a vast number of applications, from cell-based, kinetic and screening assays to ELISAs and genomic or proteomic analyses. Both systems are available with an optional source tube holder for 15 and 50 ml tubes, which help reduce costs by minimizing dead volumes and preserving your precious reagents.
For labs wanting increased throughput and longer walk-away times, the WELLJET dispenser stacker is equipped with front-loading towers – holding up to either 25 or 50 plates – offering hands-free processing of plates. Individual plates can now be filled in seconds, and complete plate stacks processed in just a few minutes.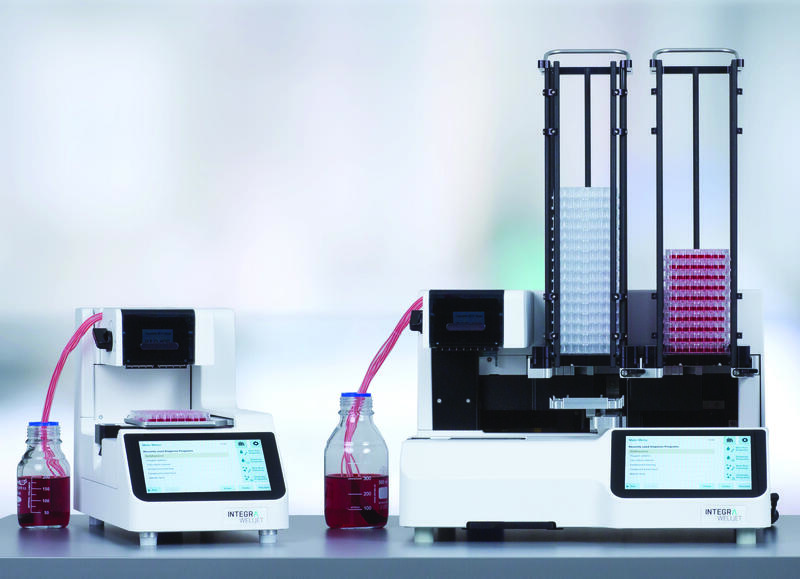 Revolutionary technology – EasySnap™ dispensing cassettes
The WELLJET's unique EasySnap dispensing cassette (patent pending) is a breakthrough for the precision and reliability of bulk reagent dispensing, while reducing costs. Each EasySnap cassette features precisely molded silicone tubing at the interface with the peristaltic pump unit, minimizing channel-to-channel variations and therefore eliminating the need for time consuming cassette calibration. Owing to their low price tag and easy handling, EasySnap cassettes allow to both lower your lab's running costs and speed up workflows. The cassette's ergonomic and robust design allows straightforward installation and removal without you worrying about breaking the components or making a mistake. Simply snap the cassette into place, and be ready for liquid dispensing – it's never been easier! To ensure the highest dispense precision every time, the cassette's integrated RFID tag allows smart tracking of dispense volumes and keeps you informed when it's time to change the cassette.
Available as three sterile models – small bore 8 and 16 channel, and large bore 8 channel –EasySnap cassettes provide accurate and precise dispensing of most liquids across a broad volume range of 0.5 μl to 10 ml. To speed up your workflow, the 16-channel cassette allows even quicker filling of entire 384 well plates, further accelerating processing times.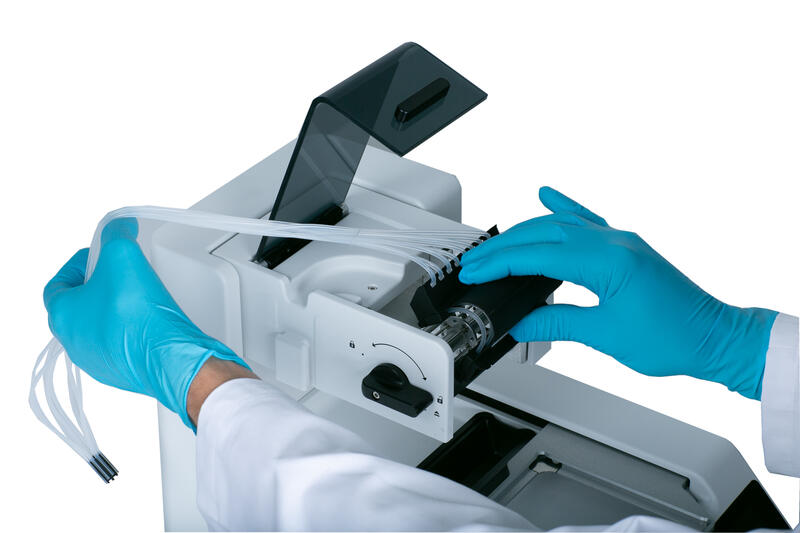 Superior user experience
The WELLJET's intuitive user interface and large, high resolution touchscreen allow quick and efficient set-up of dispensing protocols, without the need for user training. In addition, cleaning routines can be easily set up to help minimize the risk of clogging the dispense nozzles. The interface also features an integrated plate library, ensuring that plate dimensions are not only stored, but well organized and easily searchable.
The innovative WELLJET family of dispensers and EasySnap cassettes will transform the way you dispense liquids and reagents for many of your daily research activities. Learn more about the WELLJET range, and request a demo or quote today.