Save expensive reagents and reduce waste with the right reservoir
Smooth pipetting and reduced dead volumes
With this in mind, we are excited to announce the launch of our new 12 well reagent reservoir. Each section is designed to hold up to 3 ml of liquid and comes with our patented SureFlo™ anti-sealing array – a series of tiny channels on the bottom of the reservoir – so you no longer need to worry about your pipette tips creating a seal or vacuum. This ensures that your reagents flow smoothly, preventing liquids from pumping into the tip filters or the pipette body – an issue that can lead to cross-contamination, reduced pipetting accuracy and increased pipette maintenance. Combined with our specially formulated hydrophilic surface treatment to prevent liquids from pooling, the new reservoir significantly reduces waste of expensive reagents and low volume samples.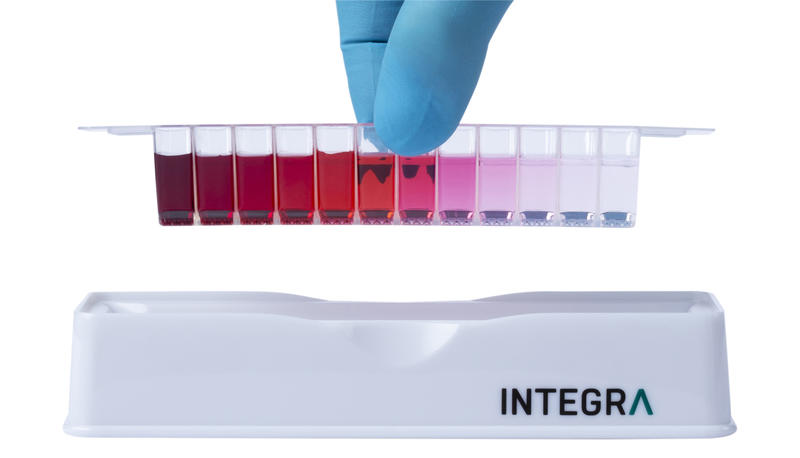 Dilutions and tube to plate transfers
This new reservoir is perfect for a range of liquid handling applications, but is especially useful for multichannel pipetting of samples into an entire row or column of a 96 well plate, as the 9 mm reservoir well spacing matches plate spacing. It is also perfect for performing serial dilutions; a single channel pipette can be used to complete a 12 well dilution within the reservoir, or individual samples can be added to each well, and then transferred and diluted within a microplate.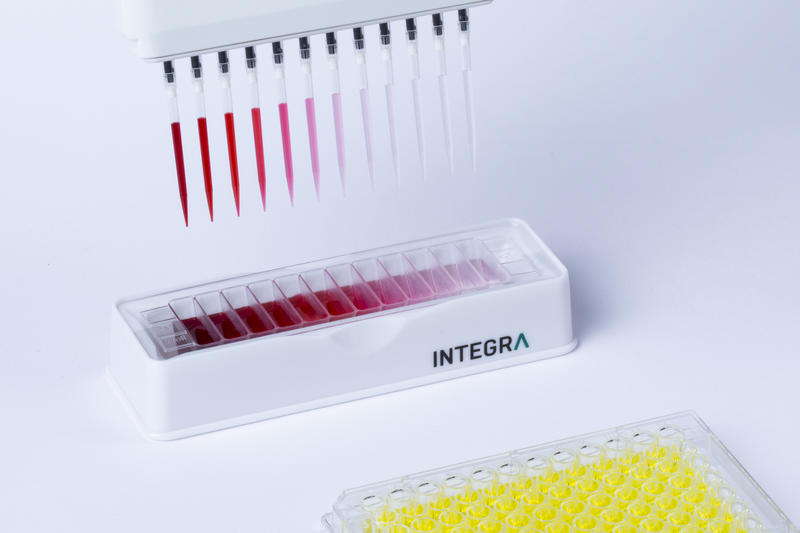 A range of options
We've tried to think about everything when developing this new reservoir, which is why the disposable 12 well inserts fit into a standard INTEGRA reservoir base, helping you to reduce your plastic waste, as well as saving you money. It is also compatible with any single channel pipette or multichannel pipette with 9 mm well to well spacing, and therefore can be used with the full range of EVOLVE manual pipettes or VIAFLO electronic pipettes, either for handheld use or in combination with the ASSIST PLUS pipetting robot. The new reservoir also comes in a choice of polystyrene or polypropylene options for improved chemical compatibility, and inserts are individually packaged in a case of 30 sterile bags.
So, stop worrying about high dead volumes, losing precious samples or wasting valuable time – try out our new reservoir and see the difference it can make to your science. What are you waiting for?