Supporting pandemic preparedness with viral genomics and sequencing
The CEVT was established in March 2020 in response to the COVID-19 pandemic, and was the first facility in North Louisiana approved to conduct and analyze PCR tests. The center was processing up to 20,000 mid-turbinate swabs a week during the 'delta wave', and started a comprehensive vaccination program as soon as vaccines became available. The CEVT also began sequencing SARS-CoV-2 isolates as part of international efforts to better understand the virus, enable molecular epidemiology work – such as contact tracing and seasonality studies – and inform future vaccine development efforts. This comprehensive approach to disease management quickly earned the facility well-deserved recognition as a Center of Excellence for Emerging Viral Threats from the Louisiana Board of Regents.
Dr Krista Queen, Director of the Viral Genomics and Sequencing lab in the CEVT, described the motivation behind its foundation: "The original goal of the CEVT was to open up COVID-19 testing and vaccination programs to the underserved and rural communities in North Louisiana. We rapidly began performing tens of thousands of tests a week, and vaccinated many who would otherwise have been unable to access potentially life-saving immunizations. In addition to this, the sequencing aspect of our work has provided crucial early insights into the mechanism of infection and evolution of SARS-CoV-2. So far, we have sequenced over 18,000 SARS-CoV-2 genomes, and this valuable data continues to be a key resource for tracking and controlling the spread of the virus as new waves and variants surface."
The CEVT has three 50 μl VOYAGER adjustable tip spacing pipettes – one 8 channel and two 12 channel – and uses them for sample reformatting from tubes to 96 well plates within its COVID-19-testing workflows, and for liquid transfers and bead clean-up in the genome sequencing lab, where staff process up to 800 samples a week. Krista had used INTEGRA products in her previous role at the CDC, and recommended them to her new colleagues based on her positive experiences. She explained: "The transfer of liquids between different labware types is a huge pain point for laboratory staff, as sample reformatting by hand is an extremely time-consuming and error-prone process. The VOYAGER pipettes, with their electronically adjustable tip spacing, enable us to easily and quickly transfer multiple samples at a time between different labware formats, and their high precision and reproducibility help us to avoid the need to repeat pipetting protocols. This greatly streamlines our laborious reformatting steps, and makes it possible for us to maintain short turnaround times for COVID-19 testing. It also helps us to rapidly build a picture of disease prevalence and frequently contribute to the bank of data needed to produce new vaccines."
Krista added: "The VOYAGER pipettes have been developed with the user in mind, and their ergonomic design means that we can use them for long stretches of time without experiencing strain or discomfort. The VIALINK software is also very intuitive – it's easy to learn in no time at all – which has helped us to reduce downtime when training new users or programming novel protocols."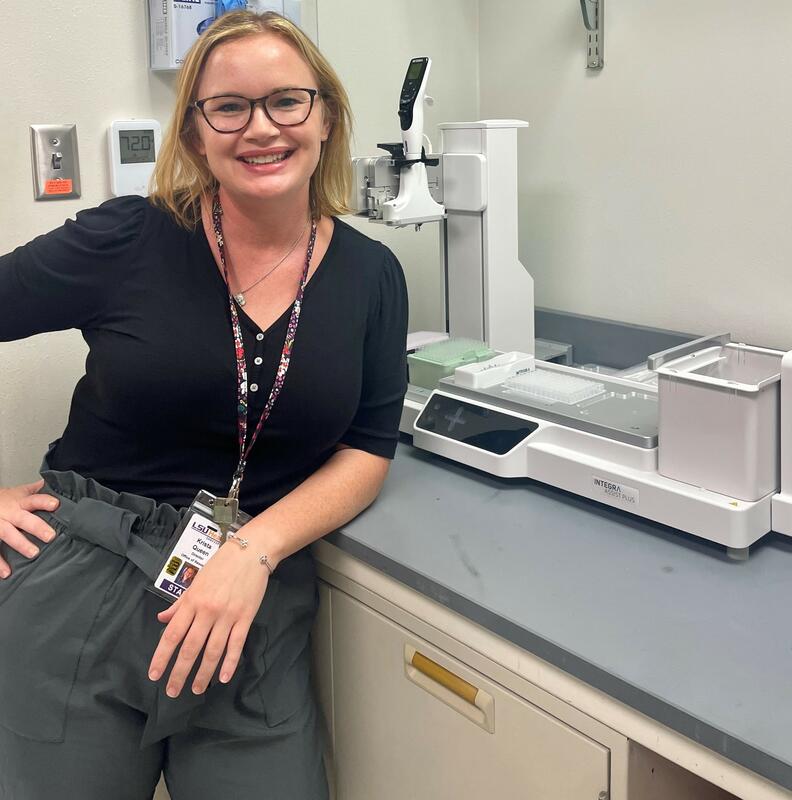 In addition to VOYAGER pipettes, the COVID-19 testing lab also uses two VIAFLO lightweight electronic pipettes for repetitive pipetting and mixing steps, and a MINI 96 portable electronic pipette for simple and accurate full 384 well plate stamping – which had been a challenge for technicians to perform by hand. The MINI 96 greatly speeds up the center's testing processes in comparison to manual pipetting, enabling it to meet tight deadlines and consistently achieve short turnaround times. It also gives the lab the capability of scaling its testing protocols to handle varying and unpredictable sample volumes from week to week.
As the case load of COVID-19 declined, the CEVT began using its versatile pipetting solutions to sequence influenza and RSV genomes, to help inform the development of seasonal vaccines and ensure that they are effective against novel mutations that appear as the viruses evolve. The outbreak of mpox (monkeypox) in the USA then motivated the center to expand its testing capabilities to incorporate community wastewater monitoring, highlighting how easily INTEGRA's products can be adapted to a range of new workflows according to the need.
The viral genomics team has recently acquired an ASSIST PLUS pipetting robot to automate liquid handling for these novel protocols – such as dispensing master mix onto whole plates – giving staff more walk-away time to perform other vital tasks in the lab. This will allow them to use their resources more effectively and increase sample throughput to keep up with the growing demand for testing, as well as decreasing the likelihood of introducing errors for more consistent results. The D-ONE single channel pipetting module for the ASSIST PLUS will streamline master mix formulation and give the group the flexibility it requires to build new projects and explore additional viral sequencing workflows going forward, expanding what the lab can accomplish.
Krista concluded: "COVID-19 certainly shone a light on the potential of viral genomics, and the role it can play in informing the development of new tests, vaccines and monitoring programs that will contribute to future disease control efforts. Our new INTEGRA pipetting solutions, like the ASSIST PLUS, will increase our lab's capacity and give us greater confidence in the reliability and reproducibility of our results. These valuable products – coupled with the lessons learned from the recent global health crisis – will help the CEVT achieve its goal of becoming the region's top surveillance lab for the detection of new viruses and other pathogens that could affect human health."