Building laboratory capacity with semi-automated solutions for influenza and SARS-CoV-2 testing
NHPHL carries out a huge array of testing for infectious diseases of public health significance, including influenza, measles, mumps, HIV, syphilis, and hepatitis C. In early 2020, when the global pandemic hit, the lab was forced to perform high volume, fast turnaround COVID-19 testing on top of its routine tasks, quickly reaching approximately 800 to 1,000 SARS-CoV-2 tests every day. Dr Jessica L. Alexander, Virology/STD Laboratory Supervisor at NHPHL, explained: "At the start of the pandemic, our staff were struggling to get through the enormous sample numbers each day using their existing manual pipettes, creating a testing backlog. We therefore adopted the ASSIST PLUS pipetting robot early on to process SARS-CoV-2 specimens. Without this automation, we would not have been able to maintain our huge testing volumes or meet the demand for rapid turnaround times."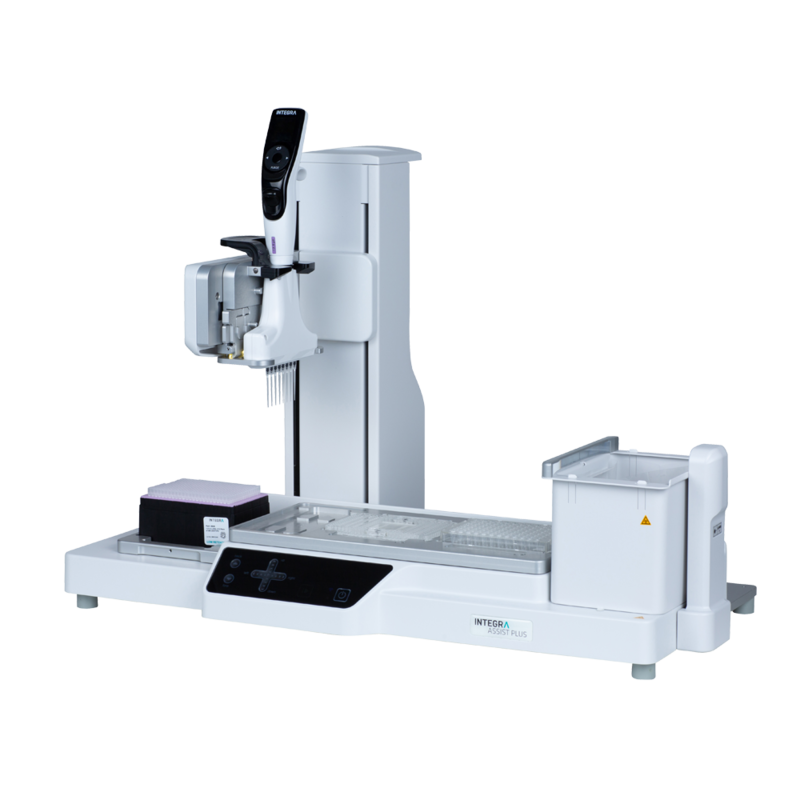 A growing demand for COVID-19 testing
The lab's workload jumped drastically again in November 2020 – to around 2,000 tests a day – with numbers remaining at a peak for several months. This placed a huge strain on facilities and personnel, and exceeded the throughput capacity of the lab's existing workflow. To address this, NHPHL acquired a MINI 96 portable electronic pipette. "Introducing the MINI 96 to our PCR plate set-up has sped up our workflow, and cut down on pipetting errors and hands-on time," Jessica continued. "We use it every day, and it has been a real game changer for us."
Automating influenza/SARS-CoV-2 assays
The launch of the D-ONE single channel pipetting module for the ASSIST PLUS in early 2022 prompted NHPHL to evaluate its suitability for use with the Centers for Disease Control and Prevention's Influenza SARS-CoV-2 (Flu SC2) rRT-PCR multiplex assay. The results of this evaluation were presented as a poster abstract at the annual meeting of the Association of Public Health Laboratories in May 2022. Pedro Tirado Velez, Virology Laboratory Scientist at NHPHL, explained: "We prepared serial dilutions of five previously tested SARS-CoV-2-positive specimens. The ASSIST PLUS and D-ONE were used to prepare and plate the master mix, and then we added the extracted RNA using the MINI 96. Five replicates were tested over five days for a total of 125 tests. PCR results were compared to results obtained from manual master mix preparation and plate set-up using an electronic handheld pipette".
The trial showed that the D-ONE module on the ASSIST PLUS pipetting robot, in combination with the MINI 96, allowed for robust and reliable automated influenza/SARS-CoV-2 master mix preparation, PCR plate set-up, and single step addition of 96 specimens to a PCR reaction plate. The automated process demonstrated 100 percent accuracy, with Ct values that were on average 0.43 cycles higher than for manual procedures. It also showed a coefficient of variation of 0.39 percent, compared to 0.52 percent for manual plate preparation. In addition, the semi-automated system freed up technicians to perform other tasks – reducing total hands-on time by 27 percent – and reduced the risk of pipetting errors. Jessica said: "We were impressed with the increased precision of this platform over the previous manual PCR plate set-up, and we are especially eager to use it to automate our whole genome sequencing workflow."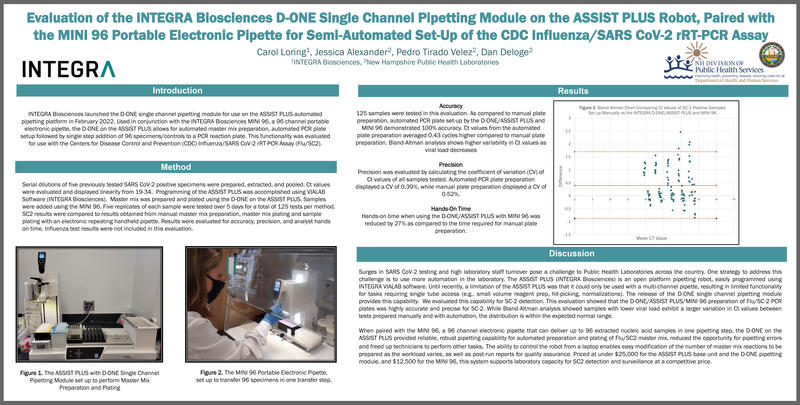 An efficient SARS-CoV-2 testing process
The ASSIST PLUS robot is easily programmed with user-friendly VIALAB software, and the ability to control the robot from a laptop enabled the easy modification of the number of master mix reactions to be prepared as the workload varies, as well as post-run reports for quality assurance. Pedro added: "I have had a great experience of using the ASSIST PLUS, D-ONE, and MINI 96 instruments. They each tackle a unique task within our lab's SARS-CoV-2 testing process, and have allowed efficient testing."
Automation using the ASSIST PLUS and MINI 96 has also improved the mental wellbeing of personnel, and helped to reduce the bodily strain caused by long periods of standing and performing repetitive tasks. The set-up has also limited exposure to potential pathogens, reducing the risk of contamination, and further safeguarding employees, which is a major priority for NHPHL. "SARS-CoV-2 increased our workload, and this was a huge physical and mental burden for our staff. Thankfully, we were able to automate much of our process through INTEGRA's technologies, and this has greatly benefitted our employees' overall health," Pedro concluded.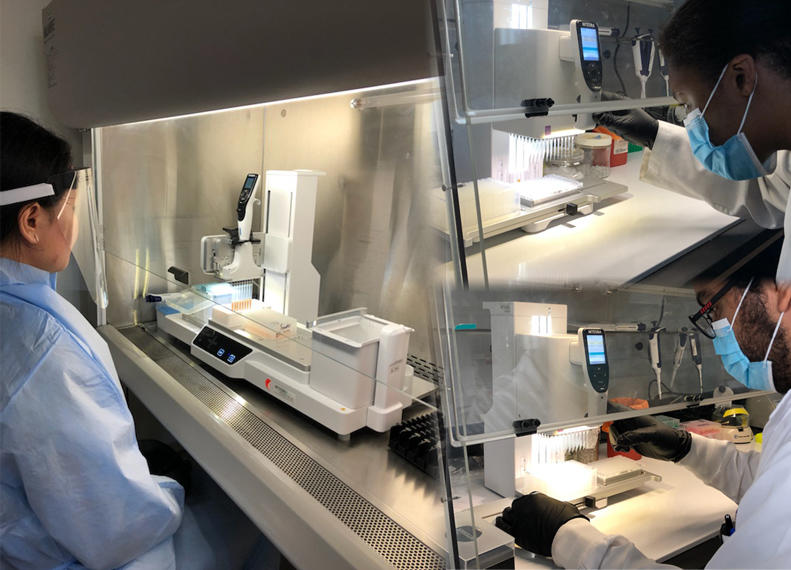 Any questions? I'm happy to help!