High throughput screening for COVID-19 with the VOYAGER pipette
"Florida is a hotspot for the SARS-CoV-2 virus, so we have been able to collect a lot of patient samples from the University of Florida Health Shands Hospital just across the street. We then use CRISPR to target specific conserved regions of the viral genome that are least likely to mutate, such as the RNA-dependent RNA polymerase gene. Targeting these conserved regions ensures that we can get positive results on coronavirus variants from regions as far apart as Italy, the United States and Hong Kong."
Saving time with high throughput pipetting
The VOYAGER adjustable tip spacing pipette from INTEGRA quickly became a vital part of the lab's workflow. Long continued: "For our work on prostate cancer and other pathogens, we only need a 96 well plate for our samples, but when we started working on the SARS-CoV-2 virus, we were testing so many reactions per day that we soon realized that we had to make the switch to 384 well plates. Initially, our only choice was to plan the experiment using alternating wells when transferring samples from 96 to 384 well plates with a fixed spacing multichannel pipette, which takes a huge amount of time. We also test the assay against around 100 different pathogens to validate that it works exclusively for COVID-19 so, with thousands of reactions to prepare and process each day, we had to reduce the time spent on experimental design and sample transfer.
We wanted to speed the process up by using a pipette with adjustable tip spacing, and looked for a simple system where the spacing adjustment was automatic, not manual; I went online and found a YouTube video of the VOYAGER pipette. It fitted exactly what we were looking for, and so I spoke to our local sales representative and we had two shipped out to us in just a couple of days – a 12.5 and a 50 µl pipette. It is really user-friendly; I played with the pipette for around ten minutes to get used to the touch wheel, but the default spacing settings work perfectly, so I didn't have to change anything. Now I can just click the wheel and tip spacing is automatically adjusted for me. Since having the VOYAGERs, we have been able to process double the number of samples a day!"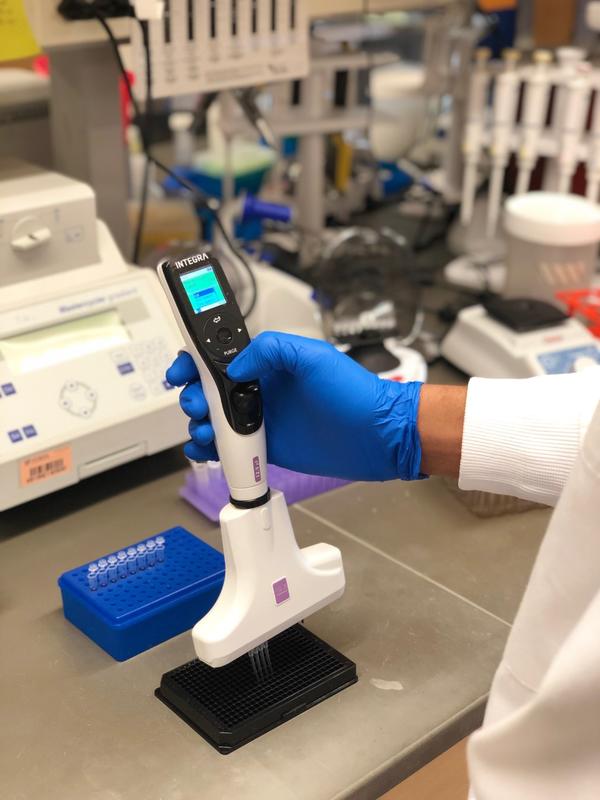 Precise and consistent sample transfers
The GripTip pipette tip system has helped ensure consistency in sample transfers. Long added: "The GripTips are great; they are very precise and ensure that the volume of sample is consistent in every single well of the plate, so I have been really pleased with the results. Additionally, the design of the GripTips has helped us to eliminate contamination between wells and in our sample stocks; the tips are very long and thin compared to other pipette tips and this helps us to avoid touching the tube wall with the tip."
The team hopes to have the COVID-19 screening platform approved by the FDA and ready to use within weeks. "We are a small team and, since lockdown, only a few people have been allowed in the lab, so using the VOYAGERs has made our workflow much faster and more streamlined. We love our VOYAGERs, and are really excited to potentially try other INTEGRA products – such as the ASSIST PLUS pipetting robot – that may help our throughput further," concluded Long.