Increase efficiency and throughput with automated testing of pooled samples for infectious agents
Pooling samples prior to testing for disease surveillance or diagnostic purposes is a cost-effective method to lower expensive reagent use without significantly reducing assay sensitivity. This approach has become particularly important during the COVID-19 pandemic, with large numbers of samples needing to be tested each day, and supply issues for many key reagents. The entire sample preparation workflow – including transferring samples from individual tubes to plates and the pooling steps – can be automated on the ASSIST PLUS pipetting robot coupled with the VOYAGER adjustable tip spacing pipette, increasing throughput and eliminating the potential for manual errors while freeing up analyst time.
Benefits and challenges
Pooling patient samples is commonly used in diagnostic assays, such as immunoassays and molecular diagnostics, to increase testing capacity while reducing reagent costs for the analysis of SARS-CoV-2 and other infectious agents. In traditional pooling methods, sample pools are created by combining equal portions of a set number of specimens into one vessel for testing. If the result is negative, every sample in the pool is reported as negative. In the case of a positive result, the samples that make up the pool are tested individually to determine which sample(s) were responsible for the positive outcome. The optimal pool size – typically four to 24 samples – is determined by the prevalence of the target analyte in the patient population and can be established using statistical methods.
There are a number of advantages in this approach:
Many more patients can be tested, even when supply chain disruptions limit the availability of reagents
Reagent costs are reduced
Sample throughput can be increased without additional capital investment in expensive analyzers
It allows testing of many patients on a recurring schedule as part of a surveillance program, enabling early detection of infected patients to help prevent the spread of disease
However, there are also drawbacks. Sample management and tracking within pools presents an added burden, and there may be a decrease in sensitivity due to dilution of the target analyte. Deconstruction and retesting of all samples in positive pools requires additional resources, including reagents, consumables and analyst time. Consequently, pooled testing generates the greatest savings when the disease prevalence is <3 %. There is also a slight increase in turnaround time due to additional steps in sample processing.
If the analyte prevalence in the population significantly increases, the traditional approach may not be the optimal choice due to the demand for retesting samples from positive pools. In this situation, the use of a two-way pooling method can help to minimize the number of samples retested. Two-way pooling is an alternative approach that minimizes the need for confirmatory analysis. Samples are pooled both horizontally and vertically in a grid pattern, to allow testing in two separate pools. Individual positive samples are directly identified by a positive result in both pools, minimizing the need for confirmatory testing.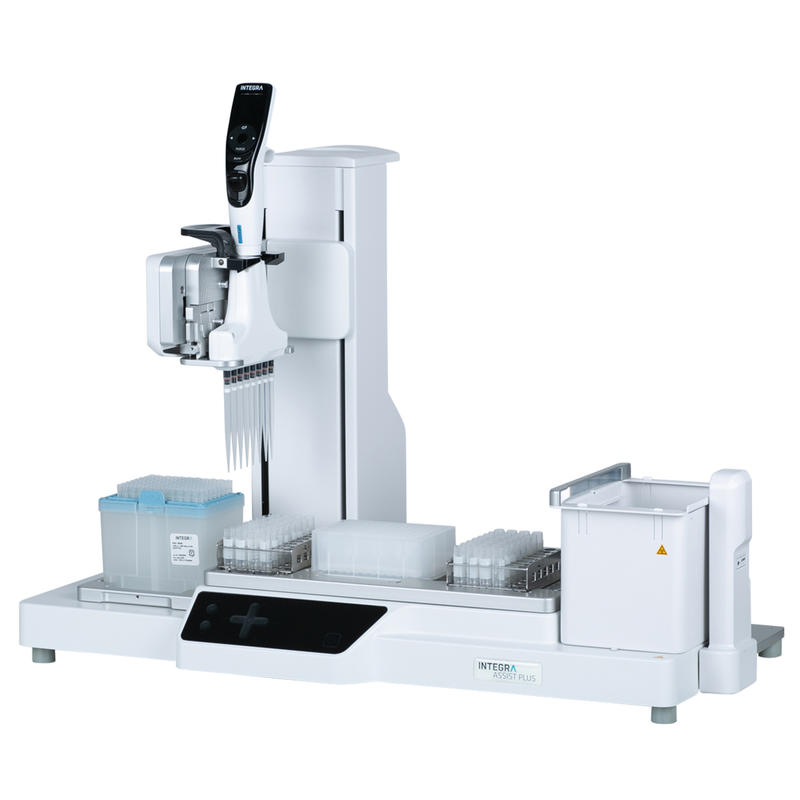 Automation makes life easier and safer
Automation of pooling workflows on the ASSIST PLUS pipetting robot in combination with the VOYAGER adjustable tip spacing pipette not only increases reproducibility by ensuring consistent pipetting heights, it also minimizes the need for manual intervention, maximizing hands-free time and enhancing operator safety.
The compact footprint of the ASSIST PLUS means that it fits easily in laminar flow cabinets, simultaneously protecting both the samples and the user. Automation eliminates manual pipetting steps, helping to avoid repetitive strain injuries, particularly when working in confined spaces such as a flow cabinet. Compared to a single channel pipette, the VOYAGER significantly increases the speed of pooling – and therefore the overall throughput – by enabling parallel transfer of up to 12 samples, with automatic adjustment of tip spacing to accommodate a variety of tube racks. Sample mixing before and after aspiration is also fully automated, allowing you to specify the optimal number of cycles for your workflow. The use of a higher volume than the transfer volume ensures thorough mixing of the final pool.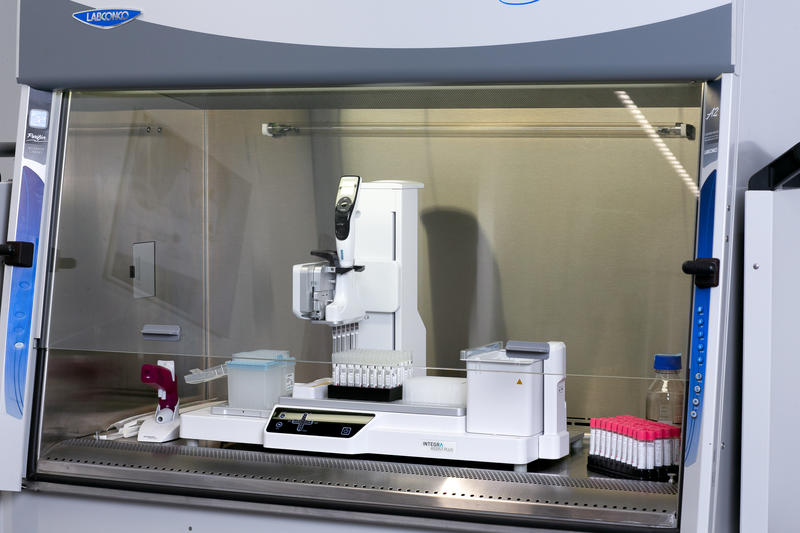 Conclusion
Sample pooling is an efficient method for population level disease screening. The process is easily automated on the ASSIST PLUS pipetting robot together with a VOYAGER adjustable tip spacing pipette, maximizing throughput while minimizing pipetting errors and a reduced risk of analysts developing repetitive strain injuries. Crucially, this flexible solution allows automation of a wide range of downstream processes – such as nucleic acid extraction, PCR set-up and ELISA – on the same platform, accelerating your time to results while enhancing operator safety.