Make your lab greener with our innovative reagent reservoirs
Reagent reservoirs are widely used in the laboratory for the temporary storage of reagents during pipetting applications, but many of them are flimsy troughs, with hard to read or non-existent graduations, and bulky packaging that requires a lot of storage space. Our CLEAR ADVANTAGE reagent reservoirs offer an innovative and convenient liquid storage solution that overcomes these challenges while simultaneously reducing plastic and reagent waste, and are available in a choice of formats to suit both manual and automated pipetting processes.
More accurate reagent measurements, no over pouring, less waste
Our reagent reservoirs feature a disposable insert that fits securely into a sturdy reusable base, reducing plastic waste. The space-saving, stackable design significantly reduces storage requirements, enabling twice as many reservoirs to be stored in half the space, and lowering shipping emissions and costs. A unique surface treatment to enhance material wettability improves assay compatibility, while the SureFlo™ anti-sealing array – which prevents tip seal off at the bottom of the reservoir – stops liquid 'popping' up into the pipette tip, preventing contamination of the pipette itself. This is combined with a deep trough design to provide ultra-low dead volumes and maximum fluid recovery, saving costly and precious reagents. The clearly visible integrated volume graduation lines on the reusable base enable convenient, rapid and accurate filling, and some reservoir types have pour-back spouts molded into the corners for convenient, spill-free return of unused reagent to the source container. A second insert can also be used as a lid, preventing reagent evaporation and spillage when stored for later use.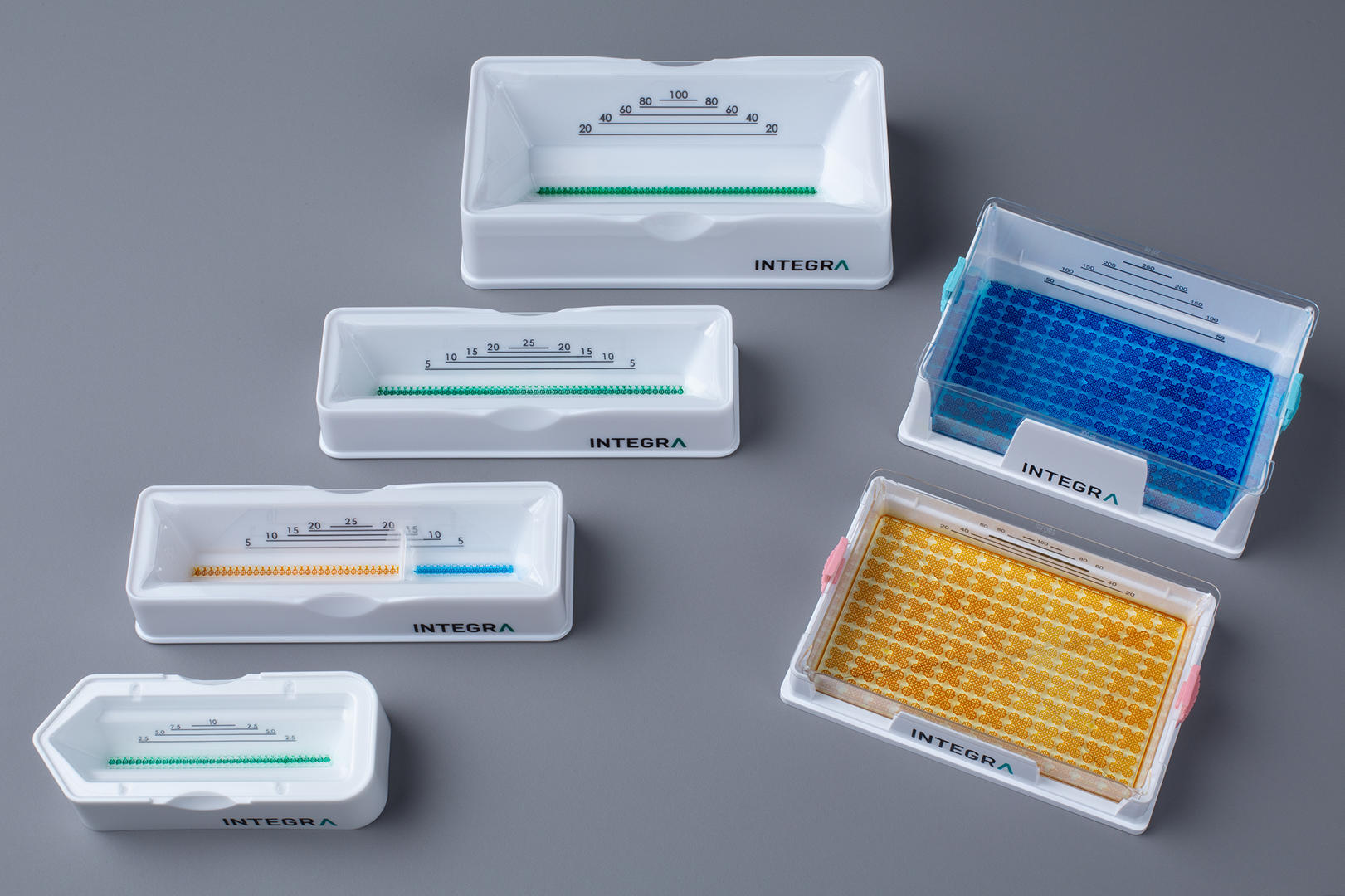 Our reservoir ranges are available in both polypropylene and polystyrene, and we generally recommend polypropylene for molecular applications, as polystyrene has the potential to bind proteins – as well as specific dyes, such as SYBR® Green – affecting the performance of assays such as qPCR. It is important that users evaluate both polymer types for their specific application, to determine which one is most suitable. 
Expanding the range
RECENTLY LAUNCHED: 8 row and 12 column automation friendly reservoirs with SureFlo
Our newly released 300 ml, open well, 8 row and 12 column reservoirs are ideal for more complex assays where a number of different reagents need to be accommodated. The SureFlo anti-sealing array and corona surface treatment ensure the lowest dead volumes in this product segment, and the sturdy, reusable, SLAS footprint base reduces plastic consumption by 20 % compared to other polypropylene blocks.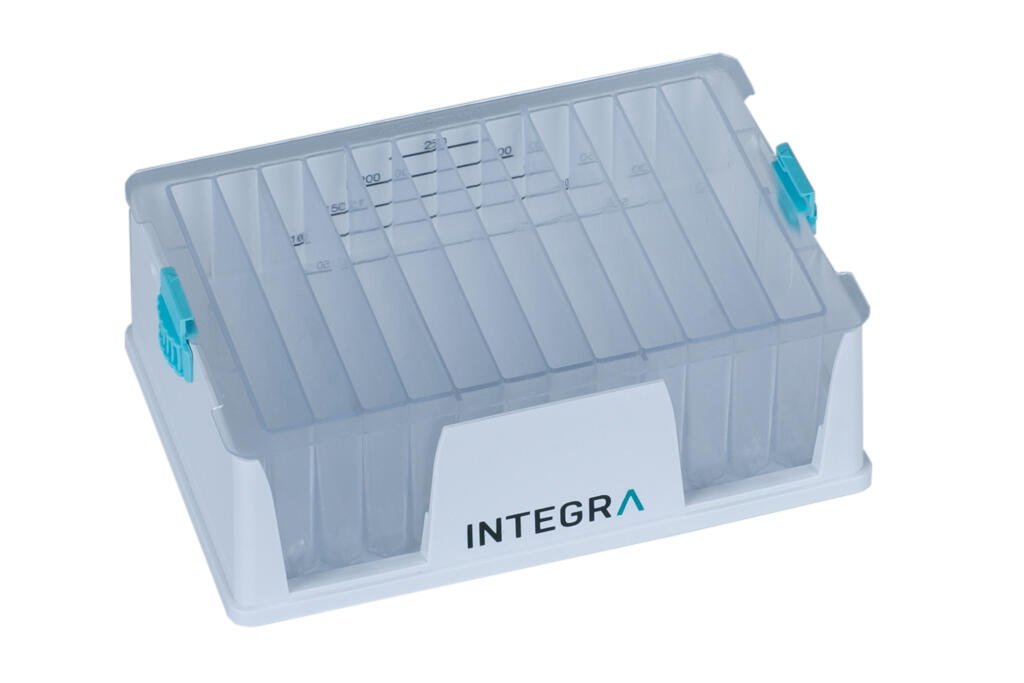 NEW: 10 and 25 ml polypropylene reservoirs with SureFlo
You asked, we listened! Adverse binding events can render polystyrene reservoirs unsuitable for applications such as sensitive molecular assays. Our new sterile polypropylene reservoirs with SureFlo technology offer low surface binding of macromolecules, so you can perform assays without worrying about their performance. The unique combination of polypropylene with SureFlo and a surface treatment increasing adhesiveness and wettability ensures ultra-low dead volume to save costly reagents and improve assay compatibility. These attributes make the reservoirs ideal for assays such as:
sensitive molecular assays with fluorescent dyes, such as SYBR Green and TaqMan® qPCR;
DNA and RNA applications;
forensic analysis;
microarrays;
next generation sequencing;
gene cloning;
protein workflows.
Get more information about our full range of reservoirs or order a free reagent reservoir trial pack.