WELLJET: your trusted partner for cell-based techniques
Cell culture
Cell culture has revolutionized the way in which we study and understand biology, enabling the exploration of complex biological processes and the development of novel therapeutics. However, cell culture experiments are delicate processes, requiring accurate and gentle dispensing of cells to ensure success. The WELLJET reagent dispenser, together with EasySnap dispensing cassettes, offers a unique solution for enhancing cell-based workflows.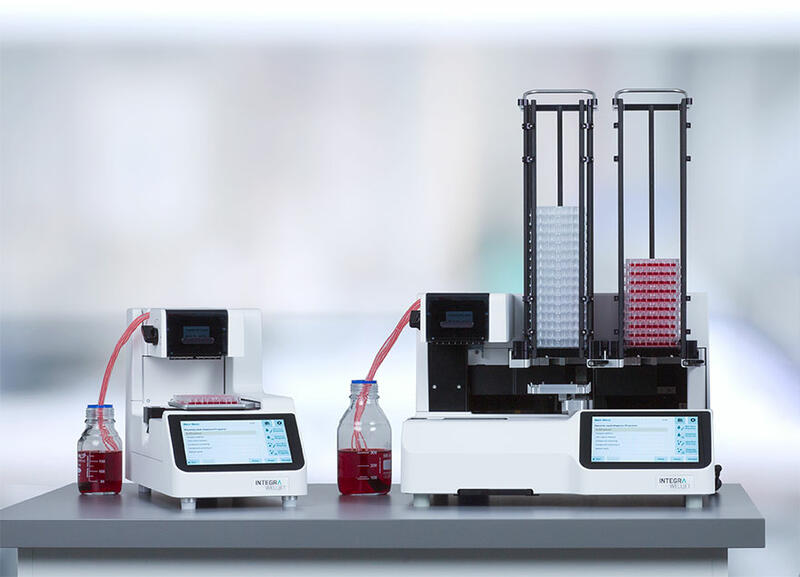 Pumping that mimics peristalsis
The WELLJET is based on peristaltic pump technology, which is well known for its precise and gentle fluid handling capabilities. These pumps deliver fluid by alternating between compression and relaxation of flexible tubing, using a series of rollers to compress the tubing and create positive displacement that gently propels the liquid in one direction. Fast, hands-free reagent dispensers that use peristaltic pumps are popular in many areas of cell-based research, offering comparable performance to standard air displacement pipetting (Figure 1) while reducing the risk of contamination and requiring minimal maintenance. The main advantage of this set-up for cell seeding and other cell-based applications is that the liquid remains enclosed inside the tubing, preventing sample contamination and ensuring high precision liquid transfers.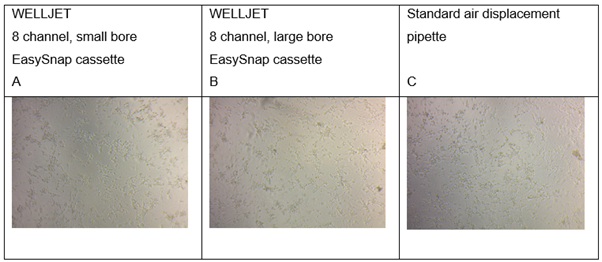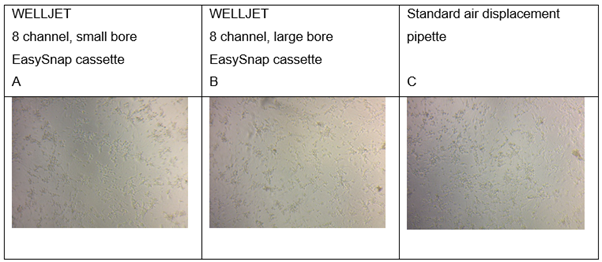 Benefits of the WELLJET for cell culture
Reproducibility is another key consideration for cell seeding and other cell-based experiments, making it crucial to maintain high cell viability. Ensuring the highest possible proportion of live cells in a sample requires careful handling with the correct tools, minimizing the stress placed on sensitive culture cells to avoid experimental variation. The gentle pumping action of the WELLJET system makes it ideal for use with fragile cell samples, improving the reliability of results. You can even switch to automated cell culture workflows with the optional dispenser stacker, enabling higher sample throughput with lower inter-user variability. Lidded cell culture plates can be quickly and reliably processed without manual intervention using the stacker's lid-handling functionality. The WELLJET dispenser and dispenser stacker offer the smallest footprints for instruments of their kind, saving valuable bench space and allowing the instruments to be placed into a laminar flow cabinet.
The WELLJET is specifically designed for filling or adding reagents to microplates, and it is perfectly suited to cell-based tasks, providing features to optimize each experiment for the best possible results. It offers full flexibility for dispensing into all plate formats from 6 to 1536 wells as well as adjustable dispensing speeds to allow media exchange to be performed without disrupting sensitive cell cultures. The user can also dispense across a broad volume range – from low microliters to milliliters – with exceptional repeatability, thanks to the pump's precise stepper motor control.
Cassette-based simplicity
The EasySnap dispensing cassette is a central component of the WELLJET system, featuring flexible and durable injection‑molded silicone tubing that maintains a constant inner diameter to ensure that cells are dispensed to a high degree of precision and accuracy. EasySnap cassettes are available in 3 sterile formats – small bore 8 and 16 channel, and large bore 8 channel – and are easy to insert and replace, making them ideal for rapid changeover between experiments. The silicone tubings can be flushed with 70 percent ethanol and the whole cassette is autoclavable, offering easy sterilization between experiments to further reduce the risk of contamination. EasySnap cassettes are also less expensive to purchase and use over time compared to conventional dispensing cassettes, saving your valuable lab budget.
Overall, the combination of precise, programmable dispense speeds and autoclavable, easy to use cassettes – together with the optional dispenser stacker – make the WELLJET reagent dispenser an ideal choice for cell culture applications. The system is versatile, reliable and easy to install and operate, requiring minimal maintenance. This makes the WELLJET system a valuable tool for any laboratory routinely performing cell culture workflows, from basic research to biopharmaceutical production.